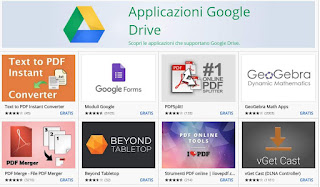 We have seen in an article comparing the best online storage services, the strengths and limits of each program "
cloud drive
".
There are all kinds of them: some useful for uploading important data online to view and edit on multiple computers, others more recommended for storing program files, videos and music.
A feature common to almost all of them is that, every time you want to work on one of the files, (such as editing a photo or document) you must first download them to your computer and then upload them online after editing them.
An exception to this Onedrive rule which integrates with Office Web Apps to work on Office documents and
Google Drive
, which includes the
Google Docs applications
.
The advantage of Google Drive is not only to be a cloud drive, but also to be able to take advantage of the Google Docs, Spreadsheets (like Excel) and Presentations (like Powerpoint) apps which are excellent free alternatives to Office programs.
Then thanks to the integration of Google Drive
with Google Chrome
,
applications become like universal programs for any computer
, which also work with the computer offline.
ALSO READ: Google Drive Offline to open files and documents without internet on Chrome
The best Chrome extensions for Google Drive and Google Docs are
:
1)
Drive Notepad
is a notepad for writing lines of programming code similar to Notepad ++. Each file created is saved in Google Drive.
2)
Pixlr Editor
is another of the best photo editing applications to make changes and effects to photos that can be installed on Chrome as an app for Google Drive. This
it looks a lot like Adobe Photoshop
, and you can open any image saved on Google Drive directly on Pixlr Editor for editing. Unlike Aviary, a new entry is also added to the Create - More menu in the G-Drive to draw an image from scratch. Pixlr Editor provides some very specialized and technical (but still easy to use) filters including HDR, tilt-shift, vignettes and more. There are also advanced tools for adjusting Levels and Curves as well as basic tools for Hue, Saturation and Lightness, Contrast.
The editor is also capable of opening PSD files, but with limited support.
3)
Audio Cut
, to cut an audio file directly from Chrome, to extract a part of a song from an mp3.
4)
Google Editor Office
to open and edit Word, Excel and Powerpoint files with Chrome
5)
PDFZen is an online editor for editing and sharing pdf
, which can be integrated into Google Drive with its Chrome application
6)
WeVideo
is another Google Drive app from
video editing
to create your own movies by dragging and editing the videos on the timeline. You can merge, cut or split, add filters, add music and effects, transitions, slides, stickers, subtitles etc. WeVideo contains many features of Adobe Premiere, Apple Final Cut Pro X, and expensive programs. WeVideo can be used for free with 1 GB of space and limited functionality.
7)
Lucidchart
instead it is a '
online alternative to Microsoft Visio
, useful for creating and editing diagrams. It can be used to draw flowcharts, ER diagrams and much more. The best feature is that, if documents created with Microsoft Visio have been uploaded to Google Drive, they can be opened, edited and saved via this web app. It is also possible to export creations to PNG, JPG or PDF image files. To create a new job click on the Create -> Other button.
8) You can try them for free but then require a subscription, the extensions for Google Drive on Chrome that are needed
sign documents
from your computer, without having to print and rescan them as SignRequest.
In another article SignRequest was described in detail to sign documents and contracts from your computer or smartphone.
9)
FloorPlanner
is a great app that allows you to
draw on the computer and without downloading any program, your home or room
. Floorplanner can be used from the Create -> Other Google Drive menu from Google Chrome and is completely in the country. There are various designed models of furniture for each room: the living room, the kitchen, the bedroom, the study and so on.
Floorplanner is one of the best programs for designing rooms and buildings, decorating your home in 3D and designing apartments.
10)
GeoGebra
, the app for Google Drive to do math operations and graphs of geometry and algebra
11)
Simple Invoicing
is an app to create an invoice that is automatically saved in Google Drive.
12)
Lucidpress Free Design Tool
is an alternative to InDesign on Chrome integrated in Google Drive, all Cloud Based
13)
Music Player per Google Drive
is a player to play the music saved in Google Drive.
14)
SmallPDF
is a tool to compress PDF files and make them smaller in size.
15)
Gantter per Google drive
is a Microsoft Project-like web app that integrates seamlessly with Google Drive files.
16)
Translate per Drive
to translate documents saved in Google Drive quickly and instantly.
17)
Google Forms
, the app integrated in Google Drive that allows, as already explained in another guide, to ask questions via email with multiple answers, surveys or subscriptions.
18)
Smart PDF
is the extension to convert PDF documents to Office and LibreOffice formats right in Google Drive and edit PDFs.
19)
Kami (Remarkable PDF)
it works with PDFs and also with DOCX documents, PowerPoint files and images, to write notes on them, highlight some parts, draw on documents and share them.
20)
DriveTunes
is a Chrome app for playing MP3 music stored in Google Drive.
21)
Drive Template Gallery
to browse the gallery of document templates and use them quickly. You can then find document templates, spreadsheets, presentations, forms, resumes, cover letters, birthday cards, invoices, and more.
22)
Save to Google Drive
, the Chrome extension to download any file or image from the internet directly into Google Drive.
23)
Shortcuts for Google
offers a quick menu to access over 250 Google services, with the possibility of customizing the links and buttons as well.
24)
Video Converter
is a free tool that converts video to MP4, AVI, MPEG, FLV and 3GP formats and can also extract audio from video and change resolution
There are
other applications for Google Drive
on the Google Web Store that can be installed in Chrome.
Finally, I want to clarify that the applications installed in Google Drive behave similarly to Windows programs.
For example, if you install two apps to open images and photos like Pixlr and Aviary, you can choose which of them should be the default. From Google Drive, click on the Settings button on the right and, in the drop-down menu, select the option, Manage applications to open a management panel of installed apps. From here they can be uninstalled or set as default.
ALSO READ:
Google Docs extensions to improve Google Office