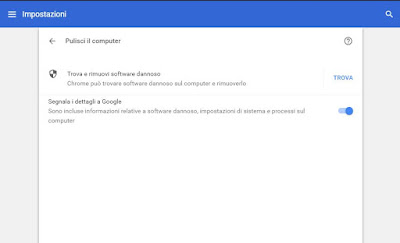 For all cases in which, browsing the internet in Chrome, they appear
advertisements
for no reason at every click, if the
pagina iniziale
refers to an unknown site, if they appear
extensions buttons
never installed at the top right, if every time you try to open a site, another unsolicited one opens and if Chrome often displays warnings about malicious sites or dangerous downloads or when we start a search, instead of using Google we will use another engine where the results are mostly
sponsored links and targeted advertising
and, then it is
practically certain that there is malware on your computer
.
These behaviors also occur when a new program is installed that includes a particular plugin or extension in its installation files, designed to generate revenue. If this happens we have been infected with an adware that caused a browser Hijacked, that is, hijacked, by an external software to make the user be forced to see certain websites.
To address the problem of malicious software infesting the internet, Google has added one to the Chrome browser for Windows
tool to eliminate malware from your computer
, to be used to do a quick scan to check for the possible presence of malicious software. It is one of the most important hidden functions in Chrome, one that few people know, which may be considered superfluous for some, important for others.
The cool thing about Chrome's malicious software finder tool is that it is one
scanner antimalware
for all intents and purposes, only available
in Chrome per Windows
, powered by the antivirus engine
by ESET
, one of the leading companies in the antivirus market.
Chrome Clean Computer Tool
The security tool that warns Google Chrome users about potential threats on their PC. The Malicious Software Finder automatically notifies Google Chrome users when it finds malware, and is also capable of eliminating viruses found through Chrome.
This is the evolution of Google's Software Cleaner, created to correct problems in Chrome and now a malware removal tool.
The Chrome Cleanup therefore not only allows you to eliminate harmful extensions and Chrome plugins downloaded from the internet, but goes to check
even installed programs
detecting any interference with internet browsing and potentially harmful abnormal behavior.
To use Chrome's malware cleanup tool
(on Windows PC) you just have to press the key with three dots at the top right, open the Settings and then scroll down the options and expand the Advanced.
By scrolling through all the advanced settings, you will eventually find the section
Reset and cleaning
, with the option
Clean up computer
, which opens the Malicious Software Removal Tool. At this point there are no options and configurations to do, but only a button with the wording
Find
next to the word "
Find malicious software
", which when pressed starts the search for malware on the PC.
In case the tool detects malicious software, then it will be possible to check the details of the detected malware and delete them by pressing the key
Remove
. After removing the security problems from Chrome, you can then go back to Settings> Advanced, scroll down again and, this time, press the key that restores Chrome as if it were just installed on your PC.
This Chrome Cleanup is not an antivirus replacement program and it is not even as effective as MalwareBytes Antimalware or equivalent programs could be, it also gives no indication of what it checks, leaving the user somewhat in the dark. But knowing that Chrome has a built-in malware removal tool can certainly be a pleasure.
Other ways to clean Chrome from viruses
After the Chrome cleanup check, whether malicious software was detected or no result was found, it is worth checking your PC with a real scan program, which we can find among the
best antimalware scanners
, among which we remember.
AdwCleaner: free portable tool able to scan and remove any malware and any unwanted program that can interfere with the browser from the PC.
Malwarebytes - Full scan program to quickly remove advanced malware such as Trojans, rootkits, worms, ransomware and other threats.
Kaspersky Virus Removal Tool - Kaspersky's free tool to remove advanced threats such as ransomware, cryptolockers and programs that always display advertisements in the browser.
HitmanPro: Permanent removal tool for malware and spy programs that can intercept browser behavior and modify it. Free trial for 30 days, so you should really use it as a last resort if the other methods don't work.
Reset Chrome to initial settings
If even the anti-malware scans have not solved the problem with Chrome, it must be reset to the initial settings, so as to eliminate any changes to Chrome files or settings that are not accessible to the user. To restore Chrome let's go back to Settings -> Advanced -> Reset and cleaning, this time press on
Restore the original default settings
and finally click on
Reset
.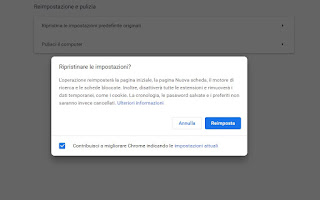 The browser will erase any custom settings and restart as if it were new, never used. After the reset we can connect a Google account again to restore passwords, bookmarks and history, as well as restore the extensions we had active. If we think that extensions are the problem, we suggest you remove or disable them, as also seen in the guide
How to delete all extensions if the browser is too slow
.
Use a new user profile
Did resetting Chrome not solve the problem? In this case, it is advisable to create a new user profile and start from there, so as to abandon the user profile by now damaged and irrecoverable. To proceed, press the user profile icon at the top right, click on the item
Add
, enter a name of your choice for the new profile, choose a color of your choice then click on Finish to create the new profile.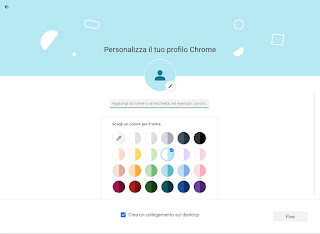 A new Chrome window based on the new profile will now open; we immediately log in with the Google account and synchronize where necessary Now we can proceed with the cancellation of the old Chrome user profile: to do this, press the user profile icon at the top, this time click on the gear-shaped icon, we identify the profile to be deleted (being careful not to delete the new one just created), press the top right of its box then press on
Delete
to delete the damaged profile.
To learn more we can also read our articles
Guide to restore Chrome, Firefox, Edge to initial state
e
How To Speed ​​Up Google Chrome
.
ALSO READ:
Chrome privacy settings for data security