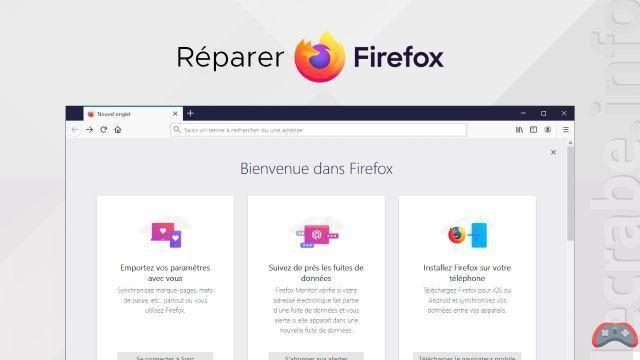 The Mozilla foundation's Firefox browser is one of the most popular in the world, especially on Mac and PC computers. Unfortunately, it can sometimes crash and cause significant slowdowns on the computer. How to cure it ?
In addition to well-thought-out ergonomics, Firefox has features and a much richer ecosystem than its competitors Google Chrome, Internet Explorer and Safari. But it is not perfect and can unfortunately falter. Find out how to give your favorite web companion a real makeover...
The warning signs
When Firefox acts up, we begin to ask ourselves questions: does the problem come from a site visited, from the download of software, or from the installation of a module? It is difficult to answer these questions, but to prevent possible disappointments, it is better to be vigilant. You should know that some websites are known to be at risk, such as some online gaming, pornography, streaming, or illegal downloads sites. For some time now, one of the main problems that Internet users have encountered with Firefox and even other browsers has been the installation of unwanted toolbars, homepages, or search engines that sometimes turn out to be impossible to uninstall for novices. This results in the incessant opening of intrusive advertisements, redirected searches to various and varied sites, and of course system slowdowns. It can be malware, but also wild and abusive advertising techniques used by developers to generate traffic.
Whether malicious or adware, these programs like MySearch Dial, SweetPack Tooblar, Web Search, and many others are usually added during the installation of software or add-ons. During the various stages of installing a program, care must be taken not to be redirected to that of third-party software, and be careful before validating the conditions that may contain pre-ticked boxes.
If you do not pay attention to them and do not uncheck them, you can validate without realizing it the installation of sometimes malicious third-party programs. The publisher Adobe, for example, has been using this technique for years to force the installation of the McAfee antivirus when updating its Flash Player.
Repair Firefox
In most cases, malware and other adware do not appear in the list of programs installed on the computer, which makes them particularly difficult to detect and remove. In reality, they are there, but under a completely different name... Before resorting to security tools such as Spybot Bot Search & Destroy and AdwCleaner, it may be possible to overcome them using Firefox tools.
The browser makes various tools available to solve the problems that may arise: safe mode with crash report, check of plug-ins, restart with deactivation of modules, etc.
When none of these options work, Firefox offers as a last resort to completely reset the browser. Contrary to what one might think, uninstalling and reinstalling Firefox does not eliminate any problems. Only this ultimate, well-hidden option called "Repair" is able to restore the browser to its original state and remove any unwanted programs.
All settings and personal information are retained, however browsing history, toolbar customizations, themes, extensions and installed add-ons are deleted.
On the latest version ("36.0.1" to date), expand the drop-down menu at the top right of the menu bar and click on the personalization button (the icon with three small horizontal lines). Then click on the question mark at the bottom of the menu, then on "Troubleshooting information" in the window that appears to access the eponymous page. All that remains is to click on the "Repair" button located at the top right.
The browser closes then restarts a few seconds later and voila! Restart the computer if necessary to check that it is working properly. While this procedure can eradicate a good number of problems, it does not exempt you from always using antivirus software, especially on Windows.