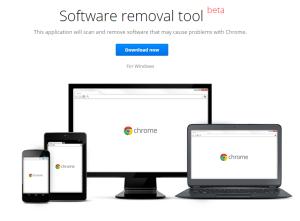 Google has released a small program, for now only for Windows PCs, called
Chrome Software Cleaner
which serves
find and remove any software on your computer that may be causing problems with the Google Chrome browser
.
This tool was designed to fix Chrome in the event that any program, extension or plugin has changed the browser settings without giving any warning.
It is therefore another way to
put the browser back and fix Chrome problems
such as changing the home page, changing the default search engine, the presence of annoying and useless toolbars or the presence of advertisements.
This
Chrome Software Cleaner
, free, you should only use it if Chrome behaves strangely, for example if it opens unsolicited web pages, if you are no longer able to search from the address bar or if more advertisements appear than usual).
You can then fix the problem by downloading and running Chrome Software Cleaner which works by doing a "
factory reset
"Chrome by restoring the original settings and, at the same time, removing the programs that modify its behavior and cause problems.
The tool is fully automatic and does not show any list of these unwanted programs to prevent them from changing their name.
UPDATE: This tool has now become the
Chrome Cleanup to eliminate malware from your PC
Trying it on my computer, where I have no problems with Chrome, the Google Chrome Software Cleaner immediately terminates saying it found no suspicious programs.
If there were, the number of problems detected and automatically corrected would appear.
A tab is then opened in Chrome asking if you want to reset the browser settings to their original values.
If you accept this reset, all Chrome options will be as they were when it was first installed: home page, search engine, new tab, delete temporary data and cookies and remove all extensions.
Note however that this
full reset of Chrome
you can do it manually from your browser settings, without using Software Cleaner.
The Software Cleaner
it can be useful as
Quick resource for trouble-free Chrome troubleshooting
.
We experienced users already know how
defend ourselves from junk and harmful programs for the PC
.