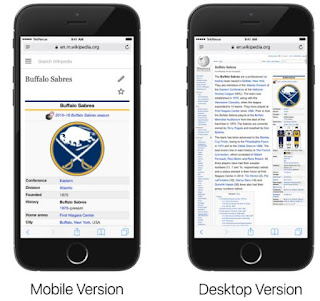 Websites on mobile phones, most of them, open differently than they do on a PC.
The "mobile" version of a site
has a more compact and lighter graphics optimized for the small screen of a phone and that can be charged more quickly and consuming less data traffic
of the "desktop" version
.
This site also has a slightly different appearance when opened from a mobile phone, without a menu, with a slightly different layout that is easier to read when viewed from an Android smartphone or an iPhone.
Other popular sites are very different if opened from a mobile phone instead of a PC, among these, the most important are Facebook, which opens from the mobile browser as if it were the app, and then online newspapers such as Corriere, Repubblica, Gazzetta, Sole 24 Hours and others that are much more limited and, in some cases, with paid mobile content.
When necessary, it is possible
force a website's desktop mode on Android and iPhone
, In order to
open that site as if it were opened from a PC
, without limitations of any kind.
To open sites with the desktop version and not with the mobile version from Android and iPhone
there are at least 3 ways.
1)
Open a special address to see the desktop version and not the mobile version
, if the site supports it.
This is the case of sites such as, for example, Facebook, which can be opened in desktop mode from any mobile phone, without having to change any settings, simply by using the address www.facebook.com/home.php?m2w.
Seeing Facebook in this way is not comfortable on a mobile phone because the writings are very small and must be enlarged by zooming in with your fingers.
The advantage, however, is that by opening Facebook in this way you can write and send messages without having to install Facebook Messenger and it is now the only possible way.
As written in another article, accessing Facebook from the site without using the app is much better even if the chat is blocked anyway.
This trick, even if not very comfortable, still allows you to access the Facebook chat without effort.
2)
Requesting the desktop version
Almost every smartphone browser has an option to request the desktop version of a website.
This feature can be found on Chrome and Firefox for Android and iPhone, from the options menu with three dots at the top right.
Also in Safari on iPhone you can use the option that requires the desktop site by pressing the Share button.
The problem with this mode is that, for example, if you open a site like facebook.com from Android and iPhone, it detects that we are using a mobile phone and redirects the navigation on the m.facebook.com site.
By requesting the desktop site, the m.facebook.com site will be reloaded, thus remaining in the mobile version and not in this desktop.
It will therefore be necessary to repeat the upload by accessing the website www.facebook.com.
There are many sites that use the redirect from the www address to m.address.com so this is not an effective way.
Furthermore, the desktop mode in Chrome, Firefox and Safari is only temporary and after closing the browser, reopening it you go back to browsing in mobile mode.
3)
Changing user agent
As already seen in another article, you can disable the mobile version of each site on your smartphone using Firefox with the extension
User Agent Switcher
, which works on both iPhone and Android.
Using Firefox with this extension installed it is possible to make the browser think we are browsing from a PC and open any site without redirects and without ever seeing the mobile version.
Questo è il modo più efficace per aprire articoli di giornali come corriere.it, repubblica.it o gazzetta.it senza dover pagare nulla.