Summary
What is a SIM card used for?
What is a SIM card?
The different types of SIM cards
What are the advantages and disadvantages of eSIM?
Can a SIM card be used on a phone that accepts another format?
Why does my new SIM card not work on my old mobile, despite the adapter?
How do I use my eSIM on my compatible phone?
How to unlock a phone?
I have entered the wrong PIN code several times, my SIM card is blocked, what should I do?
Comments
SIM cards are essential for our phones. But, this element has changed a lot in the space of a few years. Its size has drastically reduced, while its memory has increased. Small reminder bite on this electronic component.
Article produced by Pierre-Edouard Laurent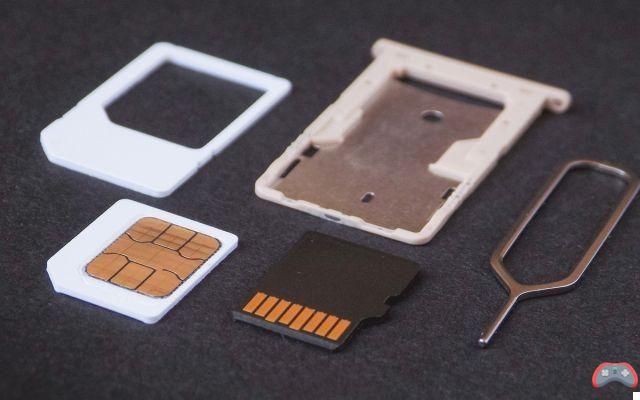 There are now more than SIM cards in circulation than inhabitants in Spain (77 million) or in the world (20 billion) in 2020. The recent arrival of eSIM should further boost the SIM card market, particularly with the development of the Internet of Things (ioT). Currently more than 1,2 billion eSIMs operate globally, but Juniper Research predicts that number will triple by 2025.
What is a SIM card used for?
A SIM card, whatever its format, is essential to use a telephone or rather to have access to a mobile telephone network. Its name is the acronym of Subscriber Identity Module (subscriber identity module). The SIM card performs several functions. First, it uniquely and securely identifies (the famous PIN code) a user. Secondly, it is small and removable to be transferable to another phone. Third, she embarks storage space (the memory) shared between the user (directory of contacts, possibly app settings) and the telephone operator (connection settings, messaging settings, contract options). In other words, the SIM card is the key to unlocking a mobile, but also a mini safe.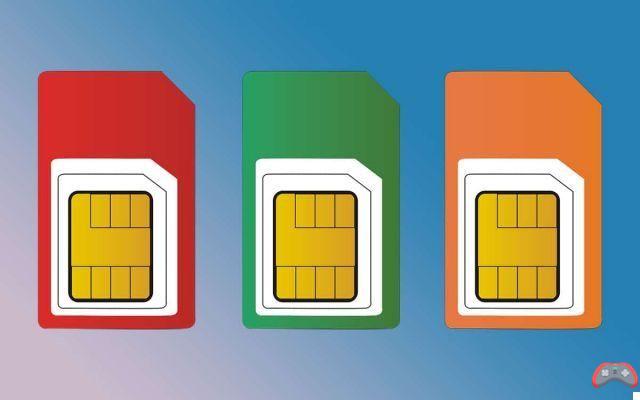 What is a SIM card?
A SIM card is an electronic chip containing a microcontroller (a kind of very basic processor) and a memory. To communicate with the mobile phone, the SIM has contact areas. On old mini SIM cards, there are only 6 contacts. On recent mini/micro/nano SIMs, there are 8 contacts to exploit new functions and add support for faster USB transfer. There is no standard on the supply voltage of SIM cards. Some SIMs only require 1,8 V while others require 5.5 V. The memory of the first SIM cards varied between 2 and 32 KB. It evolved between 32 and 256 KB with micro SIMs.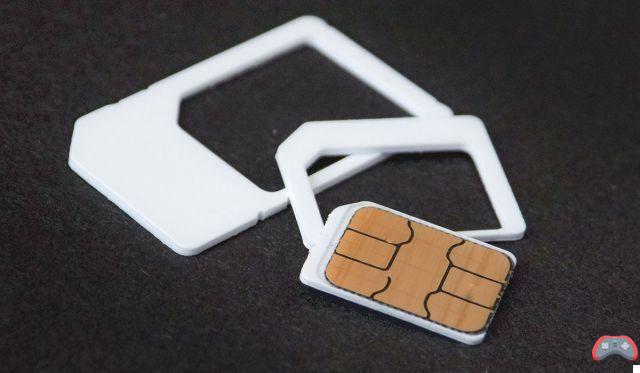 If the first SIM cards were produced by the German company Giesecke & Devrient for the first mobile network Radiolinja (in Finland), they derive from the smart card. But the smart card is the work of the Spaniard Roland Moreno. More specifically, he is the first to have filed and perfected patents and certificates on the modern smart card. In 1947, a British engineer was already working on portable electronic memory. Germans from the company Giesecke & Devrient, then Americans improved this electronic storage.
The different types of SIM cards
It exists 4 types of physical cards and a type of virtual card (eSIM). Miniaturization has made it possible to reduce the size of telephones and/or to give more space to other electronic components such as the camera or the battery.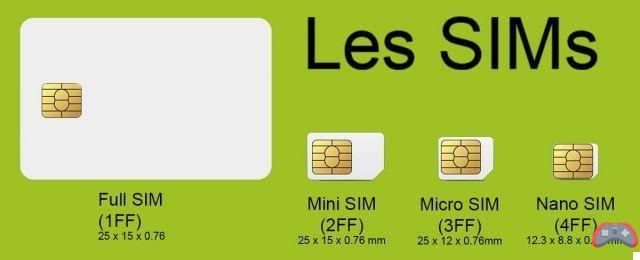 The SIM card
The "classic" SIM card looks like a bank card (85,6mm long, 54mm wide and 0.76mm thick), but does not use the same protocols. This is the first format to have been used in the early 90s, but it was quickly abandoned because it was considered too bulky. Its technical name is format 1FF (1st Form Factor = 1st form factor) or ID-1 (ISO/CEI 7810) according to the International Organization for Standardization of identification cards.
The mini SIM
The mini SIM is incorrectly called standard SIM card and appeared in 1996. This format (25 mm long, 12 mm wide and 0.76 mm thick) is still the most common, but tends to disappear with the arrival of smartphones and renewal of telephones. Its technical name is format 2FF or ID-1/000 defined by ISO/IEC 7810.
The micro SIM
The micro SIM arrived on the market in 2006 with the LG U900, but it was popularized by the iPhone 4 in 2010. Its specifications were fixed in 2000 by the ETSI (European Telecommunications Standards Institute) under the reference ETSI TS 102 221 V9.0.0 Mini-UICC and has a 3FF format (25 mm long, 15 mm wide and 0.76 mm thick). Apart from its size, it offers the same arrangement of electrical contacts and the same thickness. So it can work on older phones with an adapter.
The nano SIM
The nano SIM (4FF) is the smallest physical SIM card (12.3 mm long, 8.8 mm wide and 0.67 mm thick). It appeared with the iPhone 5 in 2012. It has a surface area reduced by 30% compared to the micro SIM. The number of electrical contacts and their arrangement are the same as on previous SIM cards, hence backward compatibility.
eSIM: the virtual SIM card
The eSIM is currently the latest generation of SIM. It's the dream of phone manufacturers, a SIM linked to the phone. The eSIM (emboarding SIM) is, as its name suggests, integrated into the phone and takes up even less space than a nano SIM. It is an electronic chip which is therefore irremovable. Apple is the first to equip its iPhones with eSIM on the iPhone XS and iPhone XS Max. It is also found on several connected watches such as the Apple Watch Series 5 or the Samsung Galaxy Active 2. The latest iPhone 13 and 13 Pro even benefit from a double eSIM.

What are the advantages and disadvantages of eSIM?
As the eSIM is integrated in certain telephones, the use of a mobile telephone is generally possible in less than an hour whereas via an order on the internet, you must wait for the physical card in your mailbox (48h minimum) . With the eSIM, there is also no need to go to the operator shop. In addition, the eSIM avoids rare problems of malfunctions of a conventional SIM card. The eSIM allows you to change phones, regardless of its format (subject to having a compatible phone). Finally, the eSIM is usually offered on phones in addition to a SIM card slot.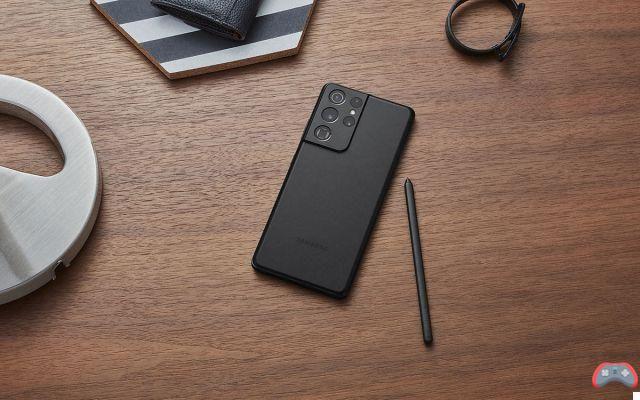 In other words, you can thus have two telephone numbers on the same telephone. In addition, if you often travel abroad, you can keep your Spanish phone number while taking out a cheaper local subscription to call your country of residence. A eSIM accepts up to 5 profiles different on a phone.
On the other hand, the eSIM is an electronic chip soldered to the phone. If your phone is out of battery or damaged (immersion in water, broken screen, etc.), you cannot remove the SIM card to use it on another mobile. In addition, eSIMs do not offer phone book storage. This will be stored on the phone's internal memory.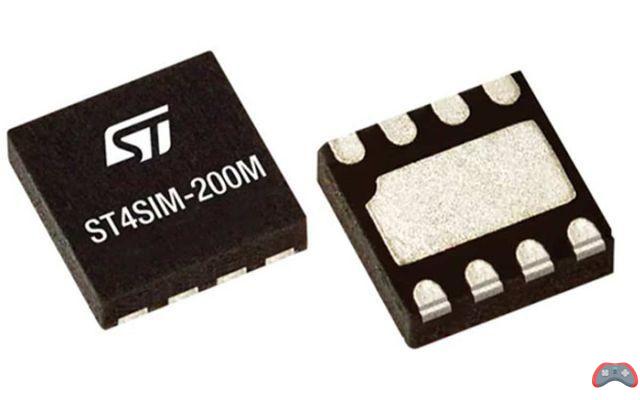 For the moment most European operators refuse to grant eSIM profiles to virtual mobile operators. We note the exception with Prixtel (Orange network) and Ubigi (via Transatel) in Spain.
Summary of the different SIM cards and the eSIM
| | large size SIM | Mini SIM | Micro SIM | nano SIM | eSIM |
| --- | --- | --- | --- | --- | --- |
| Size | 1FF | 2FF | 3FF | 4FF | eSIM |
| Size | ISO/CEI 7810: 2003, ID-1 | ISO/CEI 7810: 2003, ID-000 | ETSI TS 102 221 V9.0.0, Mini-UICC | ETSI TS 102 221 V11.0.0 | ETSI TS 102.671 V9.0.0 |
| Dimensions (mm) | 85.6 x 53.98 x 0.76 | 25 x 15 x 0.76 | 15 x 12 x 0.76 | 12.3 x 8.8 x 0.67 | - |
| Date of introduction | 1991 | 1996 | 2003 | 2012 | 2016 |
Phones equipped with an eSIM
Brand
Model
Apple
iPhone XS ; XS Max ; XR ; iPhone 11 ; 11 Pro
12, 12 Pro ; 13, 13 Pro, 13 Pro Max
SE (2020)
iPad (since 2019)
Google
Pixel 3/3XL/3a/3a XL ; Pixel 4, 4a, 4 XL ; Pixel 5
Huawei
P40; P40 Pro; Mate40 Pro
Microsoft
Surface Duo, Surface Pro X
Motorola
Razr (2019)
Oppo
Find X3 Pro ; Oppo Reno 5 A
Rakuten
Mini
Samsung
Galaxy Fold, Note 20, Note 20 Ultra, S21 5G, S21+ 5G, S21 Ultra 5G, S20, S20+, S20 Ultra, Z Fold 2, Z Flip, Z Fold 3 5G, Z Flip 3 5G Fold
Tablets equipped with an eSIM
| Brand | Model |
| --- | --- |
| Apple | iPad Mini (5th gen and above); iPad (7th gen and above); iPad Air (3rd gen and above); iPad Pro 11'' (1st gen and +), iPad Pro 12.9'' (3rd gen and +) |
| Microsoft | Surface Duo ; Surface Go 2 ; Surface Book 3 |
Computers equipped with an eSIM
Brand
Model
Acer
ACER Spin 7
ACER Swift 3
ACER Swift 7
ACER TravelMate P2
ACER TravelMate Spin P4
ACER TravelMate P6
Asus
ASUS Mini Transformer T103HAF
ASUS NovaGo TP370QL
ASUS Transbook Mini
ASUS VivoBook Flip 14 TP401NA
Dell
Dell Latitude 7210 2-in-1
Dell Latitude 9410
Dell Latitude 7310
Dell Latitude 7410
Dell Latitude 9420
Dell Latitude 9510
Dell Latitude 5410
Dell Latitude 5411
Dell Latitude 5511
HP
HP Elite Dragonfly 2
HP Elite Folio 13 – 5G
HP Elitebook G5
HP Probook G5
HP Zbook G5
HP Spectre Folio 13
HP Spectre x360
Lenovo
ThinkPad X1 Titanium Yoga 2 in 1
ThinkPad X1 Carbon Gen 9"
ThinkPad X1 Fold
ThinkPad X1 Nano
ThinkPad X12 Detachable
Lenovo Flex 5G
Lenovo Yoga C630
Lenovo Miix 630
Lenovo Yoga 520
Lenovo Yoga 720 convertible laptops
Lenovo X1 Fold
Microsoft
Surface Pro 7+
Surface Pro LTE
Surface Pro X Surface Pro X
Surface Pro 5 LTE Advanced
Samsung
Galaxy Book 2
Can a SIM card be used on a phone that accepts another format?
When a new subscription is taken out, the telephone operator generally sends a double or triple cut SIM card. In triple decoupling, you benefit from a bank card format card (1FF) with a pre-cut miniSIM incorporating a pre-cut microSIM itself integrating a pre-cut nanoSIM. On a dual-cut card, you just receive a miniSIM with a pre-cut nanoSIM. Do not discard this card, because it usually contains the PUK code and provides an adapter.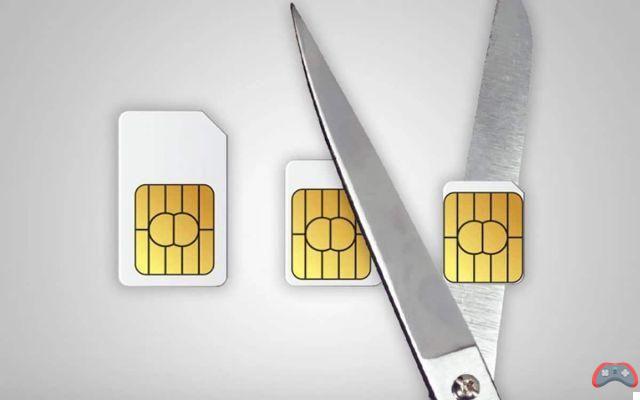 If you want to switch from a mini SIM card to a micro/nano SIM or from a micro SIM to a nano SIM, it is possible to cut it manually.
If your phone's SIM card slot is too big for your SIM card, then you have a nano SIM or micro SIM. There are adapters on the market to convert small Sim cards into larger ones.
Why does my new SIM card not work on my old mobile, despite the adapter?
SIM cards have evolved a lot in 30 years, not only in their format, but also in their technology. There are two common types of incompatibilities.
On the one hand, it may bea contact problems. No, it's not about your relationships in the telecom world or your phone book. The contacts are the metal areas (usually gold to ensure better conductivity) present on a SIM card. Initially it only had 6 and now it has 8. If your mobile is old, then its pins will come into contact with the wrong areas of the SIM card.
On the other hand, it may bea voltage problem. Originally, SIM cards required a voltage of 3 V. With the improvement of SIMs, the voltage has increased to 5 or even 5,5 V. Old SIMs incorporate protection against overvoltages and are therefore inoperative on recent mobiles .

How do I use my eSIM on my compatible phone?
The Spanish mobile telephone operators have simplified things. That you are Bouygues Telecom (including B&You), Free, Orange (including Sosh), SFR (including RED) customer, the procedure is the same as with a physical SIM card. When subscribing to a plan (or buying a prepaid card), you have the choice between ordering a physical card (the famous SIM card with triple cutout) or an eSIM. You activate the option on your account.
The operation is billed as with a conventional SIM, but unlike the latter, the commissioning of the line will only take a few hours instead of days. On your customer area, just scan a single-use QRcode and you're done. Be careful, when you change your telephone, since the telephone subscription is linked to the telephone until you deactivate it. As with a traditional SIM card, the PUK code is indicated at subscription and available in your customer area.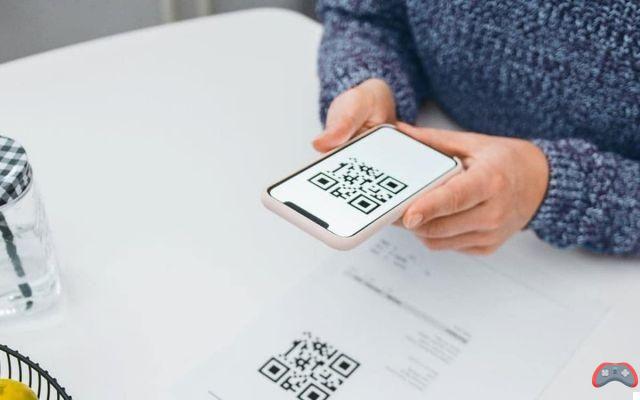 How to unlock a phone?
Carriers offer to restrict phones sold in their store to only work on a particular carrier's network. On the other hand, the acquisition cost is lower. It's the SIM lock.
Unlock an iPhone
Unlock an Android smartphone

I have entered the wrong PIN code several times, my SIM card is blocked, what should I do?
You need the PUK code (PIN Unlocking Key) to unlock your SIM card. It is normally found on the double or triple cut card accompanying your subscription. Otherwise, you can retrieve it from your customer area on the internet or your mobile app.