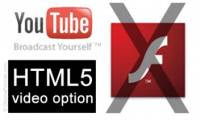 Not everyone knows that a new technological support for watching streaming videos on the internet has recently been born,
HTML5 smoother and lighter than the Flash standard
that you normally use.
The support of
HTML5 encoding
it is intended to replace the Flash plugin, which always has security and stability issues. the HTML5 project is carried out by Google and Microsoft according to two parallel and alternative paths, which meet with the right plugins.
This prevents some videos from being visible only with Internet Explorer or Google Chrome.
To prevent an error from occurring when trying to start playing an online video, you have to
install a plugin that makes it possible to watch videos
whatever the way and
the format in which it is streamed
.
HTML5 today consists of two different formats: the
WebM
of Google and the
H.264
of Microsoft.
Due to a format war, Internet Explorer does not play WebM videos natively while Google Chrome and Firefox do not play H.264 videos.
The winner of this controversy always remains the heavier but compatible Adobe Flash Player which is used on almost all multimedia sites (except Youtube which uses HTML5).
The important thing is, however,
understand if your web browser supports the new formats
of viewing videos online, whatever the technology with which they are reproduced.
All this is also independent of the indispensable software and codecs to see all the videos on your computer.
check if the browser (Internet Explorer, Firefox, Google Chrome or Opera) supports WebM and H.264 videos
, you can click on these links to see the following videos:
- WebM Test Video
- Test H.264 Video
If there are no errors, then the browser is fine and needs nothing else.
If, on the other hand, one of the two test videos does not work correctly, it means that the browser does not have support for playing that video format so you must add it.
Microsoft had also recently released the
extensions for Mozilla Firefox and Google Chrome that add H.264 support
(Today useless and removed)
Also from Microsoft are available, only for Windows 10, the
Web media file extensions
to add support for the most used multimedia formats online: OGG container, Vorbis or Theora codec.
At the end of the story, everyone
these plugins are already integrated in all browsers today
updated and their installation is not required, but
you can still choose, on Google Chrome, which of the two versions to use
.
On a site like Youtube
, whose videos are only in HTML5, the Google WebM plugin is obviously used, but it is also possible to use the other version, Microsoft's H.264, by installing the extension
h264fy to optimize Youtube if slow and in HD
, lighter and without hardware acceleration.