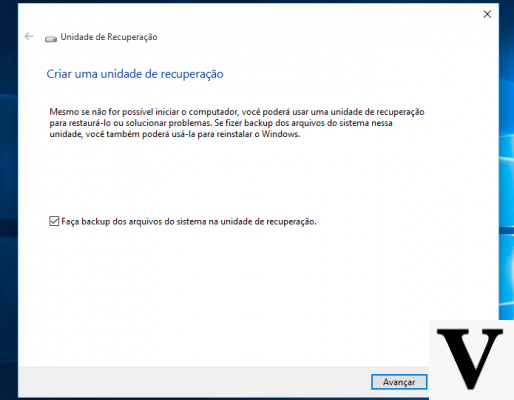 We have already seen how create a restore point on computers with Windows 10, to avoid information leaks due to bugs or problems with documents and programs. To be sure, however, we can create a rescue disk on external USB or CD, to be used in case of PC hard disk problems.
The first thing to know, regardless of whether we will create a recovery disk on a USB stick or on an external CD, is that a recovery disk it is a system that "thinks" in bits. For this reason, if you create a recovery drive in a 64-bit version of Windows 10, you cannot use the same drive to boot and troubleshoot in a 32-bit version of Windows 10. And vice versa. Create a recovery disk it is not a very simple operation but not too complex. By following the right instructions, even a non-expert user could successfully complete it.
How to create a rescue disk
First, after inserting the external drive or USB stick, from our Windows computer let's click on the Start button, the one located at the bottom left of our desktop and which is marked with the window symbol. From the list of applications that will appear we choose the item Backup and restore. Otherwise we can get to the same section by passing through the Control Panel, Then System and maintenance and finally on Backup and restore. Once we get to this point we have to click on the section called Create a recovery disk. The system will automatically start the process and we just have to follow the instructions. During this operation it is possible that the computer asks us for our Windows password to authorize the creation of the recovery disk.
How to use a rescue disk
Once the recovery CD or recovery USB drive has been created, just insert them into our PC to be able to use them. Once this is done we restart the computer. During the reboot we have to boot (via the boot menu) the computer from the system repair disk. If your computer is not configured to boot from a CD or DVD, see your computer's documentation. In this case, you may need to change your computer's BIOS settings. Once you have entered the boot menu we select the drive where we created the restore point and then click on next. And that's it.
What is it and how to create a Windows 10 recovery disc