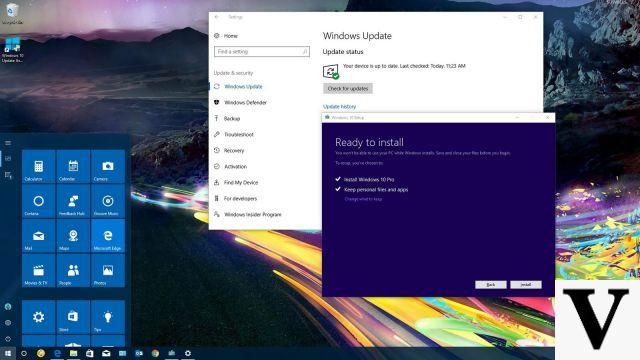 Microsoft will begin releasing - globally - on October 17th Windows 10 Fall Creators Update, "autumn" update which will cover almost half a billion computers and other computing devices that mount the operating system of the Redmond house.
Presented during an event on June 14, 2017, the new major update of Windows 10 it brings with it substantial innovations, even if it does not revolutionize. The basic infrastructure (if we can call it that) will remain largely the same, while users will enjoy a Refurbished and improved operations center, of new security features and other additions that mainly concern the user interface and the graphical aspect of Windows 10. These, of course, are just some of the novelties of the Windows 10 Fall Creators Update: to find out you just have to download the update and install it on your computer.
What the Fall Creators Update contains
In the autumn update of Windows 10, as already mentioned, there will be many small "tweaks" aimed at further improving the user experience for users. The new Photos application, for example, it will allow you to organize and manage in an intuitive - and automated - way the albums and photo folders on your computer hard drive. Added to this are new features to create presentations, videos and slideshows in a matter of minutes (thanks, for example, to the Story remix function).
Furthermore, the Fall Creators Update strongly pushes towards augmented reality and mixed reality. Thanks also to the collaboration with some of the largest hardware manufacturers in the world - see HP, Acer, Lenovo and Dell, just to name four - Windows 10 users will be able to catapult into virtual worlds without being forced to spend exaggerated amounts. The viewers made for the Fall Creators Update, in fact, have a starting price of just under 200 euros and, above all, nothing to envy to more expensive devices.
If virtual reality and augmented reality aren't your top priorities, the Windows 10 Fall Update offers many more reasons to push you to install it. Using the Microsoft launcher on your Android device, just to give an example, you can start writing a document on your computer and continue it on your smartphone or tablet (and vice versa). It also improves the management of battery consumption, with a greater number of consumption profiles to choose from depending on the situation in which you find yourself. Finally, there are new accessibility functions, to facilitate the use of IT tools by people with disabilities: among these stands out the Eye Control, which allows you to control the computer and move the mouse cursor with your eyes.
Windows 10 Fall Creators Update Availability and Compatibility
The Windows 10 update will be downloaded automatically on PCs - or, in any case, the availability of the download will be notified to be started manually - and subsequently installed. Not all computers, however, will be able to receive the latest major update of the operating system. In fact, it will be necessary to respect very specific parameters. THE requisiti minimi Windows 10 Fall Creators Update require the 32-bit version to be installed on a PC with a 1 gigahertz frequency processor, 1 gigabyte of RAM and at least 16 gigabytes of available storage space; the 64-bit version requires 2 gigabytes of RAM and at least 20 gigabytes of hard disk space.
Windows 10 Fall Creators Update: what it contains and how to download it