Sticky Notes, the notepad application integrated into Windows 10, now synchronizes between your various compatible devices. The 3.0 update of the application makes it possible to find the notes taken on one device on another using your Microsoft ID. We take stock of this novelty.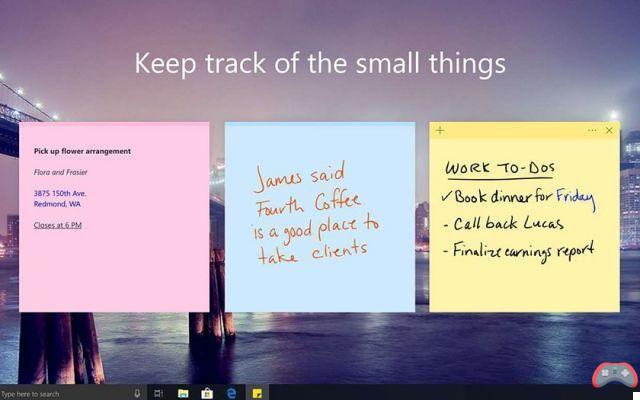 After a test phase, Sticky Notes, the note-taking application included in Windows 7, Windows 8 and Windows 10, now allows you to synchronize all your writing from one computer to another. It is also possible to automatically synchronize your Outlook Notes notes with those of Sticky Notes.
Windows 10: Sticky Notes now allows you to synchronize your notes between all your devices
The synchronization of notes is not the only new feature brought by the 3.0 update. Now it is also possible topin certain notes to your desktop and navigate through them via a search engine. If you're overwhelmed with notes, this option will quickly come in handy.
Similarly, it is also possible to format your text with a new formatting bar. "You will surely notice that the application works faster than before" underline the developers of Sticky Notes, who claim to have improved the responsiveness of the software.
Let's come to aesthetic changes. Sticky Notes is now adorned witha new dark theme titled Charcoal Notes. Text and interface contrasts have been increased to improve readability. Thanks to this major update, the notepad application seeks to overshadow rival applications, such as Microsoft OneNote or To-Do. To download the application, go to the Windows Store. What do you think of this new interface? Do you use Sticky Notes on a daily basis?