Windows 10 and the "Your Phone" application are getting a new update. It allows owners of a Samsung smartphone to use their favorite applications from their PC under Windows 10. The applications will run via a dedicated window.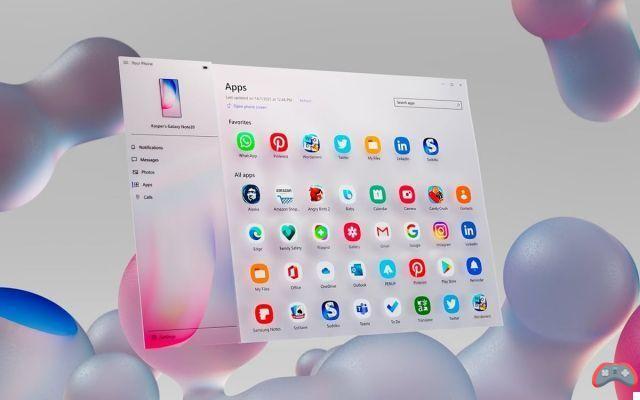 Since the death of Windows Phone, Microsoft has continued to multiply updates to link Google and Android to the Windows ecosystem. This bridge between the two OSes has taken the form of the "Your Phone" mobile application, which allows users to synchronize their Android smartphone with their PC. Thus, you can easily consult your SMS, look at your photo gallery or even make calls from your computer.
For now, only Samsung smartphone owners can take advantage of the benefits offered by the "Your Phone – Link to Windows" app. Moreover, 97,5% of Samsung Galaxy are compatible, thanks to a partnership between Microsoft and the South Korean manufacturer. In September 2020, Microsoft announced the future possibility of running its favorite Android applications directly on its PC via the "Your Phone" app.
After several months of beta testing by Windows Insider members, the feature is finally available for everyone this Monday, February 1, 2021. "When you launch an app, it opens in a separate window outside of the Your Phone app allowing you to multitask. So if you need to quickly respond to a message, check your social media, or order food, you can do it quickly using your PC's large screen, keyboard, mouse alongside your other PC applications." details Microsoft.
How to run my Android apps on PC
However, as said before, one of the conditions to be able to take advantage of this feature is to own a Samsung Galaxy smartphone. Microsoft has also published the complete list of compatible smartphones. Unsurprisingly, all Galaxy S20s, Galaxy Note 20s and the brand's foldable devices, such as the Galaxy Z Fold 2 or Galaxy Z Flip, are compatible. If this is your case, you must then make sure to tick several prerequisites:
Have downloaded Windows 10 May 2020 Update or newer
Have a minimum of 8 GB of RAM on your PC
Get version 1.20102.132.0 or newer of the Your Phone app on your Windows 10 PC
Get version 1.20102.133.0 or newer of the Your Phone – Link to Windows app on your Samsung Galaxy smartphone from the Google Play Store
Make sure your PC and your Samsung smartphone share the same Wi-Fi network
Source : MSPoweruser