Windows 11 offers a new Photos application that we were able to discover a few days ago. It is already possible to download it via parallel channels. It does not change drastically compared to the old one, but offers a completely new design.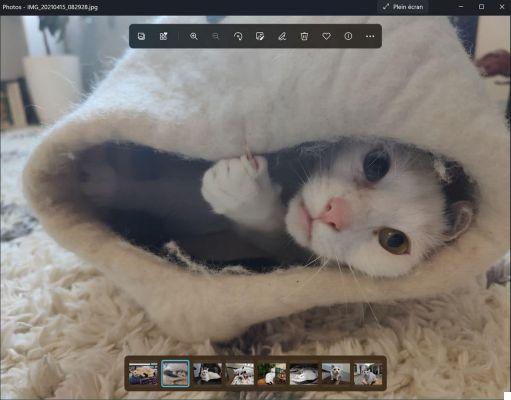 Windows 11 is coming very soon and the latest applications from Microsoft which had not yet been presented reveal their secret. Today, it is the Photos application that interests us. It is indeed available for beta testers.
It is possible to already use Windows 11 through the Insiders channel. Every week, an update brings new features and improves the experience. That of last week allows us to use the Photos application reviewed and corrected by Microsoft. Nevertheless, it is not available to everyone.
Microsoft indeed publishes this version via a system of bearings. It is therefore possible that you do not have access to it yet. Do not panic, since a good Samaritan named Gustave allows you to download the APPX of the application. By installing it on your PC, the new Photos App will automatically replace the old one.
Windows 11 offers a new Photos app
This version does not drastically change the use compared to that of Windows 10, but offers a completely new design. So when you open it, you come across your photos stored in the classic way, with the possibility of adding an album or your OneDrive account. When you open a snapshot, you can see the others in the album as thumbnails.
The options that allow you to modify a photo are now more accessible and easier. As you can see in the visuals, the context menus are also modernized, since they adopt the design and transparency of those of Windows 11.
You can see this change for yourself by directly going to download this app. Attention, it is not yet in its definitive version and you can have bugs and crashes. This has happened to us two or three times already. As a reminder, Windows 11 will arrive on the market on October 5th. If you are on Windows 10, it will be necessary to wait a little before having the automatic update which is planned for the first half of the year 2022.