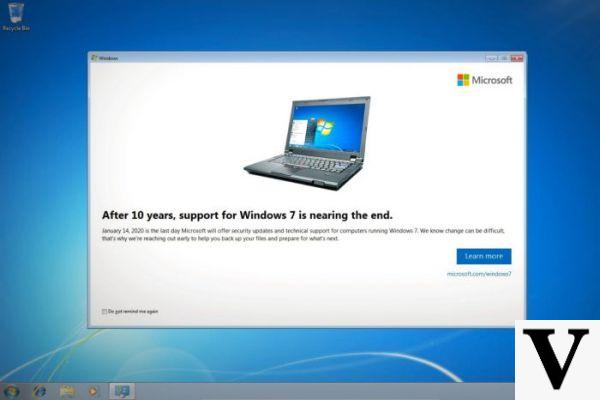 Il Microsoft Windows 7 operating system muore: starting from today 14 January, Microsoft will no longer offer any support to users of this OS and will no longer release security patches.
Users who have no plans to upgrade to a more updated operating system can purchase a support extension, which has a different annual cost based on the version of Windows 7 installed (not available for Windows 7 Home Edition users). All others are officially uncovered against cyber threats and will be able to continue use Windows 7 at their own risk: the Microsoft Security Essentials platform (which also contains the antivirus), will continue to receive virus signature updates even after January 14, but will no longer be updated. It is estimated that today around 35% of all PCs in the world still have the Windows 7 operating system installed.
Support extended to Windows 7
For users who want continue to use Windows 7 Professional and Enterprise edition, but do not want to expose themselves to serious IT risks deriving from the end of support from Microsoft, there is the so-called "Extended Security Update Program". The first year of extended support costs $ 25 for Enterprise Edition and $ 50 for Windows 7 Professional. The second and third year prices double: $ 50 and $ 100, respectively for Windows 7 Enterprise and Professional. The large companies with many computers running Windows 7 Enterprise Edition they can purchase extended support in bulk, saving on individual licenses.
What you risk with outdated Windows 7
- Windows 7 Home users, which will no longer be updated and which cannot even be covered by extended support, should mass update the your operating system to Windows 10. In fact, using an outdated system is very dangerous. Every day news arrives about new security flaws in the operating systems, not foreseen in the code writing phase and discovered only later (these are the so-called "Zero-Day" flaws). By exploiting these flaws, hackers can quite often literally take control of the affected operating systems and, for this reason, Microsoft responds to each new flaw discovered with a security patches that goes to "close". All of this will no longer happen for Windows 7, so users will no longer be protected from any attacks.
Windows 7, official support ends today: what changes