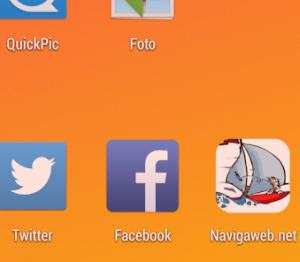 On any smartphone or tablet, be it
Android, iPhone o iPad e Windows Phone
, you can add applications to the home screen, as well as websites for direct launch.
This way you can
open a favorite website by touching its icon directly
, without having to go to the browser,
as if it were an application
.
Some platforms also have extra features such as, for example, Chrome for Android which opens these websites in full screen windows without the browser interface, or Windows 8 and Windows Phone which display live updates from certain websites on the tiles.
Android
Start Chrome for Android and open the web page or site you want to save on the Home screen.
Tap the Menu button and then where it says add to homescreen.
Give the shortcut a name and Chrome adds it to the home screen.
The icon can be moved where you want and the chosen site will appear, like any other app, by tapping the link.
Chrome for Android, as already mentioned, loads the website as if it were a "web app" separately from the browser, in order to close it or resume it from the app switcher (the button with two rectangles).
Almost all other browsers for Android also have this feature; for example, in Firefox for Android just tap the menu button, then Page, and Add to Home.
Finally, the Hermit app for Android turns any website into a real app, to be installed on your mobile or tablet.
This can be useful to use, for example, Facebook from the mobile site without using the official application.
iPhone, iPad, e iPod Touch
Launch Safari on Apple's iOS and go to the website page you want to add to the Home screen.
Tap the Share button in the browser toolbar (the rectangle with an arrow pointing up at the top of an iPad screen and at the bottom of the screen on an iPhone or iPod Touch) and pin to Home.
You will be prompted to name the link before tapping the Add button.
The link can be dragged and moved wherever you want, even inside an app folder.
When you tap the icon, the site will load in a regular tab within Safari.
Other browsers, such as Chrome for iOS, don't have this feature due to iOS limitations.
Windows
You can add launch icons for your favorite sites to the Windows 10 Start screen or to the desktop in Windows 7 and 10.
To do this you can use Microsoft Edge, using the main menu with the three dots and the "Pin to Start" option.
The same can also be done with Chrome, by going to the main menu of the three dots and then to Other tools> Create shortcut.
If you are not satisfied, in another article there are also some programs to convert sites into applications.
To remove a website from your device's home screen, long-press the link and remove it as you would any other application icon.