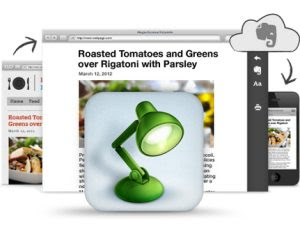 As one of our former prime minister would say, advertising should not be hated but loved, because it allows you to provide free services.
This is true for TV and, above all, it is true for the web, because if there are so many quality websites, we must give credit to advertising.
However, it may happen, on some sites, that advertisements disturb the reading and viewing of articles and web pages.
In these cases there are some
extensions and tools for Firefox, Safari and Chrome browsers
that allow
open these pages without advertising or other disturbing elements
, hiding or blocking the most annoying ads,
improving the readability of each website
.
1) The best extension to disable advertisements and, at the same time, make an online article easier to read is
Just Read per Chrome
e
Reader per Firefox
, which prepares a web page for reading, keeping text, images and videos, perfect for reading as if it were a book.
The original webpage remains in the background and there is a toolbar at the bottom to zoom in and out of the text, send the link via email, share on Twitter and Facebook, and turn off images.
The gear icon takes you to options to adjust the background opacity and change the article font, width and margin.
2)
Microsoft Edge
, the Windows 10 browser, includes a
reading mode
really effective and elegant sites, which hide advertising and any other element leaving all the space on the page for the article.
To activate this mode, just press, on the Edge address bar, the book button that appears when you open a blog or newspaper article.
3)
Firefox
it also has a reading mode which eliminates any unnecessary elements from websites including advertisements.
To do this, just press the key at the top of the address bar or the F9 key on the keyboard.
4)
MagicScroll
is an extension for Google Chrome is the ideal tool for reading long articles without losing your mark.
Each page opened with MagicScroll is converted as in a book, divided into pages to be scrolled, without vertical scrolling.
Furthermore, while reading, you can use the mouse wheel to keep the sign and always know which line you have reached.
At the same time, the page remains ad-free, with only any images (but without including videos)
5) If you prefer, there are also i
bookmarklets
to remove advertisements and make a web page easier to read.
The bookmarklets are simply buttons to be saved (by dragging the link with the mouse) in the favorites bar, to be pressed when you want to use them.
A bookmarklet is Readable, similar to Evernote Clearly from which the extension is derived.
6)
Popup Blocker
Advertisements are legitimate and not annoying when they are on the sides of a web page or when they do not prevent reading.
The type of advertisement that really irritates you is the popup, that is, when it appears in front of the page you are visiting and forces the user to see it or look for the button to close it.
In these cases you can block all pop-ups in Chrome and Firefox.
NOTE: Some might argue that Adblock has been forgotten in this list.
As I see it, however, Adblock is a web killer extension because if almost all the websites in the world are free, they are thanks to advertising so blocking it or hiding it completely is not good.
Finally, note that it is
Firefox on Android and Safari on iPhone and iPad
have the reading mode in the main menu, to view any web page in text and image only mode, without advertising. The mode is for now an experimental feature in Chrome on Android.