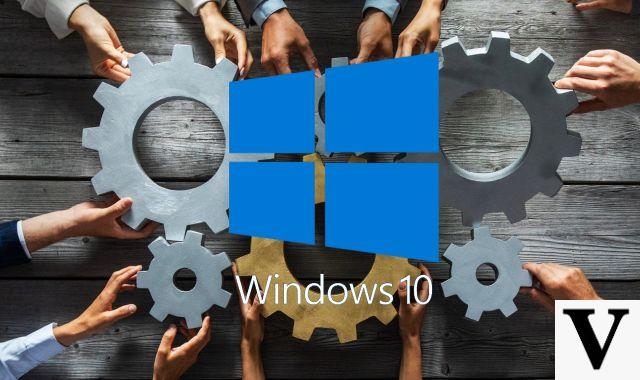 Microsoft continually tries to improve Windows 10. Unfortunately, the perfect operating system does not exist. Even in the latest version of the Redmond IT giant we can find bugs and errors.
I continue Windows 10 updates they are good, for safety and functionality. For users, however, they can pose a problem. Because blocking them is not always easy, especially if you are using your computer for work and do not read the notifications in time. Also, if an automatic update starts by itself, the computer will restart and we will we will lose all data of the current session. However, we must not despair. On Windows 10 there is the Hours of Activity function which allows you to postpone until later, and also to schedule, a reboot necessary for the update.
Keyboard shortcuts
On Windows 10 if we press Shift five times in a row we will activate the function for hot keys. This is a shortcut option that allows you to press key combinations one at a time instead of simultaneously. These are the shortcuts we usually do by pressing Ctrl and C or V for copy paste. To disable this feature just go to Settings and we select the deactivate item next to the words: "Enable Sticky Keys when Shift is pressed five times."
Delete Unused Applications
There are a number of programs which we hardly ever use. Why continue to keep these software that does nothing but occupy the memory of our device? Fortunately, with Windows 10 some pre-installed applications can be deleted. To do this just go to Settings then on System and App and features. Here we will see the whole list of the various applications installed and we can decide which ones to delete.
Use Windows 10 with local account
When we register our device for the first time, Microsoft asks us to create or enter the credentials of ours account Windows. This implies a single profile for both the operating system and Skype, Xbox Live and many other Redmond features, such as One Drive. To use the operating system, however, it is not necessary to register our profile. And even if we are already logged in, we can still change the account. To do it just go to Settings, then up Account and finally on Your email address and account. At this point we have to click on Log in with an account locale. The flaw? Every time we log in to a service Microsoft we will have to re-enter the credentials.
Use a PIN
If we use a Microsoft account we can think of enter a PIN in place of the password. This is a faster and safer way to protect our computer. To configure a PIN is enough go to the Start menu and then click on our profile icon. Once this is done, a page will open where we have to click on the item Add PIN. The same path we will have to do to delete, change or recover the PIN.
Disable Cortana
Cortana, Microsoft's voice assistance, you may like it or not. In the second case we can also think of turning off artificial intelligence. Cortana can be hidden or disabled. In the first case, just go between the applications, select the voice assistant and then hide Cortana. The more complicated the path to turn off Cortana on the PC, this is a step not recommended for users with little experience.
Goodbye to notifications
Notifications on Windows 10 are a bit like Cortana, either you love or hate each other. Fortunately, they can too deactivate. To do this, just go up Settings and then on Notifications and Actions. From this page we can block the arrival of all notifications, deselecting all the apps, or remove only the programs that bother us most. We may also turn off the sound about messages.
Emoji in Windows 10
Can we do without emojis nowadays? The answer of course is no. But how to activate them in the Windows 10 keyboard? Simple. Let's go to the Notification Center e we select the Tablet mode. After doing this we will see among the icons at the bottom right that of virtual keyboard. We click on this icon and we will see a keyboard appear on our screen. To insert special symbols, press the 123 key while for emoticons we have to go to the button with the smiley face. And here we will find the various emojis.
Is Windows 10 having problems? How to fix them in minutes