For nearly a year, Windows 10 has displayed a full-screen page to promote all Microsoft services. Until then, the window only appeared after an update and only appeared once. But recently, it seems that she appears on several occasions and on various occasions.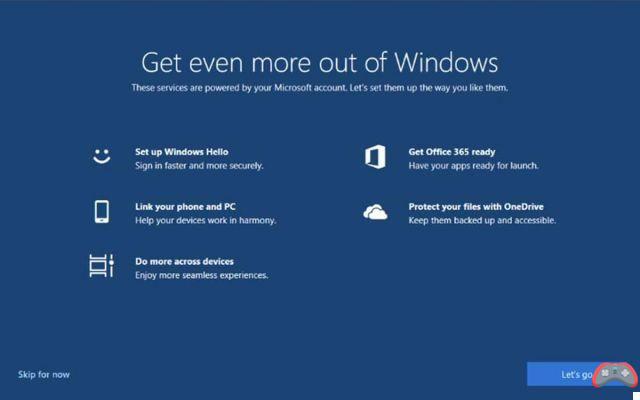 Decidedly, Microsoft is doing everything so that its users use all of its products and does not go to the side of the competition. After recommending them to use Edge in every possible way, Redmond's publisher pushes its services using full-screen windows which appear randomly in Windows 10.
Windows 10 shows a full-screen window to promote Office and OneDrive
When updating Windows 10 or installing it for the first time, the operating system displays a screen promoting Microsoft services. A full-screen page is presented, prompting the user to install or configure various applications designed by the Redmond giant. In particular are highlighted Windows Hello, Office 365, OneDrive or the app Your phone. So far, nothing really abnormal to see Microsoft promote its ecosystem within its own operating system.
On the other hand, many users report that this full-screen window now pops up unexpectedly, and not only after updating the operating system. Some saw it even though they hadn't yet made the slightest update to their system, while others paid the price after logging out and then reconnecting to the system. Nothing really annoying in itself since it is possible to leave the window using a small option located at the bottom left of it. On the other hand, as this window is theoretically associated with a complete reinstallation of the system, it may be of concern to less experienced users.
Read also: Windows 2021 10 Update is already ready, the beta will be released this month
How to Disable Windows 10 Fullscreen Ad Window
If you want to stop seeing this kind of full-screen notification, there is a fairly simple way to get rid of it. To do this, follow these steps:
Simultaneously press the keys [Windows] + [I], or go to the start menu and click the settings icon
Head to the option System
Click on Notifications and actions
Uncheck the option Suggest ways to finish setting up my device to get the most out of Windows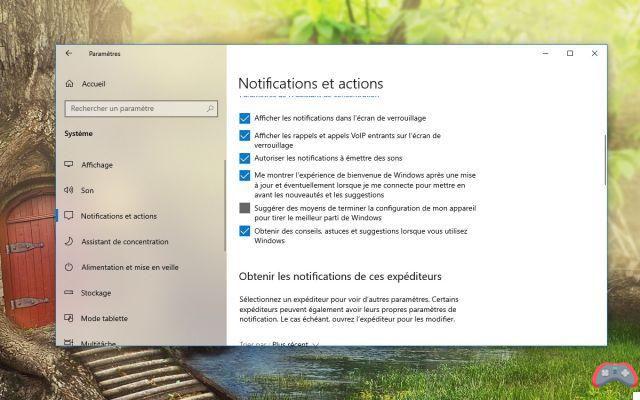 An alternative is to call the Windows 10 registry:
Visit ComputerHKEY_CURRENT_USERSoftwareMicrosoftWindowsCurrentVersionUserProfileEngagement
Double click on ScoobeSystemSettingEnabled. If it does not exist, create a Dword (32-bit) value and name it ScoobeSystemSettingEnabled
Finally assign it the value 0
Source: Windows Latest