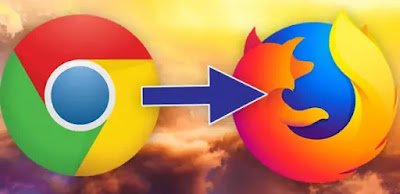 Chrome is Google's most popular web browser, the most used in the world, full of features, fast enough and always up to date with the latest security options.
Firefox is the second choice, lagging far behind in terms of improvements, at least until the release of
Firefox su webkit
, which relaunched the Mozilla browser decisively, becoming
molto veloce
.
Firefox therefore returns to be an optimal choice for browsing the web and visiting websites both on computers and on smartphones and tablets, above all because it is perhaps even faster than Chrome and because it is much more customizable in its interface.
In case you wanted to
switch from Chrome to Firefox
, however, it becomes necessary
migrate all data from one browser to another
in order to
keep the same favorites, the same website data, saved passwords and possibly also the chronology
a.
First of all you can use Firefox's internal function to import data from other browsers the first time it is started on a computer.
The tool to transfer data from Chrome to Firefox
you can also use it without reinstalling Firefox, although it remains somewhat hidden under the Bookmark Manager window.
To open the Bookmark Manager, click on the Library icon on the top toolbar and then go to Bookmarks -> View all bookmarks or press the Ctrl + Shift + B keys together.
From the bookmark management window in Firefox, click on the "Import and save" button and then click on "
Import data from another browser
"(If you only want to import bookmarks from Chrome or another browser, then you can use the" Import bookmarks from HTML "button).
Choose Chrome (or another browser if used), make sure Chrome is closed and then go Next to continue the process.
You will then be prompted to choose which data you want to import and if there are multiple profiles, from which profile to migrate the data.
By default,
Firefox imports cookies, browsing history, saved passwords and favorites from Chrome
.
You can deselect any of these options to import only certain types of data.
Chrome bookmarks will be placed in the "From Chrome" folder in the bookmarks menu and toolbar, but you can then rearrange them as you wish.
Firefox cannot import other data that could be considered important, such as, for example, the extensions that will be searched for on the Mozilla site.
Once you have imported all the data, if necessary, you have to
set Firefox as Windows default browser
by going to the Firefox options, in the General section.
In Windows 10 you will also need to go to the Settings, in the App> Default apps section, in order to change the default browser on the PC.