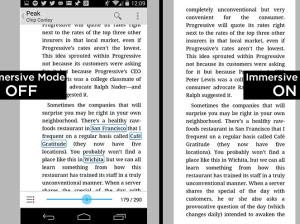 One of the best features of Android is the
full screen mode
for applications. This full screen mode, also called
Immersive mode
, it only works with some applications, such as Google Play Books, VLC to watch videos or some games.
The immersive mode
it does nothing but take
the whole screen
cell phone, including that space at the top of the
notification bar and the one at the bottom of the navigation buttons that are hidden
.
The easiest way to have immersive mode for all apps
, not just games or videos, it is that of the application
immersive
which works without any need to root your phone, has no ads and is free (but does not work from Android 11 onwards).
The app is free with some limitations that can be unlocked by paying for the full version. After installation, from the notification bar at the top, you can choose whether to hide the upper bar, hide the lower one or leave everything as it is. You can then make this change when you want, when you need it. The paid app also allows you to activate the full screen on some specific applications automatically and to choose the color and transparency of the bottom row that allows the navigation buttons to reappear. In the application options you can hide the icon from the notification bar and disable the full screen mode when the button bar is visible, so as not to annoy when using the applications that need it.
Those who have the smartphone unlocked with root should install the Xposed Framework, which I have already talked about. After installation, you will be able to choose the Immerse Me module which can be found in the list of modules of this incredible application. Once you activate it, all apps will be full screen until you deactivate the module. To see the bars at the top and bottom you will have to swipe your finger from the top or bottom.
The immersive or full screen mode is also present as an option in the Interface Settings of the Lineage OS ROM.
To activate the extended desktop you must then press and hold the power button, from the mobile phone shutdown menu.
ALSO READ:
We will be split between two apps on Android