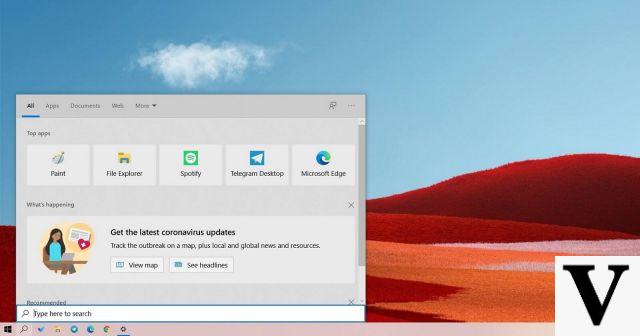 Microsoft's work on its operating system doesn't just focus on resolution of bugs created from new updates, but also on the improvement of existing functions and on the creation of new tools. Microsoft Search falls into the latter category: it is a feature announced in 2018 and that will probably see the light by the end of the year. To announce it is the same company from Redmond: at first it was supposed to arrive last year with the update to Windows 10 1903 (May 2019), but in the end it was postponed to a later date.
Now Microsoft has updated the calendar by setting a new date for the official release: September 2020. But most likely Microsoft Search will come with Windows 2H20, the second core update of the year scheduled for November. What is Microsoft Search for? And how does it work? This is a new tool that allows you to search for a document both locally and on the web. Designed primarily for businesses, it should be included within Microsoft 365 and make life easier for employees.
What is Microsoft Search and how does it work
For anyone using one of Microsoft's many apps, they should already be familiar with the new Search feature. In fact it is already present on OneDrive, SharePoint and Outloo, but the big leap is still missing: the release on Windows 10. Which, as we said, should arrive by the end of the year.
Microsoft Search has great objectives: to change the "Search" function currently present on the operating system. The tool has potential to be discovered: it allows you to simultaneously use both the local search (on the PC) and the online one. function is aimed primarily at a corporate audience: thanks to the data of all the computers connected locally, Microsoft Search is able in a few seconds to offer a detailed answer to any type of search, showing internal documents, resources on the web and any type of file useful to help the user.
When Microsoft Search arrives
In the roadmap published by the Redmond company, the new function should arrive by September, but most likely it will be merged into the second core update expected for November 2020.
Windows 10, what is the new Microsoft Search function