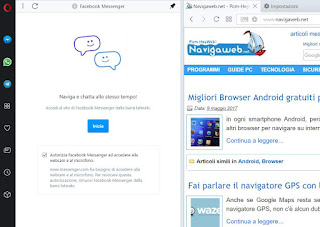 Although Opera has always been considered a great and excellent backup browser, it certainly cannot be said that the developers are not original in their efforts to make Opera an indispensable program and a valid alternative as the default browser even for those who have always used Chrome. and Firefox.
The delicious and very welcome novelty of the latest version of Opera,
Opera 45
, was added on
support for texting on Whatsapp, Facebook Messenger and Telegram
, in order to
stay connected from your PC to these chats
, keeping them open in a sidebar, even all together.
It therefore becomes possible to switch from one chat to another at any time,
receive notifications of new messages
incoming and use one or even all three messaging services from a PC in a simple and automatic way.
Those who already have Opera can proceed with the update of the version from the main menu, by going to Info on Opera.
If Opera browser has never been installed yet, here is another precious opportunity to download it from the official website, for Windows, Linux and Mac, remembering that it is a powerful program for surfing the internet, based on Chrome, with a beautiful customizable home page and some important functions such as, for example, the Opera VPN and Opera Turbo.
To use the new Opera buttons to chat on Whatsapp, Facebook Messenger and Telegram
you need to open a new tab on the Quick Access page and notice the Whatsapp and Messenger buttons on the right.
To log in, you need to lock the sidebar by pressing the lock button at the bottom left.
Once set, you can access the two chats, Whatsapp and Facebook Messenger, by logging in via the Web Messenger and Whatsapp Web versions.
Keep in mind that once logged in, it remains active until it is manually terminated, so if someone else uses our PC and opens Opera, they may be spying on our conversations.
Once logged in, it becomes easy to chat in these two applications from PC through Opera, opening the conversations on the sidebar, without disturbing the navigation or the work you are doing on the internet.
This is really very convenient, even compared to the possibility offered by the Franz program to use Whatsapp, Messenger, Skype and other chats together on a PC.
In addition to Whatsapp and Messenger, you can too
add the button to chat in Telegram on Opera
, che come sappiamo è molto comodo per tante cose in più rispetto alle chat di Facebook, come seguire le novità dai siti web (per esempio il canale ) o salvare file nel suo cloud illimitato.
To add Telegram, open the Opera menu, go to Settings and in the Basic section, scroll down until you find the word Sidebar with a button Manage sidebar, which allows you to add the button for Telegram.