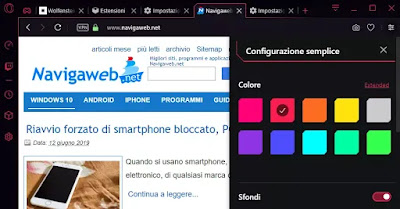 Opera is one of the oldest web browsers, which although it has never conquered the popularity of Chrome and Firefox, it has nevertheless remained the most innovative in terms of functionality, so much so that it has described Opera as the browser with more special functions. Over time we have seen different types of Opera browsers, in addition to the classic one, with for example the Opera Mini and Opera Touch versions for smartphones.
Now Opera has launched on the market a new browser for PC, very special and innovative at least from the point of view of the objective, which had never been seen before:
Opera GX Gaming Browser
, Namely
the browser for gamers
.
This experimental browser dedicated to gamers works like a regular browser, but has some
really nice features
and interesting as the integration of Twitch and, above all,
the computer's CPU and RAM usage limiter
(ideal for those with an old PC or one with little memory). The user interface, then, has a
sci-fi movie look
, which we could define absolutely "extravagant".
Like the standard version of Opera, Opera GX is based on Chromium, the open-source project that forms the basis for the Google Chrome web browser. The websites then open and appear the same as they do with Chrome and it is also possible to install Chrome extensions.
Like Gaming Browser, Opera GX is dedicated to viodegames players, Twitch regulars, and those who are always looking for news about new upcoming games. Apart from that, everyone can use them, especially if you want to try the
PC performance optimization feature
.
Opera GX
is available for free
via PC Windows
and also for smartphones
Android
and for
iPhone and iPad
Main features of Opera GX
Razer interface
: Opera has made sure that browser graphics resemble those of gaming computers, keyboards or mice used by PC gamers. So here's a dark theme with fuchsia edges, which you can customize using other flashy colors like purple, green or blue. To change the colors just press the personalization button at the top right and immediately choose your favorite color. You can also change the background, activate animations and choose the volume of the sounds with a dedicated slider.
Latest news and games
: Opera GX has a dedicated space on the home card that allows you to read the latest news on PC or console games. You can also add custom sources to get news from your favorite sites.
Limitation of CPU and RAM usage
: This is certainly the best of the features introduced by Opera GX, which allows you to specify how much RAM or CPU the browser can use. This feature is intended for gamers, to prevent game performance from being throttled when the browser is kept open. By specifying, therefore, the maximum memory and CPU that Opera can use, you make sure to leave resources for the game or even for other programs.
This feature makes this browser interesting even for those with a low-end PC. To use this function, press the GX Control button on the left column. The limiters can be activated with the relevant switches and then set using the sliders below the counters.
Integration with Twitch
: From Opera GX you can press the Twitch button to immediately open the videos of those who play live, in order to follow your favorite channels and also get notifications from Twitch.
Integrated messengers
: The browser has quick buttons to open and keep Facebook, Telegram and WhatsApp chats open.
Video Pop Out (Picture in Picture)
: When viewing a video on Twitch or Youtube, it can be detached from the tab and kept zoomed out while reading other sites.
VPN
: As you can activate the VPN on the Opera browser, also in Opera GX you can do it. Opera's integrated VPN is free and unlimited and can be activated from your browser settings. (the
Opera GX settings
open by pressing the gear button on the left column)
Snapshot button to take screenshots
and photographing websites or screenshots of online games
All Opera browser functions are integrated into Opera GX, including my flow, cryptowallet and customization options.
In conclusion, Opera GX is certainly a
great browser for gamers
, and it is also an option not to be underestimated
for those who have a PC with low memory or with a very old CPU
, thanks to its function that allows you to limit the use of RAM and processor by the browser. Furthermore, the graphic aspect of Opera GX is so "cool" that it almost seems to be in front of those futuristic computers that you see in movies.