Instagram has understood that it has a card to play with its users in this period of confinement. The social network, a subsidiary of Facebook, therefore introduces several new features. One of them is aimed directly at friends... who can now scroll together remotely on the platform.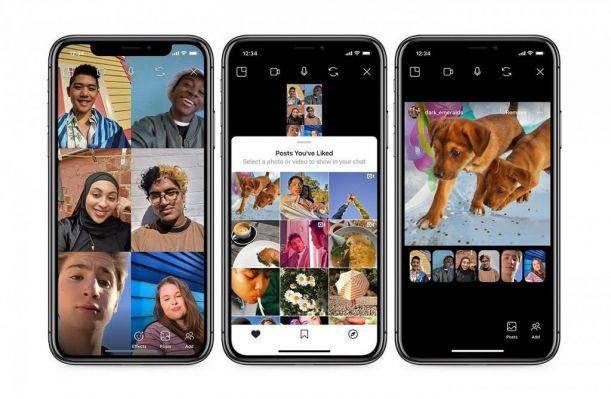 The co-watching function launched on Instagram
Social networks have perhaps never been more useful than in times of confinement. Instagram is therefore taking advantage of this favorable period and increased traffic to introduce several new features. Called "Co-Watching", the most important new feature of the latest service update makes confinement a little less painful for friends who are used to browsing Instagram together in search of interesting content. Its principle is simple: launch a video chat with one or more contacts and share in two clicks content (images or videos) recently liked during your recent wanderings on the platform.
Facebook is taking the opportunity to try to stem the spread of fake news
The thing is done very simply. Once a group chat has been launched, a "Multimedia content" icon appears at the bottom right of the screen. All you have to do is click on the latter to reveal a drawer with three tabs including both the content you have previously liked, but also the ones that Instagram recommends you consult. Clicking on one of these contents will allow them to be shared instantly on the video chat, and to all participants. Tested by us, this new feature is already deployed in Spain and works perfectly.
In parallel with this addition, and in a more visible way, Instagram has also deployed a "Home" sticker in the insert dedicated to Stories. It allows content relating to containment published by certain media to be brought together in one place. This novelty, which we imagine to be temporary, is part of an effort by Facebook (Instagram's parent company) to try to stem the spread of false information on Instagram about the Coronavirus. In this critical period, the group explains in particular that it has removed from the recommendations the publications of many questionable accounts, dedicated to COVID-19, which have been created in recent weeks.
From now on, only posts from a restricted list of accounts (such as the WHO or health-related NGOs and sources deemed reliable) will be able to appear in your recommendations. A measure that deserves to be reinforced, but which goes in the right direction in these troubled times.