The Galaxy Note 20 could take advantage of a completely wireless DeX mode. According to a leak, Samsung is indeed working on a new version of the tool capable of transforming a smartphone into a computer. You wouldn't need a USB-C to HDMI cable or a DeX Pad to use it.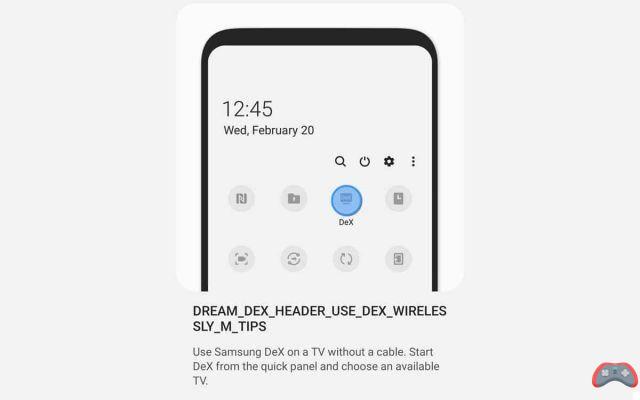 Since its debut in 2017, the DeX mode has evolved enormously. Originally, you had to bring the DeX Station, a thick and bulky base, a mouse and a keyboard to transform your Galaxy S8 into a computer. The following year, Samsung chose to use the screen of its smartphones to act as a mouse and keyboard. Finally, with the Galaxy Note 9, the manufacturer finally abandoned the DeX Station. To connect the smartphone, however, you had to go through a USB-C to HDMI adapter cable.
On the same subject: Galaxy Note 20 – Samsung would increasingly abandon its Exynos 990 for the Snapdragon 865+
A DeX mode that works like a Google Chromecast
The Galaxy Note 20 would not need a cable to switch to DeX mode, reveal our colleagues from XDA Developers. By rummaging in Samsung Tips app code (which compiles tips for users), the media discovered several clues showing that Samsung has come up with a 100% wireless DeX mode. As a reminder, Samsung had officially mentioned the arrival of a wireless DeX mode at the end of 2018.
We even discover the general functioning of the mode. To turn the Note 20 into a computer, all you have to do is go through the DeX icon accessible in Android's quick shortcuts. "Use Samsung DeX on your TV/display without cable" explains the software. To connect, the user only has to select the desired device. Concretely, this new mode therefore works like a Google Chromecast. To work, we imagine that the smartphone and the television must be connected to the same WiFi network.
According to XDA, the firm mentioned this novelty in Samsung Tips by mistake. Still, the mention of DeX mode in the wireless app suggests the feature is finally ready to roll out. Given the habits of the brand, it is expected that the new DeX mode will be presented at the same time as a flagship. All eyes are therefore on the Galaxy Note 20, whose presentation is set for August 5, 2020.
Source : XDA Developers