YouTube is finally available on Nintendo Switch. Hallelujah! The firm announces the good news on social networks: "Make yourself comfortable and enjoy YouTube on your Nintendo Switch. A world of entertainment opens up to you". It could also be that Netflix will be available on the console soon. In the meantime, we have installed Youtube on our Nintendo Switch. First pictures.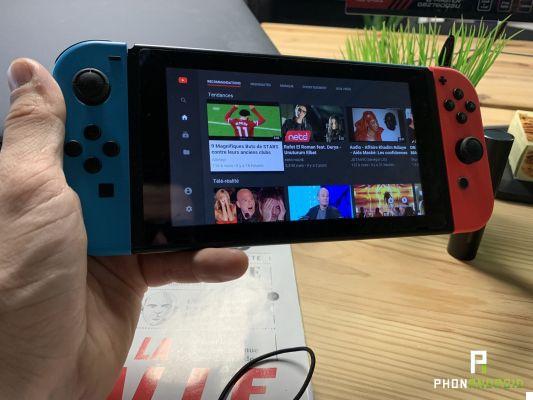 The YouTube application finally land on Nintendo Switch this November 8, 2018 for download on the eShop. Several users reported on the ResetEra forum a few days ago that they had been offered in the list of application suggestions on the American official site ("You might also like") of Nintendo, Google's video-sharing platform, accompanied by the following mention: "available on November 8, 2018". And it's now official, Nintendo announces it on social networks.
Nintendo Switch: the YouTube application is available
The Japanese company has repeatedly explained that its machine is above all dedicated to a gaming experience and that entertainment apps are not its priority. Nintendo, however, had indicated that it was negotiating for YouTube and Netflix to land on the Switch, while Hulu is already available there in the United States. At the end of October 2018, we learned that Nintendo had sold more than 22 million Switches worldwide. A number that should increase further as the end of year celebrations approach, especially if the console acquires multimedia services that it lacks compared to its two main competitors, namely the PS4 and the Xbox One, which offer a much more complete lounge experience for now.
Besides YouTube, Netflix could also land on Switch in the future. "Nintendo was very focused at launch on the gaming aspect and not on the video aspect, which was not a priority for them […] Netflix support on Switch may interest us […] it could happen", explained Scott Mirer, executive at the SVOD platform.
Read also: how to download and install Youtube beta to enjoy new features before everyone else on Android
Sit back and enjoy @YouTube on your #NintendoSwitch. A world of entertainment opens up to you: music videos, live video games, tutorials... You can download YouTube now in the Nintendo #eShop.
?: https://t.co/TUh3UCzXzv pic.twitter.com/W3UhEOccbs
— Nintendo Spain (@NintendoSpain) November 8, 2018