For more information
Why switch to Windows 10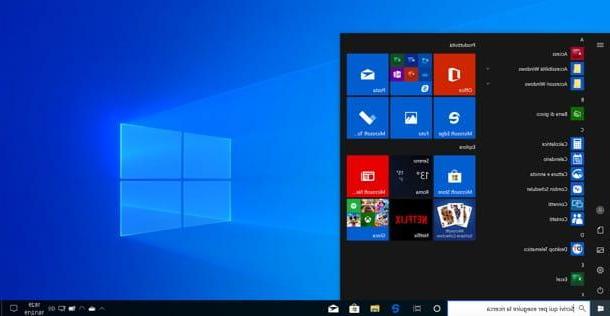 Why it is important to switch to Windows 10 I already told you in the introductory lines of this guide; however, I want to go deeper into the subject and help you clarify any points that may still be obscure to you.
We reiterate, first of all, what the end of support for Windows 7: from January 14 2020, Microsoft will no longer provide technical support for any problems, software updates, security updates or fixes for Windows 7. This means that your PC will continue to work but, without software and security updates, it will be vulnerabile a virus e malware. To fix this, you need to upgrade to a recent and updated version of the operating system, that is Windows 10.
I already know what you are thinking: you have been using your current computer daily for years and you are afraid of making the "leap" to the new operating system, especially because you are afraid of not knowing how to use it and / or losing your data. Did I guess? Well, then know that your fears are unfounded!
Switching to Windows 10 is really a breeze, plus you can take all your data with you and you won't have the slightest difficulty learning the new operating system features, which are all extremely useful and intuitive.
Then think about it: how many times have you complained about the slowness of your current computer? And what about its autonomy, now far from the one it had in the first months of life, what can you tell me? By switching to Windows 10, you will be able to enjoy a stable, fast system and you will have the possibility to take advantage of all the comforts offered by the latest generation computers: compact and lightweight format; use of Super fast SSDs instead of the classic mechanical disks, which make the start of the operating system and applications extremely fast; support a touch screen e digital pen, to interact with the screen using your fingers and write on the display as if it were a piece of paper; biometric scan, to unlock your PC by scanning your fingerprint or face, and much more.
Synchronization with the cloud (OneDrive), the voice assistant Cortana and the quick search functions included in Windows 10 then allow you to have your data always safely synchronized on all your devices and to search very quickly for applications, documents and information on the Web.
The presence of the Microsoft Store, to download applications on your PC with one click (as you do on smartphones and tablets); that of a complete end-to-end security system with antivirus, firewall, Internet protections and much more, and the many functions related to productivity, for example Activity view which allows you to find out which documents and programs have opened in the last 30 days and quickly resume work on them.
In short, there are so many reasons for choose Windows 10 and, in the next chapters, I'll explain how to do it. Good continuation!
Windows 10 versions and requirements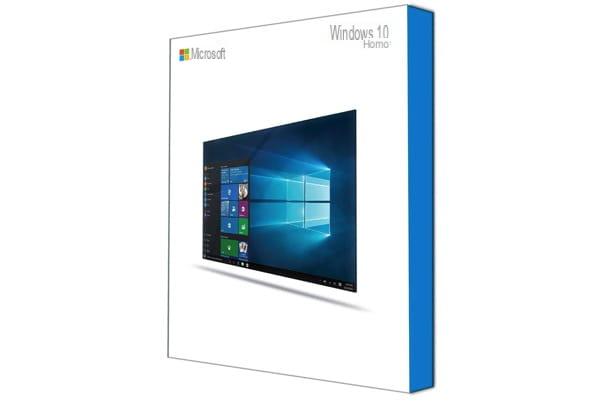 Before going into the details of this guide and explaining how to switch to Windows 10, it seems only right to tell you which versions of Windows 10 are commercially available and the hardware requirements necessary to run the operating system.
Let's start by saying that there are three editions of Windows 10: Windows 10 Home, ideal for personal and family use e Windows 10 Pro (also available in the version for Workstation), which offers all the features of Windows 10 Home plus some features dedicated to the professional field, such as BitLocker, Remote Desktop and Domain join. More info here.
All editions of the operating system share the same minimum requirements, which I report below.
Processor: 1 GHz or higher.
RAM: da 1GB per Windows 10 a 32 bit o da 2GB per Windows 10 a 64 bit.
Spazio his album: 16GB per Windows 10 a 32 bit o 20GB per Windows 10 a 64 bit.
Graphic card: DirectX 9 or later with WDDM 1.0 driver.
Screen: at least 800 x 600 pixels.
You can purchase your copy of Windows 10 directly from Microsoft's website or in all major electronics stores, both physical and online.
In case you were wondering, it is not possible to upgrade from Windows 7 to Windows 10 for free: At the launch of Windows 10, there was a free upgrade offer but it expired on July 29, 2016.
How to upgrade to Windows 10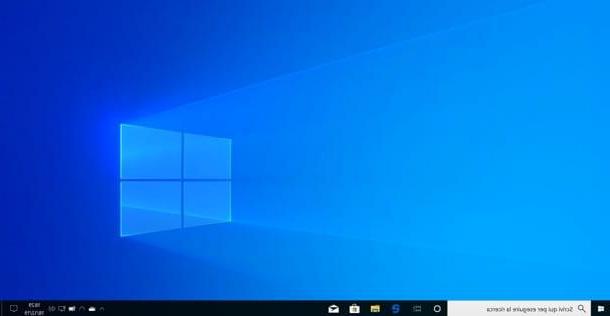 Having made the necessary premises above, I would say that we can roll up our sleeves and see how to upgrade to windows 10. I will then walk you through the process of backing up the data on your current PC and then tell you how to choose yours new computer with Windows 10 o how to upgrade to windows 10 what you have now.
In most cases, the purchase of a new PC is recommended, as computers originally produced with Windows 7 use technologies of 10 years ago and therefore are now unsafe and performing, but obviously assessments must be made on a case-by-case basis. . For more details, read on.
Preliminary operation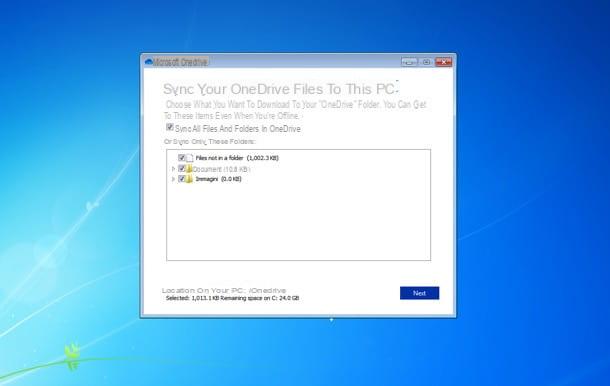 Whether you are planning to buy a new PC with Windows 10 or upgrade your current PC to the new version of the operating system, you must first do a data backup you have on Windows 7.
You basically have two ways to do this: perform a data backup to the cloud (then on the Internet) or make a classic offline backup, its a external hard disk.
Personally, since Windows 10 integrates "as standard" OneDrive, the Microsoft cloud storage service (which offers 5GB of free space), I recommend that you rely on the latter: by doing so, as soon as you log in with your Microsoft account on Windows 10, you will find everyone on the new system the files you had on Windows 7.
Convenient, right? Then get to work now! Install OneDrive immediately on your current PC and upload all the data of your interest to the cloud: the operation is disarming simplicity.
To begin with, connected to the OneDrive website and click on the button Download, to get the OneDrive installation file. When the download is complete, open the .exe file obtained and wait a few moments, then fill out the login form by entering your Microsoft account data.
Once logged in, choose the position where to host the OneDrive folder, go forward and select the folders to sync to the cloud, for example Documents e Images, placing the check mark next to their icons. To finish, go again forward and consult the information provided on the screen to find out how to get the best out of OneDrive. In the meantime, the software will already be uploading the files to your cloud space (you can check the synchronization status at any time by calling OneDrive from the Windows notification area).
If any step is not clear to you and / or you want more details on how OneDrive works, I invite you to consult the tutorial I dedicated to the service and this page of the Microsoft site, which explains how to use OneDrive to pass data on Windows 10.
If, on the other hand, you want information on how to synchronize your browser bookmarks, consult the guide I dedicated to the question.
Buy a new PC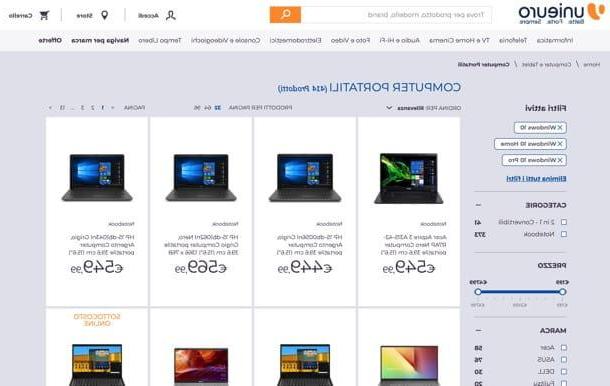 If you have chosen to upgrade to a new PC with Windows 10, you just have to analyze the various models on the market, choose the one that best suits your needs and proceed with the purchase. Fortunately, there are computers for all budgets and numerous stores, both physical and online, from which to buy them.
For example, Unieuro on its official website (also available as an app for Android and iOS / iPadOS), it offers a large selection of notebooks with Windows 10 and desktop PCs with Windows 10 that can be filtered based on various criteria: price, brand, HDD / SDD capacity, RAM, graphics card brand, processor, wireless etc. Just select the options of your interest in the left sidebar and, in a few moments, the list of products corresponding to the preferences set is provided.
To proceed with the purchase, just select a product, click on the button Add to Cart, then you have to indicate the preferences related to warranty (if available), press the button Go to the checkout and complete the order by logging into your account (or creating a new one). For payment, credit and debit cards from the circuits are accepted VISA e MasterCardi continued PayPal e Apple Pay.
If you need help choosing your new PC, I invite you to check out my guides on how to choose a notebook and how to choose a desktop PC. And if you need targeted advice on the models to consider, you can consult my buying guides dedicated to notebooks and desktop PCs.
Update your PC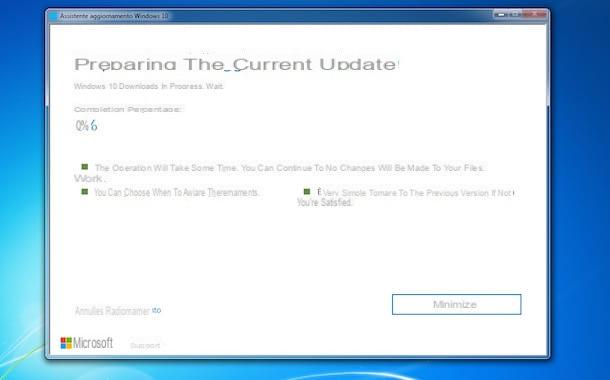 If your PC is capable of running Windows 10, you can upgrade from Windows 7 to Windows 10 by running a updating or a 'clean installation of the operating system.
As easily understood, the update procedure allows you to install Windows 10 on Windows 7 while keeping the data in place; clean installation, on the other hand, involves the complete deletion of the data on the disk and the installation of the operating system from scratch.
In both cases, to proceed, you can rely on the Media Creation Tool by Microsoft: a free software that allows you to download the Windows 10 ISO image from the Internet and install it directly on your computer or copy it to a USB stick or DVD.
To get the tool in question, connected to the Microsoft website and click on the button Download the tool. A download complete, apri il .exe file obtained, wait a few moments e accepts the conditions of use of the software; then choose if upgrade your PC or create a Windows 10 installation media, or forward And his schermo followed him.
For more detailed instructions on how to upgrade Windows 7 to Windows 10, see the guide I dedicated to the topic.
For more information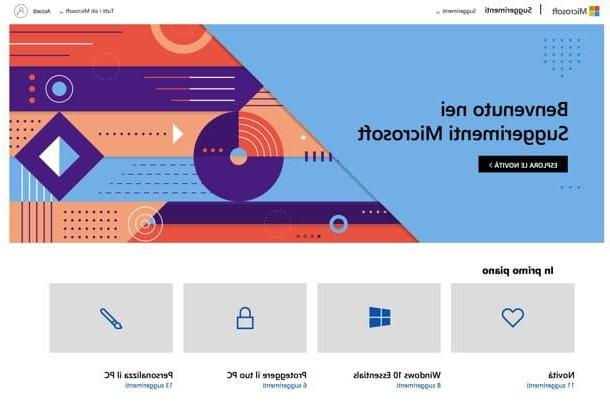 If you want more information on Windows 10, and more specifically on the transition from Windows 7 to Windows 10, I highly recommend that you consult the Microsoft website and that of Unieuro, where you can find all the answers to your questions.
Another page that I recommend you to visit is the one called Microsoft Suggestions, which hosts, in fact, a series of suggestions that the Redmond giant offers about various products, including Windows 10. To view the suggestions related to a particular product, all you have to do is locate it and click on the item xx tips present under his name: you will find so many useful ideas to start your work with Windows 10, Office 365 and other Microsoft solutions.
Article created in collaboration with Unieuro.
Why choose Windows 10