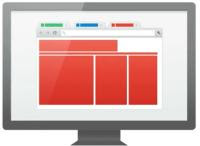 There are many reasons why Google Chrome is by far the most used browser in the world and can be summed up in the ability of developers to add useful functions to each update, before the others.
One of these functions is the
synchronization of open tabs on other devices
(Windows and Mac computers or mobile phones), which allows you to continue working on the same open sites, whatever PC or smartphone you use.
With the
synchronization of open tabs
You can now open Chrome from another computer and browse some sites. If you close Chrome, you can then
reopen any tabs that were open on another computer
. So, for example, if you were surfing the internet from your office, you can continue from where you left off from your home PC.
Tab synchronization is linked to the creation of a user profile linked to a Google account in Chrome (see how to create multiple profiles in Chrome to use different accounts on the browser).
By logging in in Chrome
(by pressing the icon with the avatar or from the main menu), you can set
automatic synchronization of all settings
browser (favorites, history, saved passwords and so on) so that it is always the same whatever PC you use.
In the Settings you can choose the type of data to be synchronized in the first row of the settings page, by clicking on the "Manage synchronization" button. Among the many options, you can activate the one of open tabs.
If you use two different PCs where you use Google Chrome with the same user profile and the same Google account and you activate the synchronization of the open tabs, it is possible to see the same tabs in both. The feature also remembers the browsing history on the other machine, so that you can use the Back and Forward buttons from where it left off.
To reopen tabs opened by another computer
(be it Windows or Mac), you can open a new tab and find "Other devices" at the bottom. Synchronization works even if you are using Chrome from an Android phone or iPhone, as long as you log in with the same Google account.
This Chrome feature is clearly explained in this short video.
On this page, all
link to download or update Chrome even offline