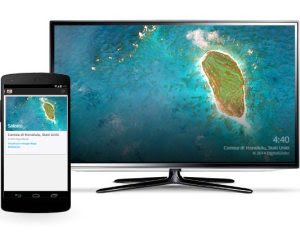 The Chromecast, the legendary HDMI key to cast on TV from your PC or phone, now has one
new function
to show, on the connected TV screen, a
Slowly rotating custom wallpaper slideshows
.
This new wallpaper feature comes with the Chromecast app update for Android and iOS.
The first time you open the application after the update, you will be asked to customize the Chromecast through the new feature and just tap on YES to activate it.
From the updated app, you can immediately activate the wallpapers by following the wizard, allow the Chromecast to access the location data and the Google account and
enable slideshow
of various categories of images:
art, satellite imagery, close-up photos and personal photos
.
There is also the option to view the
weather conditions
always on TV, near the clock.
The only important thing to know is that, to use personal photos, they must be included in an album published, even in private mode, on Google Photos.
If you don't use Google Photos, go to photos.google.com, log in with the same Google account used on your smartphone, go to the photo section using the "home" button at the top left and upload the photos to an album, (maybe calling it "for chromecast") by dragging them from the folder.
From the Chromecast app, access the Wallpapers section,
activate personal photos
and select only the created album.
The Chromecast must obviously be connected to the smartphone and to the TV that must be turned on.
In addition to personal photos there are also photos from the Art gallery, taken by Google Cultural Insitutite and Google Open Gallery, satellite images taken from Google Earth, and featured photos that are taken by Google+ users.
To try watching the slideshow of a photo category, just disable all the others and wait a few seconds.
Unfortunately, there is no way to manually browse photos and change images.
To have more control and see personal photos that scroll on TV you need a different app such as Castify or AllCast for Android or Photocast for iPhone.
ALSO READ:
Chromecast guide with 17 tricks and applications to use it to the fullest