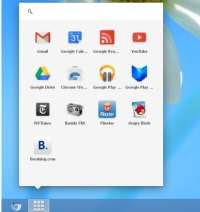 Those who like to experiment with new ways of using the internet and are a loyal user of Google Chrome might be interested in a new feature of this browser to try absolutely: the
Application launcher
.
This is a feature of the Google Chrome OS operating system that has now been brought too
sul browser Google Chrome per Windows
, which allows
launch the applications installed on the browser from the favorites bar
.
In Chrome, right-click on the bookmarks bar and select the option
Show app shortcut
to see the applications button.
NOTE: Chrome apps will no longer be supported from June 2022.
An extension called
Chrome Apps Launcher
which in the country is called "Application Launcher", can be installed to launch the web applications installed in Google Chrome from the Windows desktop taskbar (today this extension is developed independently because Google has abandoned the launcher project).
A. Will appear in the Windows taskbar
new button which is a Chrome app lancher
. clicking on it opens a small one
pop-up window with application icons to launch them quickly
.
This can be very useful especially if you use those applications to create documents, sheets and slides or other web services and online games. On the Chrome Launcher window there is also a bar for searching on the internet and for writing a website address. You can also use the search bar to do math and convert units of measurement. In a way it is reminiscent of the Google Desktop Quick Search Box, an unsuccessful program from a few years ago, but much more efficient, lighter and more useful. We will see if in the future it will become part of the stable version of Chrome.