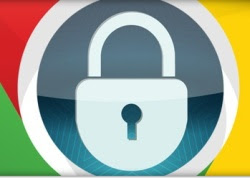 Passwords that you type in Google's Chrome Web browser, as in any other browser on a PC, are always hidden behind asterisks or dots.
The password hiding system is used to prevent anyone passing by from reading or glimpsing the password as it is typed.
This is useful if you work in an office or in a place frequented by other people, otherwise there is really no reason to cover the passwords and they can be left visible also because Google Chrome itself makes it easier to read.
ALSO READ:
Passwords saved in Chrome visible on any PC or other browser
The clear fact is that if someone uses another person's PC, there is absolutely no way to stop them from doing whatever they want, including being able to extract all the passwords saved on the browser.
As already seen in a past article, a simple portable tool is enough for
see login and password used on Firefox, Chrome and Internet Explorer
.
Indeed, in another article, we have seen so many different ways to
discover the passwords stored on the browser behind dots or asterisks
If it is true that the passwords of each browser are shown in clear text,
only Chrome, however, gives this possibility directly in the settings
.
Not everyone knows that the passwords stored on Google Chrome, without hypocrisy but with a certain imprudence, are always visible in clear text from the browser settings.
Open the Settings menu, expand the advanced settings and scroll down to Passwords and Forms to find the link
Manage saved passwords
.
The same window can be opened by writing on the address bar
chrome :/ / settings / passwords
The window is
the list of sites for which a password has been saved
and just click on it to see the button
Show
and see that password in clear text.
While this is helpful if you forget your password, it becomes a really easy way to
anyone can use our computer to find out the login and password of all web accounts
.
There are
three ways to avoid this problem
, if there are multiple people using that computer
- Protect the browser with a password to access the internet
- Prevent Chrome from automatically saving used passwords by unchecking the "Ask me to save passwords I enter on the web" option in the advanced settings.
In this guide all the information on saving passwords on CHrome
- Use your computer with a secure, private Windows account.
If instead this is not a problem and the computer is used only by us and not by other people, Show password is a useful extension to be able to
read and write passwords in clear text
, without dots or asterisks.
The passwords stored on the browser appear protected with dots except if you click in the field where you type the password which becomes legible and can also be copied.
This can be useful to verify that the entered password is really the right one or to make it more convenient to enter difficult passwords.