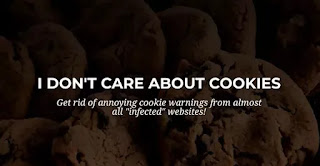 One of the most irritating annoyances of websites is the banner message "
Accept Cookies
", a really boring thing.
While in some sites it is only a message to accept, but which does not cover the content of the site, in others it is so serious and detailed as to block navigation on that site if you do not press the button to accept.
Practically on every site, both in the country and in other languages, you can then read a message like "We use cookies to improve your experience on our site ... to find out more, read our privacy policy and our policy on cookies or Accept by pressing OK. ".
This Cookie message derives from the privacy legislation of 2022 and the General Data Protection Regulation (GDPR) of May 2022, which obliged websites to immediately notify all visitors about how they store and use the personal data collected by cookies or other methods such as registration forms.
The end result is that,
every time you visit a site you've never seen before
, you always have to
click the button
Accept the cookie and GDPR message.
ALSO READ:
What are internet cookies? are they dangerous for privacy?
To alleviate this annoyance, a while ago a '
extension for Chrome and Firefox
truly among the most useful that, where possible,
hides the cookie banner on websites
therefore without having to press to accept.
The extension "
I Don't Care About Cookies
"you can download both for
Firefox
that for
Chrome
and it is a safe way to
hide all banners with message to accept cookies
.
Once this extension is installed, an icon appears at the top of the browser.
As soon as this extension is installed, all messages to accept cookies will be hidden.
This extension, which works on most but not all sites, hides cookies but does not automatically accept them.
The downside of this tool is therefore that the non-acceptance of cookies can prevent the site from working properly.
In my experience, however, this has never happened also because in many sites, especially those with a banner other than the standard ones, the extension still fails to work and hide them.
By clicking on the extension icon it is possible to access the options and insert sites in a whitelist, in order to prevent possible problems in the sites where the acceptance of cookies is really necessary for the operation.
In the text area you can add websites to the whitelist, one per line and authorize the sites you trust.
This extension will not work when the browser is in Incognito mode in Chrome, unless it is enabled from the extension's settings tab.
ALSO READ:
Come cancellare i cookie su Chrome, Firefox, Edge, Safari