Expected for several years, the AirPods 3 were finally officially presented during the Apple Unleashed Keynote on October 18, 2021. If they benefit from a host of new improvements, what to expect? What's new ? We take stock.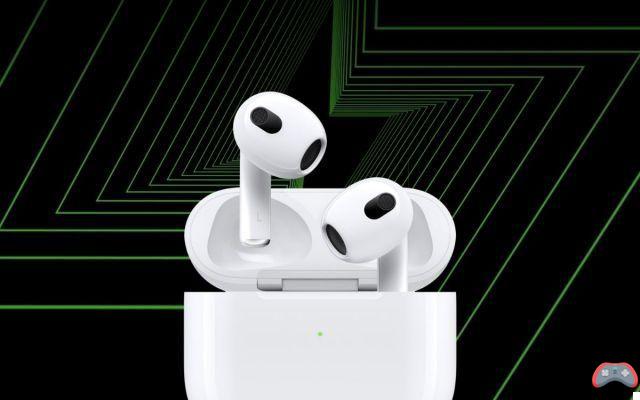 Sold a little more expensive than the AirPods 2, the AirPods 3 were finally unveiled at the Apple Unleashed conference which took place on October 18, 2021. Apple's latest wireless headphones, they take advantage of a spatialized sound and 6 hours of reading all wrapped in a new streamlined design.
Third-generation AirPods retain a similar design to the second generation. If they are not equipped with active noise reduction functionality, they still benefit from spatial audio and the adaptive equalizer. They integrate the H1 chip from Apple, for easy pairing and fast transfer, as well as Crab. They are also sweat and water resistant, take advantage of MagSafe charging, and more.
Here's everything you need to know about their official release date, price, features, and more.
AirPods 3: price and release date
The Apple AirPods 3 are available at the price of 199€ and can be purchased now on the Apple website (see: AirPods 3 pre-order: where to buy them at the best price?). They will be shipped from 26th October, as are the new 14- and 16-inch MacBook Pros.
AirPods 3 do not replace any of the current AirPods. The second-generation AirPods are still available for $129, while the AirPods Pro are still $279 and the AirPods Max $629.
CLICK HERE TO BUY THEM AT BOULANGER
CLICK HERE TO BUY THEM AT DARTY
CLICK HERE TO BUY THEM AT FNAC
AirPods 3: a lighter design
A design close to the AirPods Pro, as it was anticipated
With shorter stems and oblong headphones, AirPods 3 look more like AirPods Pro than the original AirPods. Except third-generation AirPods don't have ear tips, so the in-ear fit will likely be similar to regular AirPods.
Sweat and water resistant
Beyond the appearance of the AirPods 3, it should be noted that Apple has improved their durability. Previously, only AirPods Pro offered sweat and water resistance. This is no longer the case as the AirPods 3 are now sweat and water resistant for sports and non-water activities. Apple says they have been tested in the laboratory under controlled conditions and have obtained IPX4 protection rating defined by the International Electrotechnical Commission (IEC) standard 60529.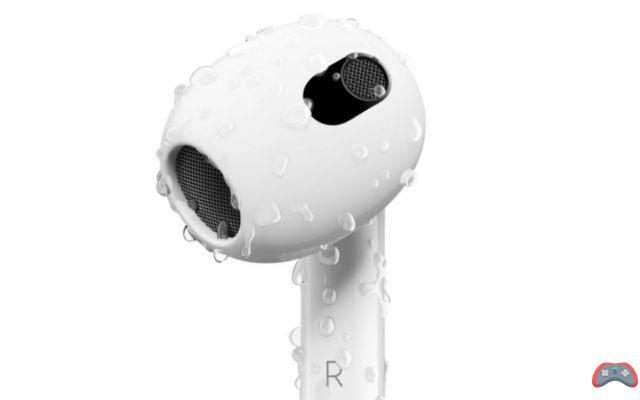 White color, MagSafe and matching case
Like all Apple AirPods in addition to the AirPods Max, the AirPods 3 are classic white color with a sacred clothe matching case. Speaking of case, it supports wireless charging and MagSafe, although it also offers a Lightning port. Fully charged, it offers more than 30 hours of listening time in total. And after just 5 minutes in the case, AirPods 3 are ready for about an hour of listening.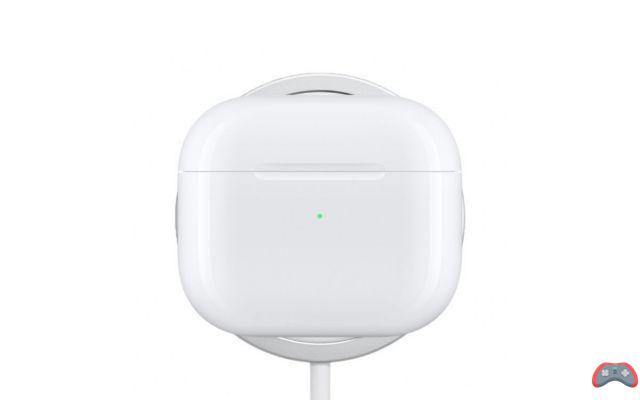 A larger pressure sensor
Apple has also redesigned the capacitive pressure sensor. It seems taller and more prominent than the touch area of ​​AirPods and AirPods Pro. This should make the new AirPods easier to control by tapping on either earbud.
AirPods 3: an upgraded technical sheet
New sensors, new transducer
The AirPods 3 do not only benefit from changes in their design. In terms of technical specifications, we find a custom-designed high-excursion Apple transducer and a high dynamic range amplifier that promise powerful bass and crisp, clear high-frequency sounds, according to Apple.
Although they do not offer active noise cancellation, the AirPods 3 benefit from a adaptive equalizer which automatically adjusts the sound based on how the headphones fit in your ears. They are also equipped with two beamforming microphones, a motion detector accelerometer and another dedicated to voice detection.
Increased autonomy
Apple announces up to 6 hours of listening time on a single charge (up to 5 hours with spatial audio enabled) and up to 4 hours talk time on a single charge. For the MagSafe charging case, Apple promises up to 30 hours of listening time and up to 20 hours of talk time. A total of 5 minutes of charging in the case gives approximately 1 hour of listening or approximately 1 hour of conversation.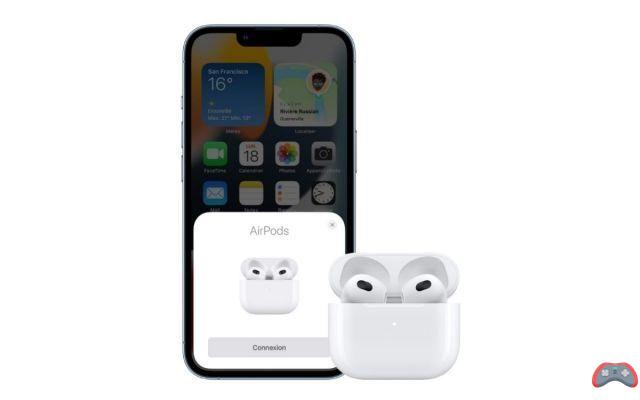 Spatial Audio and Improved Locate
The AirPods 3 also benefit from l'audio spatial, a feature previously reserved for Apple's premium headphones. This function creates immersive listening experiences for listening to music, watching movies and more.
The AirPods 3 also offer real assistance with the Find My app when lost. Some of these tools are made possible with the iOS 15 update, making AirPods 3 the ultimate accessory for your new iPhone 13 or iPhone 13 Pro.
Immediate pairing
According to Apple, simply place the AirPods near your iPhone or iPad and press Connect to pair them with each device in your iCloud account. If you listen to music on your Mac, you can answer a call on your iPhone without having to switch devices.
What does PaperGeek think?
Third-generation AirPods bring significant changes compared to the second generation, released two years ago. For €199 – and €50 more than the AirPods 2 which remain available to buy for €149 – we are however a little disappointed to see that the AirPods 3 do not benefit from any form of active noise cancellation.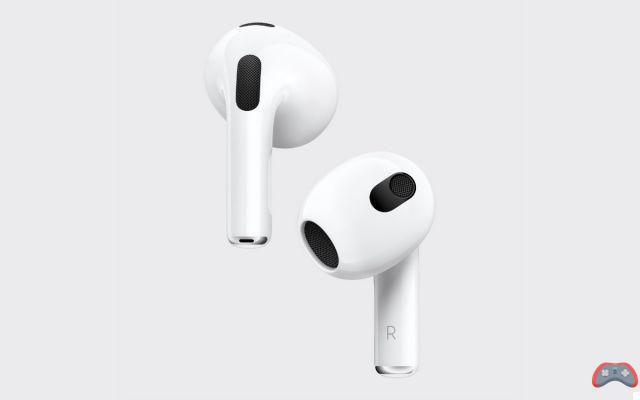 Still, support for spatial audio, their new design with shorter stems, better durability and increased battery life are some of the things that make the AirPods 3 attractive, especially since they cost still 80 € less than the AirPods Pro.
You can buy the AirPods 3 from Apple's official website.
The editorial advises you:
AirPods Pro 2: release date, price, technical sheet, what to expect?
The 2022 iPad Pro is going to be redesigned and will have wireless charging capability, like Apple's other mobile devices. After the presentation of the iPad mini 6,… All the power of a Mac computer on your eyes: this is what Apple promises in its future mixed reality headset, scheduled for the end of 2022. While the Apple Watch, the 'iPad… Do you have an iPhone and want to change your PIN code? The option, buried in the twists and turns, of iOS is not so easy to find. However, this code ... There are a few options available to unlock an iPhone. Some online services offer to do this quickly for a few euros. The law also obliges operators to do it for free ...