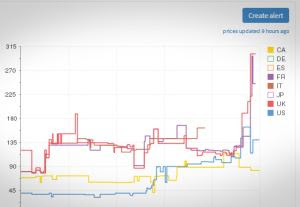 Amazon is the undisputed king of online sales, it's easy to use, reliable, and with free shipping for most purchases. However, this does not mean that it is perfect and, like many websites, it can be improved and customized with
extensions for Chrome and Firefox browsers
.
Browser extensions can add functionality or simplify certain tasks when shopping on Amazon, for those who enjoy shopping online, for monitoring prices and creating lists of items they would like to buy in the future.
Below the
6 best extensions for Amazon on Chrome and Firefox
.
1)
Wishlist
The first extension, available for Chrome, Firefox and as a bookmarklet (button for the favorites bar that also works on Internet Explorer) is precisely that of
Amazon wish list
.
By adding this button, you can bookmark items you would like to buy in the future. The Amazon Wish List can also be used as a "wedding list", to be given objects and things chosen by us, as is the case for weddings.
2)
Amazon Assistant
is l '
official extension created by Amazon
for Chrome, Firefox, Edge, Opera, Internet Explorer, which allows you to integrate the store on the browser, create wish lists, search for products, get the offers of the day and manage purchases and orders directly, even without having to go to the Amazon site .
The extension for Chrome and Firefox not only allows you to add items to your wish list, but also make price comparisons, receive notifications of daily offers and more. It's a bit heavier than the wishlist extension, but Amazon users often should prefer it.
3)
The Camelizer
(Chrome e Firefox)
The camelizer is the most famous extension for Amazon, which serves a
see the price change for each product
in the price list.
In this way you can understand if you can buy a certain object at a lower price just by waiting a little time or if the current one is the lowest price. You can see what the current price is, whether it is discounted or inflated, the average price over time, whether the price drops often and how much time has passed since the last sale. from history one can try to predict whether the price of an object can drop or not.
4)
Keepa Price Tracker
, one of the best to follow the prices with graphs inserted in the Amazon product pages and many statistics on the trend and the history, also capable of
compare the price on all Amazon stores
. Amazon, come sappiamo, non è presente solo in el paese, ma anche in Germania, Francia, Inghilterra e altri paesi.
In another article, where I explained
like buying on Amazon.de or other European shops
, ho scritto che il prezzo di un prodotto, sopratutto di elettronica e informatica, può essere più basso in Germania e in Francia piuttosto che in el paese.
You can buy, with the same account and without additional costs, indifferently on any of these Amazon stores and look for the lowest price for an item.
Keepa.com
è un'estensione per Chrome e Firefox che visualizza l'andamento storico del prezzo per ciascuno degli store Amazon, per ogni prodotto. Si può così vedere immediatamente se esiste lo stesso oggetto in vendita su Amazon.de o Amazon.fr a un prezzo inferiore di quello trovato su Amazon.it. Purtroppo le estensioni per Firefox e Chrome sono state, per ora, ritirate.
ALSO READ:
8 ways to save on Amazon and buy at the lowest prices on the internet
5)
Vedi se un prodotto viene spedito in el paese
Se si trova che su Amazon.de o Amazon.fr o Amazon.co.uk c'è un oggetto che vale la pena comprare perchè costa meno che su Amazon.it, l'unica cosa da controllare è se può essere spedito in el paese.
Does Amazon Ship To is a Chrome extension that does this by displaying a button to open the shipping information list.
6)
Honey
is an extension that allows you to receive alerts if a certain product drops in price and also to obtain a coupon to use to buy at a lower price.
7)
Eliminate the boxes of sponsored products
Since Amazon, at each search and in each product sheet, puts a box of sponsored products that can deceive by appearing to be the best possible choices, you can use the extension
Amazon Lite
on Chrome which removes ads from sponsored products and also lightens Amazon pages by loading them faster.