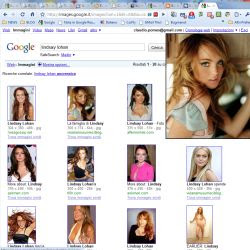 A new extension for the Google Chrome web browser and a script for Firefox allow you to
see pictures
present on the main websites,
large preview, with real dimensions
, just by hovering the mouse over a thumbnail.
The usefulness of this extension is to be emphasized in bold because it saves a lot of time when browsing online photos and images while browsing the web.
To understand what it is and realize it, you can open a Google Images page and search for all the photos relating to a famous person of your choice.
The results are presented in a table with thumbnails of the images found, possibly to be opened if they are of interest, to then go back and so on.
Thanks to Google Chrome and Firefox, it will no longer be necessary to open the images one by one because they will be visible
in original size
, in a
preview pane
, superimposed, which appears automatically
when you stop with the mouse over it
, without clicking.
If the thumbnail is on the right side of the screen, the preview will show on the left and vice versa.
The extension for Google Chrome that enables automatic display of image previews on hover is
picture
per
Chrome
and which can also be installed on
Firefox
.
This extension works with all websites and also on Google search pages.
Chrome users may remember that an identical function had already been found for Facebook with the Social Fixer extension, useful for viewing large images without having to click on them.
In this case, however, the full-size preview function is also possible for the Google and Flickr search of Yahoo which, in fact, represent the most used search engines.
Speaking of viewing images, I also remember the extension
Photo Slide Show
for Chrome, which allows you to browse website images, in full screen, as you would with photos on your computer.
In other articles:
- Open preview links on hover on Chrome and Firefox