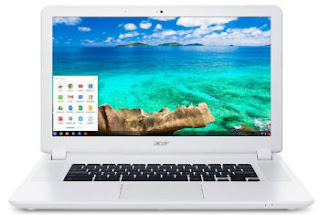 The vast majority of people think that a laptop can only be Windows, unless you have a lot of money to spend on a Mac and unless you have a certain desire and time to experiment with a Linux system. Few still know that there is a great alternative to replace the normal computer, the Chromebook, invented by Google, which uses Chrome OS as its operating system, a modified version of the most used browser in the world.
Switch to a Chromebook
is that solution that allows you to
spend little and still have a real computer capable of doing everything
, as fast as the best Mac and much easier to use than a Windows PC. Why spend another 500 or 800 Euros for a PC when
you can buy a Chromebook for 200 or 300 Euros that works even better?
Since
Chrome OS
it's a fairly recent system (compared to OS X and Windows), there are a lot of misconceptions about what it actually is. Some argue that Chrome OS is a lightweight version of a desktop operating system, others think it is simply the Chrome browser touted by Google as an operating system. Chrome OS is actually a Linux kernel-based system designed by Google to provide a web-oriented experience that contrasts with the traditional laptop idea.
Given the lightness of the system, Google can minimize the demand for hardware and, therefore, offer the Chromebook at a much lower price.
To explain what the Chromebook is like
bisogna presentare quello che attualmente è il miglior portatile di questa tipologia di computer in vendita in el paese l'
Lenovo Chromebook
from 300 Euros, with 4 GB of RAM, NVIDIA Tegra processor, 64 GB eMMC disk, 14-inch screen, USB, HDMI and audio ports. To make the transition to a Chromebook easier, Google is giving away 150GB of Google Drive space for two years.
You then turn on the Chromebook for the first time (
the ignition is almost instant from 8 seconds
,), you log in with a Google account and you can immediately start working by connecting to the internet and opening the desktop with a start menu where you can launch applications that are all based on the Chrome browser.
ALSO READ:
Best Chromebooks to Buy, Super Fast Google Laptops
The Chromebook, at first, just looks like the Chrome browser, which only appears to work if the computer is connected to the internet. In reality it will be found that they exist
many applications designed for the Chromebook
that work
even offline
when the computer is not connected to the internet. So if you were worried about this, the myth of the online-only Chromebook must immediately be dispelled. Furthermore, many of the applications open in a separate window, not inside the Chrome browser, but as programs run on Windows (to do this, right-click on the icon and then click on "Open as window"). For example, from the Start menu, you can search and start the calculator or the Files application to browse the folders and files stored on the disk.
The first impact can also be traumatic, also because there is no possibility to install those programs that have been used to for years, such as Notepad, Irfanview, Microsoft Office or Acrobat.
By opening the Chrome web Store
, the site where applications for Chrome are collected, however, it will be discovered that
for each program there is an alternative
absolutely valid,
including Microsoft Office
.
You can therefore work safely to write documents, spreadsheets and presentations using the Google Office applications or, if you really have to, even the Word, Excel and Powerpoint Online applications.
Google Office apps work even without an internet connection.
As for the other programs, speaking here of the most important ones, we have already seen in another article the
Chrome app to replace PC programs
.
After the recent updates, moreover, it is also possible
install Android apps from the Google Play Store on Chromebooks
, including games, with a notable enrichment of the experience.
Among these there is the Music Player and also Gmail, which works as a mail management program (not necessarily with a Gmail.com address) and which also works without an internet connection if you want to read received messages. In fact, for everything you do on Windows 8.1 or Windows 10 you can find a perfect equivalent (or better) from the Chrome store or, even more, from the Android store.
ALSO READ:
Chromebook tricks and guide to work online and offline
The Chromebook's disk space is limited and made to keep only the most important documents.
Everything else can be saved in Google Drive or in Google Photos, Google Music or other cloud spaces like Dropbox.
However, if you want to expand the disk space, you can always insert an additional memory card or connect an external hard disk.
The best feature of the Chromebook however is
its speed
.
Even with only 4GB of RAM, the computer never slows down and even opening twenty tabs on the browser between websites and applications, there is absolutely no execution delay as it happens on some Windows PCs using the Chrome browser.
Another highly competitive aspect is
the security
. While a Mac is safer from viruses than a Windows PC, no computer is more immune to malware than a Chromebook.
Not to mention
updates
, which follow those of the Chrome browser and are frequent and practically eternal (with almost no aging over the years). The Chromebook automatically downloads the latest security patches and updates without noticing, so never worry.
The Chromebook has internal verification to make sure the Chrome operating system and Linux kernel have not been tampered with. And even if there were some security problems, just do a quick system restore that cleans everything automatically, which not even on a Mac can be done. The encryption of the file system ensures that nothing and no one can read any of the data stored on the local disk. And if any friend or colleague wants to use our computer, you can use the
login as a guest
so that he cannot spy on what we have on the computer and, at the same time, guaranteeing this person that we ourselves will not know what he has been looking at on the internet, being the guest mode the equivalent of the private mode of the Chrome browser.
Finally,
the Chromebook requires almost no maintenance
, there is no virus scanning, no defragmentation, no junk files to be cleaned, no system settings to fix and so on. Basically, it turns on, uses it, turns off everything without ever wasting time on other activities.
Not secondary is also the possibility of being able
easily install Linux Ubuntu on Chromebook
.
If all this were not enough, I refer to the article on
10 reasons to buy a Chromebook PC
to broaden the overview of everything that can be done with this particular computer.