The Gmail app on Android has received a new update that brings a quiet but welcome change to the interface. The "+" button, which was used to start writing a new message, has been replaced by a clearer button.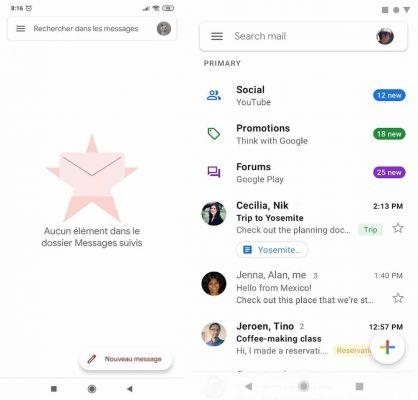 It's a quiet update but one that should make life easier for users. Google has indeed decided to make a small change to the Android Gmail application. The button for writing a new email she had a facelift. If this update does not drastically change the experience, it has the merit of wanting to make navigation more intuitive for the user.
Also read – How to delete your Google or Gmail account
When you're on the Gmail home page on Android, you had to tap the floating "+" button to write a new message. One way of doing things is probably not clear enough for Google. This is why this button has disappeared in favor of another, which displays a small pencil with the mention "New Message", or "Compose" in the language of Shakespeare. This button is larger than the old one, but shrinks when the user browses through their emails so as not to interfere with navigation. Then appears a simple pencil in a floating bubble.
Rare updates
Google ne doesn't update its Gmail app often. It is indeed very well thought out and each update is only there to bring some changes of comfort. One of the latest major improvements to date is the arrival of dark mode in 2019, to allow better navigation.
This new update, which brings the application to version 2020.05.17.313130477, is currently rolling out to all users Android. The deployment is done as always in waves and it is possible that you are not yet eligible.
A discreet update, which does not bring much but which should still make navigation clearer for all those who were still looking for a few seconds how to write a message on Gmail.