Preliminary information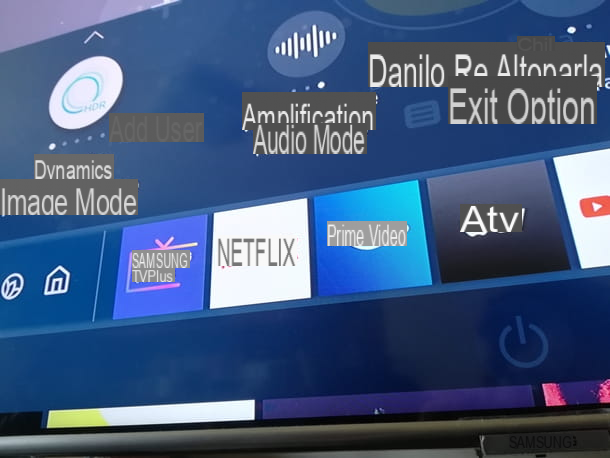 I would say that before going into the matter, it would be better to introduce the concept of HDR, explain what this technology is for and which versions of it exist on the market.
The acronym HDR stands for High Dynamic Range, name of the technology developed in the video field to amplify the range of contents that support it. To the eye of the beholder, the result is an increase in the number of perceived colors, as the shades, including whites and blacks, increase, to the advantage of greater contrast and consequently of images with colors more faithful to reality.
Conversely, a TV that does not support HDR signals plays SDR (Standard Dynamic Range) content. However, having an HDR TV does not automatically mean having everything you need to enjoy images with more natural colors. It is in fact necessary that the video source also supports this technology, whether it is a TV channel, a recorded video, a Blu-Ray player or a game console.
The HDR signal is also characterized by different transmission standards, among which the most common are: HDR10, HDR10 +, HLG e Dolby Vision. Without getting into the technicalities of the differences between these different standards, it can be helpful to know which HDR standards your TV supports and the video source to play.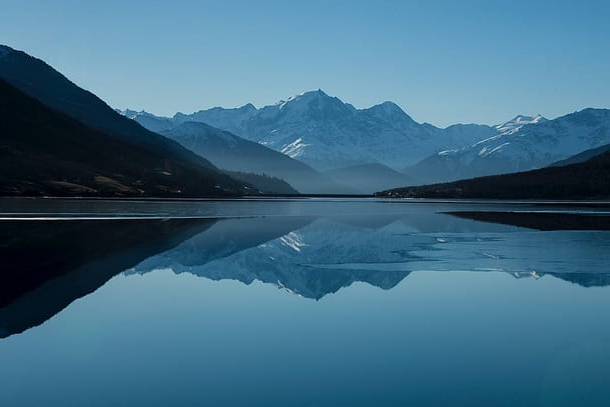 As for Samsung TVs, the unsupported standard is Dolby Vision (at least at the time of writing this guide), for this reason HDR video content adhering to this standard is reproduced (most of the time) with the HDR10 standard. . An example of a source that supports the HDR10 + standard (the one Samsung points to) is Amazon Prime Video. Conversely, Netflix supports HDR10 and Dolby Vision (so Samsung TVs play Netflix videos in HDR10).
In any case, don't worry too much about all these acronyms: the important thing is to consider that the source supports HDR and that, in the case of players, set-top boxes or consoles, it is connected via cable. HDMI. If you have to buy an HDMI cable, look at its version: the cables HDMI 2.0 and later support HDR, but only those HDMI 2.1 or later support theDynamic HDR (so that viewing settings are automatically adjusted scene by scene, if not frame by frame).
See offer on Amazon See offer on Amazon
For the rest, in fact, the TV is able to "understand" the standard and automatically adapt, reproducing the most suitable HDR signal (whatever the standard), if present.
HDR compatible channels and devices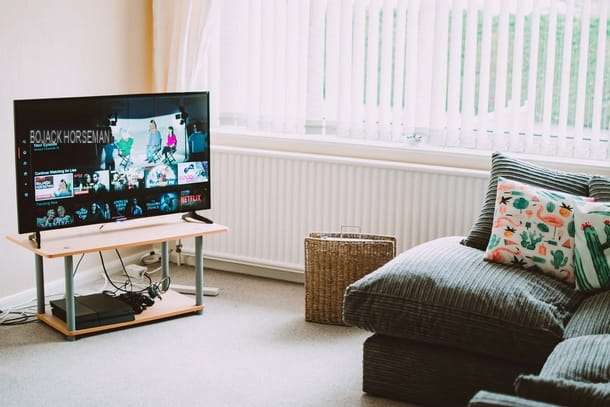 To enjoy HDR content on your Samsung TV, even free ones broadcast by TV channels that support this technology, you need to know which sources support this technology.
The assumption, with regard to the TV channels, and especially cittàn TV channels, is to have a Samsung TV that supports the standard DVB-S2 for satellite broadcasts (you can check this from the technical data sheet of your TV with a search on the official Samsung TV site).
In addition, you need to enter a smart card for watching Tivùsat contents in the dedicated TV slot. In addition to these two hardware requirements, it is then necessary to wait for HDR content to be transmitted, for example by the Rai 4K channel.
Obviously, there are other channels compatible with this new generation standard, for example by subscribing to a Sky subscription for satellite / fiber and using a Sky Q decoder you can access a lot of HDR content.
Staying on the subject of transmission of HDR content, but moving on to the method of streaming via Internet, the best known subscription services, such as Netflix e Prime Video from Amazon, they are definitely a great way to enjoy HDR content on Samsung TVs. Another service that supports HDR content is Disney +, which I told you more about in my dedicated tutorial.
Clearly, streaming 4K HDR content requires one robust and fast internet connection (at least 30 Mbps in download). To find out the characteristics of yours, rely on one of the best speed tests available online.
HDR content is also supported by 4K Blu Ray players, as long as the Bly-Ray disc is also compatible with this standard (specification easily verifiable from the back of the Blu-Ray itself).
The Blu-Ray player is one of the best solutions to create your own video library. His choice could be challenging given the different characteristics of each reader. If you are looking for advice, you can link to this page to consult my buying guide.
HDR technology also makes a big difference in scope Gaming. If you are a gamer who can't wait to take advantage of the widest range of colors available in his favorite video games, then you must know that in addition to (obviously) the Samsung TV with HDR support, you must also have a compatible console.
HDR for example is supported by all models of PS4 (while 4K resolution is supported by PS4 Pro) and all models of Xbox starting from Xbox One S (all previous models, including the first One, do not have this support). The latest generation consoles also support 4K HDR content: PlayStation 5, Xbox One Series S e Xbox One Series X.
How do you say? You are a player PC and wondering if you can play in HDR? Of course, this technology is also supported by the most modern ones video cards. Choosing the video card, if you haven't already changed one, is quite challenging. If you need help choosing, you can consult my dedicated buying guide.
How to activate HDR on Samsung TV
After the necessary premises on the necessary to enjoy HDR content, I can move on to tell you about the actual procedure for enable HDR on Samsung TV compatible.
As you will see for yourself, except in exceptional cases, the TV itself is able to recognize and decode HDR content accordingly.
Internal source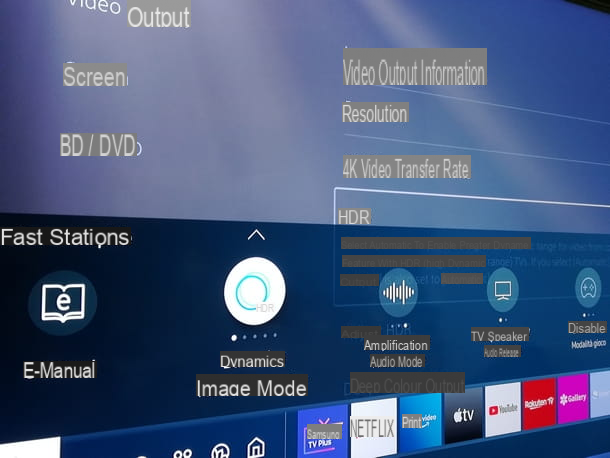 On HDR compatible Samsung TV models, activation occurs fully automatically when HDR content is broadcast from a TV channel or from an app of a streaming service.
To be clear, by opening Netflix, Amazon Prime Video o Disney + and by playing a 4K HDR content, as well as by connecting to the Rai 4K channel, the Samsung TV automatically reproduces a video signal with an amplified color range.
Nothing easier, don't you think? It is appropriate to say that technology has simplified our life in this case, being able to independently understand the best video quality to play.
HDMI device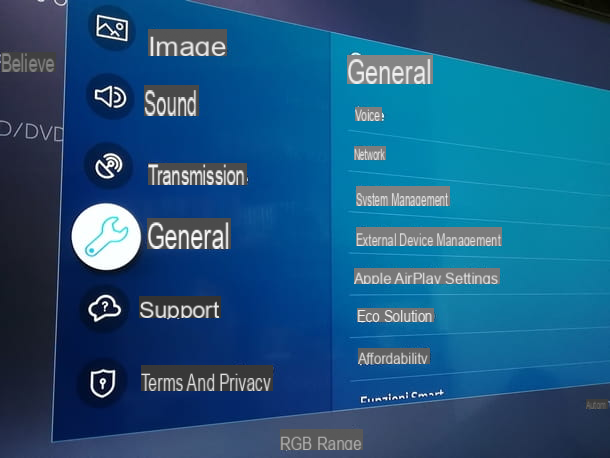 The procedure for activating HDR from devices connected in HDMI to the Samsung TV it is not automatic as in the case of internal sources, however it is not even that complex.
Setting up the TV does not involve many steps. You just need to make sure you have enabled the Plus input signal into the respective HDMI port where the compatible device for HDR content playback is connected.
Since main menu of your TV, then access the section Settings located on the left of the bar (the exact position may change depending on the model), easily distinguishable by the icon depicting a gear.
Now, enter the menu Generali, select the voice External device management, then enter setup Plus input signal and select all HDMI inputs to be enabled, with the appropriate key on the remote control (by coloring the corresponding dots). To confirm everything, press the key Close.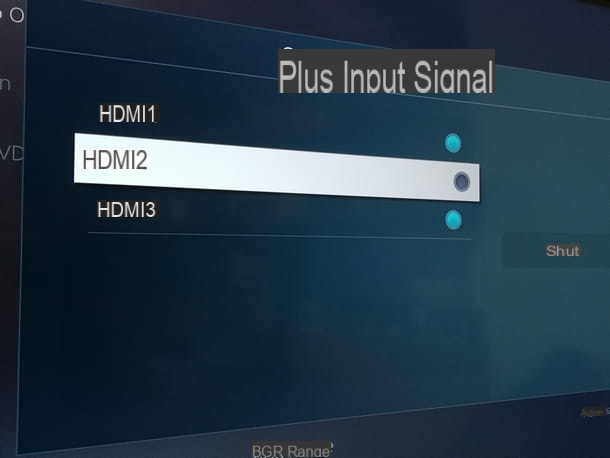 At this point, if everything went well, your Samsung TV will be able to play HDR content from the connected HDMI source.
Other settings may concern the individual connected devices: for this reason, I invite you to consult their relative instruction manual directly.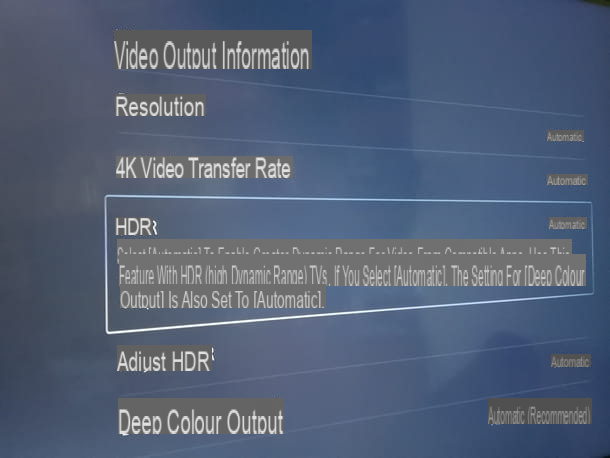 In the case of PS4 for example, you have to go to the menu Settings in the top bar of the main screen, then press the key X of the controller on the voices Audio and Display> Video Output Settings, then select the option Automatic to the voices HDR e Intense color output.
And that's all about it how to activate HDR on samsung TV. There's really nothing left for you to do but enjoy the best of your TV, with a more vivid and lifelike color gamut than ever. Have fun!
How to activate HDR on Samsung TV
Frequently asked questions and answers
Press the HOME button on the remote control.
Choose settings.
Choose External Inputs in the TV category.
Choose the HDMI signal format and then the enhanced format.
March 5, two thousand and twenty-one
On the Display Settings screen, choose Windows HD Color Settings.
Under HDR/SDR Brightness, drag the slider to achieve brightness balance between HDR and SDR content.

On-screen pictogram On most HDR-capable TVs, when you are watching HDR content, a pictogram will appear on your screen, signaling that the technology is enabled and is compatible with the image you are viewing.
26 Oct two thousand twenty-one
Accessing the Samsung Connected TV hidden menu With the TV turned off, press the following key sequence on the remote control: Mute + 1 + eight + two + Power (or Info + Menu + Mute + Power).

Compilation of frequently asked questions that our users have sent us and that our experts have answered.