Preliminary information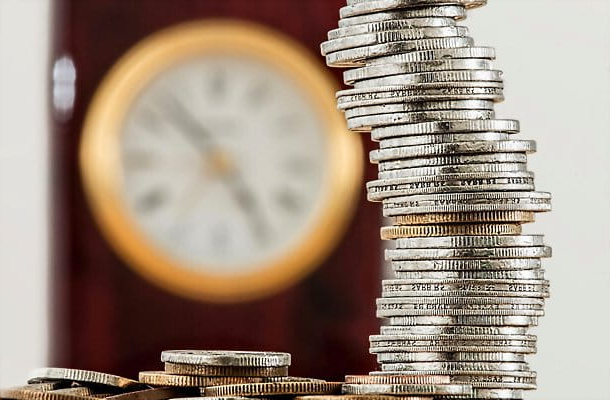 The Web and social networks can become a great opportunity for professional and economic growth if they are used in the right way, exploiting their potential and cultivating their passions. Think, for example, of those who have managed to create very popular blogs on technology (mine is an example), on cooking, on sports, on music and more generally on what they have always liked. And what about who managed to make their way up YouTube, Instagram or on Facebook, offering guides, recipes, outfits, reviews and much more? Making good use of a means that allows you to reach millions of people all over the world can give great satisfaction, even economic!
But allow me a recommendation before we start: there are services and apps that allow you to artificially increase the number of followers and bypass various obstacles and difficulties on social networks, but remember that this is by no means the right way. If you want earn on the web, as everywhere, you have to create added value by avoiding shortcuts.
What is the use, for example, of increasing the number of fans with automatic programs if none of them will watch photos, videos or advertisements? Maybe a few "tricks" might work at the beginning of your social adventure, but in the long run you would find it would have been better to behave differently and spend your energy creating original content. Furthermore, remember that no platform looks favorably on these "crafty" solutions, therefore it tends to penalize (if not close!) The profiles that use them. Then don't tell me I didn't warn you!
I could stay here talking to you for hours but all the advice I would give you can be summarized in a few words: use the right tools to highlight what you can do. If the content you propose is of value, and if you manage to sponsor it in the most appropriate way, that is, with the most suitable means, you will see that more and more people will be looking for you. It takes patience and time, as in all areas of work.
That said, let's really get to the heart of the tutorial and find out how to activate monetization on various social networks and online portals.
How to activate YouTube monetization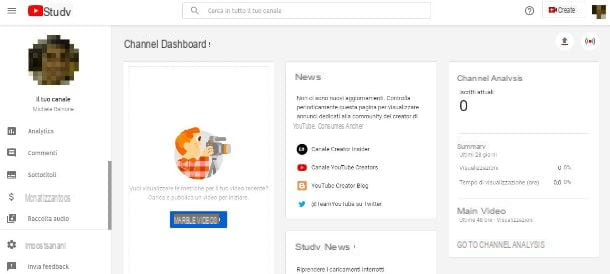 You will certainly have thought about how to activate monetization on YouTube, the Google video viewing and sharing platform that everyone knows and that generates staggering revenues every year. Maybe you've opened a YouTube channel recently and want to find out how to make money with videos, or you've owned a channel for a long time and think it's a good time to start getting serious. Regardless of the weather, you enjoy making videos and would like to turn your passion into something more. Well, you're not wrong: make money with YouTube you can.
Before explaining how to get started, let me remind you that, as in any reality of the Web that allows you to monetize, also on YouTube, to access this possibility, it is necessary to respect the regulation to the letter. These are mostly common sense rules (it is not allowed, for example, to post content that incites hatred and violence, videos with violent or explicit content, spamming and so on), but it is good to deepen them thoroughly. Therefore, I advise you to read the Google guide because certain bans may escape you and you may be banned without knowing why. Also, be careful never to violate the copyright, ie copyright, as I explain in detail in this guide.
Putting aside these small but important tips to use YouTube in peace, let's get to monetization. There is a fundamental requirement to be respected in order to join the platform program that allows you to earn, the YouTube Partner Program (abbreviated to YPP): you must score at least 1.000 subscribers to your channel and 4.000 hours of viewing of your videos by users in the past twelve months. It is not a very simple goal but if you like to create videos on YouTube you may have already passed this milestone. In addition to the 1.000 subscribers and 4.000 hours displayed, you must have an account with Google Adsense, the service used by the company to allow its partners to monetize: in this guide I'll explain how to get it quickly.
The steps to activate YouTube monetization are very few. First connect to YouTube from your computer, click on yours profile pictureat the top right, and select the option YouTube Studio from the menu that is proposed to you; a screen with entries will open Dashboard (a sort of bulletin board that allows you to upload videos, access channel data, etc.), Video (showing all content uploaded or posted by the user), playlist (which leads to a page with personal playlists), Analytics (which shows the data reached by the channel, for example the number of views), Post comments (summarizing the data on comments), Subtitles (relating to the Subtitles of the channel), Monetization e Audio collection (where you can find free music and sound effects for your projects).
Then click on the item Monetization and, on the right, you will see a screen where different information will appear depending on the number of subscribers and public views: if you have not reached the 1.000 members and 4.000 hours of viewing, a message will appear with the button at the bottom Notify me when I receive eligibility; if you have already reached those numbers, you can go ahead by clicking on the button Start.
YouTube will then ask you to subscribe to the terms of service and associate an Adsense account, and you just have to wait for the review process. The procedure for associating Adsense with your YouTube channel can be found explained in detail by following my other tutorial. You can check the status of the application instead at this address and the response to your application can be positive or negative (the refusal can occur, for example, if an important part of your content does not comply with the guidelines of the program. you can try again after 30 days from the refusal.
If you are looking for information on how to activate monetization on YouTube from the phone, know that at the moment the procedure does not seem to be possible from the app, you can still proceed from the browser as explained in the previous lines.
For further information and further advice on how to make money on YouTube, instead, I invite you to consult the guide I have dedicated to the topic.
How to activate monetization on TikTok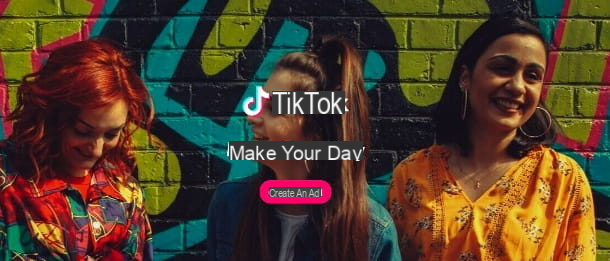 If you are a fan of social networks, you will no doubt be looking for information on how to activate monetization on TikTok. As you well know, this is a platform "exploded" in 2020 and in continuous expansion: for this reason, at least at the time of writing, it is still testing some functions for monetization, without having made them available to everyone. Either way, don't worry: there are several, however methods to make money with TikTok, so take notes and try to take advantage of it.
First, you have to try to get to 1.000 follower to unlock Live: in this way, not only will you be able to get much more visibility, strengthen the bond with your audience and reach new users, but you will also allow the most active fans to give you coins and give you gifts that the system will transform later first in diamonds and then in money; the company explains it in its service guide. Over time TikTok will undoubtedly intervene on this system with improvements and updates but at the moment you can undoubtedly take advantage of it to start making your visibility and your passion fruitful.
Don't forget, of course, the traditional methods: I mostly refer to affiliations (for example via Amazon links) and product sponsorship. These are activities that, if done when you have a loyal and interested audience in the topic in question, can generate earnings regardless of the platform used.
How to activate monetization on Facebook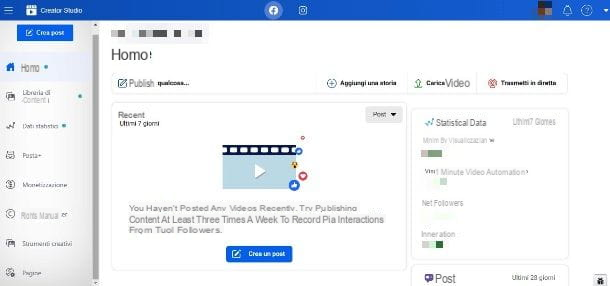 Surely you have asked yourself how to activate monetization on Facebook if you have a page with a certain following. Well, Facebook explains how to do it in its official guidelines and mentions various types of monetization options.
Paid online events - consist of streaming events that followers can only access by paying.
In-stream ads - these are advertisements of various kinds that you can host in your videos. Requirements: 10.000 followers and 30.000 1-minute views on videos of at least 3 minutes in the last 60 days.
Brand Collabs Manager partnership - are advertising collaborations with companies that want to share their content with your audience. Requirements: 1.000 followers + a requirement between 180.000 watch minutes across all videos, 30.000 1-minute views for 3-minute videos, and 15.000 post interactions.
Fan subscriptions - these are subscriptions at the moment that can only be activated by invitation from Facebook.
Online shop - you can open a shop on Facebook and sell your products, thus monetizing your presence on the social network. I've better explained how in my tutorial on how to open a shop on Facebook.
Before you start, know that you will have to verify that your page is eligible for monetization. In this regard, some information will certainly be useful to you: some monetization activities have restrictions also linked to the country, for example they are only available in the United States but not in the city; Consequently, if you see that one activity is available for your page, the others may not be. We now come to the verification of eligibility.
First, you need to log in to Creator Studio, the platform that Facebook has made available to those who manage Facebook and Instagram pages and accounts; in this regard, know that only if you are Page administrator you can start the monetization process.
So follow this link to access the service from your PC. A screen will open in which, on the left, there is a vertical menu with various items: Home (which summarizes the statistics of the managed pages), Content library (which provides details on posts in draft, published, scheduled etc.), Statistics (which provides statistics on Videos and Stories), Mail+ (which collects messages from all managed pages), Monetization, Rights Manager (reserved for those who have content protected by copyright), Creative tools (which provides tools, such as audio tracks, to improve your content while respecting copyright) e Pages (with the list of pages and a summary of the main data, followers and roles covered).
Now click right on the entry Monetization. Top right of the blue button Create post, you will be able to see a menu, through which you can choose the pages with which to monetize; selected the page you are interested in, under the menu, precisely under the items Monetization> Overview, a screen will appear with the monetization activities that can be activated. Choose the one you are interested in and click on the blue button Setup begins.
How to create a paid online event on Facebook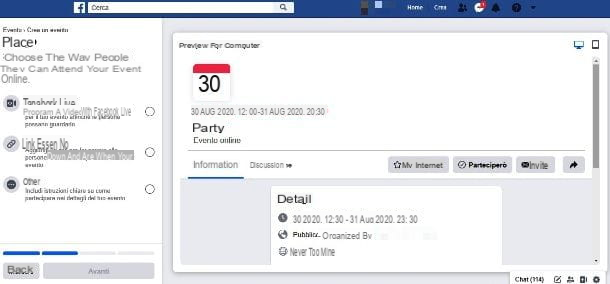 Now I'll explain how to create a paid online event on Facebook because it is the easiest business to unlock and is not subject to the stringent requirements of other forms of monetization. For this example I will proceed from PC.
After clicking on Setup begins, a screen will open where you can choose, once again, the page to use for monetization.
Once you have chosen the page, click on the blue button Setup begins, which will take you to another screen where you will have to put two check marks: the first on a box associated with the item Sign the Terms of Use for paid online events, the second on Set up your payment account.
If the account has not already been configured, you just have to do it by clicking on the blue button Set up the account (To the right). A screen will open where you can enter the various data relating to your profile.
Then click on the button NEXT and enter your payment details. You can choose whether to link your bank account or PayPal account. In all cases, once you have entered the data, click on the button Connect your current account / Log in with PayPal.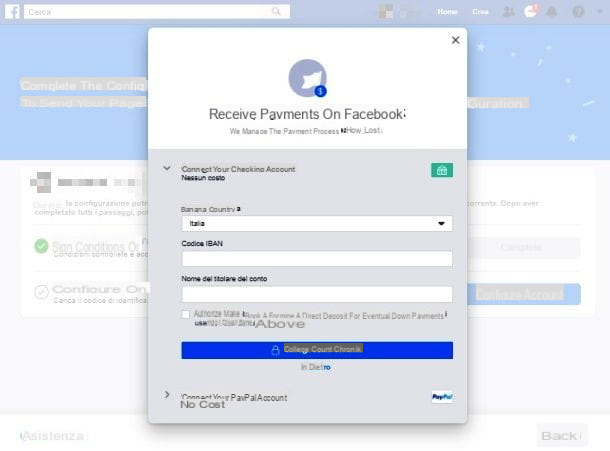 A screen will open in which you will be asked to confirm the information entered: double-check everything and, if there are no errors, click on the button Confirm, if not, click on Go back.
Now you need to provide Facebook with the information regarding the event you want to organize. Choose the event name date and l 'start time, as well as the date and l 'end time of the event in the appropriate fields you see in the section on the left.
You can also not enter the place, as it is an online event. Privacy is automatically set to "Everyone". Also enter a description and select the category to which the event belongs (for example "Art"). Having made your choices, click on the blue button NEXT.
Facebook will ask you to choose how people will be able to attend your event - select Facebook Live if you want to broadcast the event via Facebook Live, External Link to insert a link that will allow those who want to follow the event online, or on Other, to include instructions that you cannot provide by selecting Facebook Live or External Link. Finally click on the button NEXT.
Now you will have to choose the price, which ranges from 0,99 euros to 99,99 euros. You can also set up a limited number of attendees. NB. The price you indicate is what participants will pay but not your actual earnings because, as Facebook explains, "The transaction costs will be deducted from the revenues you will obtain from the sale". Once you have clicked on the blue button NEXT, the event will be created.
Finally, remember that to monetize on Facebook you can also personally advertise products, publish some affiliate links and so on: for more information, check out my guide on how to make money with Facebook.
How to activate monetization on Instagram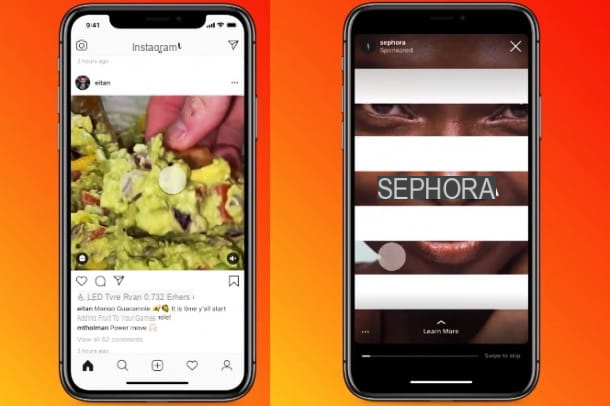 You are looking for information on how to activate monetization on instagram because your profile is quite popular and you want to understand if it is possible to monetize it in some way? It being understood that the mantra is always the same, that is to create valuable content and increase your contacts, there are solutions that could do for you but which are not yet available at the moment. I'll explain immediately why.
Instagram is intent on monetizing its service IGTV which allows Creators to upload videos to their channel (I talked about it in detail in this guide). At the time of writing, however, the company has not yet expressed itself in detail on the functioning of the system and the tests have started only with a small number of Creators: if they are successful, you can start earning too with the videos you create. . Therefore, I advise you not to be caught unprepared: start working on the contents immediately and the satisfactions will not be long in coming!
If you thought that there was still some solution for Instagram, you were not mistaken: you will not be able enable video monetization automatically, not now at least, but you can still earn if you focus on your content and on the growth and loyalty of your followers: think about how much you could earn if you had a page dedicated to outfits and managed to find an agreement with a boutique!
This is the usual but important affiliation and sponsorship system that can really make you money if you know how to do it. It all depends a lot on the number of users you have, on the interactions and on how credible you are: that's why I told you right from the start that without valid content trying to seriously monetize it is impossible. In this link I give you some suggestions on how to make money with Instagram without committing gross errors.
Also, if you have a shop, I remind you that you can build your showcase on Instagram and sell your products through this social network, as well as take advantage of various forms of external sponsorship.
How to activate monetization on Twitch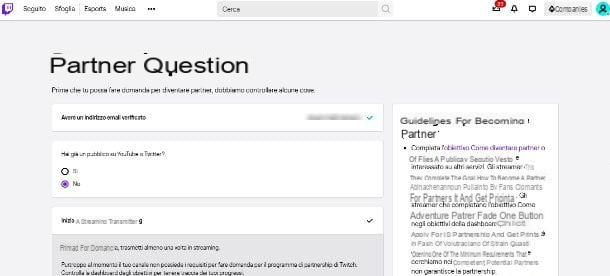 If you are a video game enthusiast or, in any case, you have decided to base your online activity on live videos, you will surely be looking for information on how to activate monetization on Twitch. Well, even in this case there are some requirements to be respected but, more importantly, you must know that Twitch provides two categories of users who can monetize: theAffiliated and Partners.
To become an affiliate, the requirements are high but not impossible to achieve: at the time of writing, they need at least 50 follower (so not many) or 500 total minutes of transmission in the last 30 days, 7 days of transmission unique and an average of 3 or more spectators simultaneously.
It takes a lot more, however, to become a partner: to transmit for at least 25 hours in at least 12 different days and reaching 75 spectators average over the last 30 days. Clearly, a partner has many more privileges than a simple affiliate, even if monetization is still guaranteed: you can find the differences well explained in the FAQs prepared by the company.
Once you have met the requirements, you can apply to become an affiliate or partner by clicking on a button that will appear in yours Dashboard: Twitch explains everything in detail in its official guide.
If you manage to become a Twitch affiliate or partner, know that you can earn in various ways: your followers will be able to subscribe to your channel by paying 4,99 euro / month, 9,99 euro / month o 24,99 euro / month, depending on whether they want to subscribe to a plan Base, Medium o Full, and for each registration you will earn 50% of the sum.
Users will also be able to cheer on your channel using gods Bit, which correspond to a penny. Finally, the classic advertisements will be published during the broadcasts of your channel. At this point, all you have to do is grow with Twitch, perhaps following the advice I gave you in this guide, and request the monetization of your content.
How to activate monetization