Minimum requirements and supported devices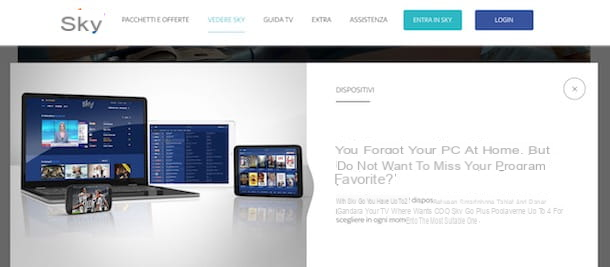 Before activating Sky Go Plus, take a look at the minimum requirements necessary for the functioning of the service and supported devices from the latter: by doing so you will be sure to be able to exploit its potential to the maximum.
Sky Go Plus is available both under Wi-Fi network and under 3G / 4G connection, but in the Sky guidelines there are no specifications relating to Mbps. Despite this, with the function Internet consumption it is possible to use Sky Go Plus with an Internet consumption level lower than the "standard" one, thus guaranteeing operation even in the case of connections of a few Mega. In conditions of insufficient bandwidth, it is therefore possible to lower the Internet consumption by setting the level Reduced which has about 25% lower consumption than the Standard level and the Audio which guarantees minimum consumption by excluding the video stream. The latter level is not available for On-Demand Catalog content.
Regarding the function Download, which allows you to download content on demand, the recommended connection is at least 4 Mbps. To enjoy Sky Go Plus on your computer, you need to download the Sky Go compatible software Windows e MacOS with the following minimum requirements.
Operating system: Windows 7, macOS 10.9;
Processor: Intel Dual Core o Core2 Duo con 2.1 GHz per CPU o AMD con 2.9 GHz; Intel based Core i3.
Memory: 2 GB for Windows, 4 GB DDR2 for macOS;
Graphic card: with at least 1 GB RAM on Windows and 512 MB on macOS.
In the mobile environment, the service is available as an application for smartphones and tablets with Android 4.4 or later and for iPhone / iPad with iOS 9 or higher. Finally, you should know that Sky Go Plus is not compatible with rooted or jailbroken devices and does not allow the viewing of content from territories other than those of the city, the Republic of San Marino and the Vatican City.
Sky Go Plus pricing

Sky Go Plus is the new service that Sky dedicates to all its customers and which allows you to watch the channels and contents of your subscription from your computer and mobile devices. It is therefore possible to access the live broadcast of over 40 channels dedicated to sports, shows, TV series, films, documentaries and children's programs, but also to a rich catalog of on-demand content with thousands of titles to be seen anywhere, even without Internet connection. The cost of the service, as mentioned above, is 5,40 euro / month, while if you are a customer Sky Multiscreen it is already included for free in your subscription.
If you are not yet a Sky customer and are thinking of subscribing to the well-known satellite pay TV platform, it will be useful to know that it is possible to do so by subscribing to one of the pay TV offers that include it, such as those I am about to list, which can be subscribed with the profile Open (without duration restrictions and with the monthly subscription fee at full price) or with the profile Smart (with a bond of 18 months which, if respected, allows you to have an important discount on the fee).
Sky TV - is the basic Sky package that allows you to watch the shows and TV series and the best documentaries in HD, also including Sky Q without a dish and all its functions. It starts from 14,90 euro / month (with the Smart profile) or from 25 euro / month (with the Open profile).
Sky TV + Entertainment Plus - to what is included in the package mentioned in the previous point, it adds Netflix HD content to be watched on two devices at the same time.
Sky TV + Sky Football - to what is already included in the Sky TV package, it adds the vision of 7 matches out of 10 of the Serie A TIM.
Sky TV + Sky Cinema - enriches the Sky TV package with Sky cinema: the best international releases, new cittàn releases, Sky Original productions and access to 1000 films on demand.
Sky TV + Sky Sport - to what is already included in the Sky TV package, it adds the best of sport (Formula 1, MotoGP, UEFA Champions League, UEFA Europa League, NBA, etc.).
By subscribing to one of the offers mentioned, you have to pay a one-off 9 euros for the activation of Sky Q without a dish, instead of 99 euros; the delivery of Sky Q without dish is free, instead of costing 49 euros.
Differences between Sky Go and Sky Go Plus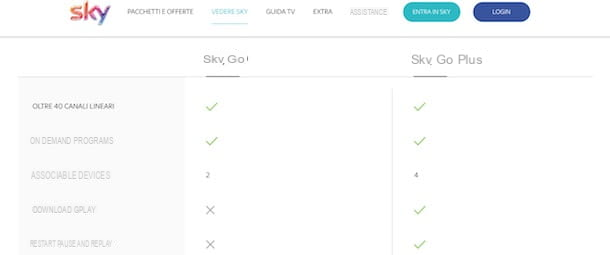 Sky Go and Sky Go Plus are two services that both allow you to watch Sky channels live and access a virtual video library with thousands of titles on demand. Despite this, they present important differences such as the number of devices that can be associated and some interesting functions available only in the Plus version.
With Sky Go Plus you have the function available Download & Play, which allows you to download programs on-demand and watch them offline, without requiring an Internet connection. In addition, Sky Go Plus allows functions Restart, Pause e Replay on live programs, thus allowing you not to miss even a second of your favorite programs.
Furthermore, as already pointed out above, with Sky Go Plus there is the possibility to associate up to 4 devices to your account, thus doubling those available with Sky Go. Unfortunately, even with Sky Go Plus, viewing from one device at a time is guaranteed.
How to activate Sky Go Plus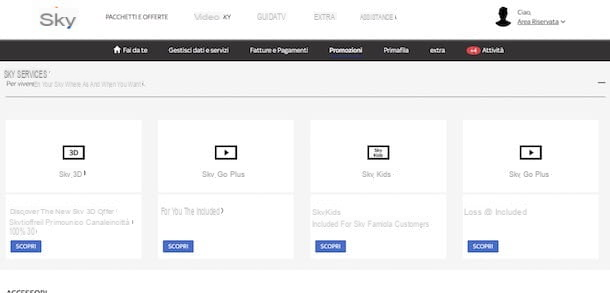 It's possible activate Sky Go Plus in full autonomy from a computer, through the Sky website, and from mobile devices, through the free application Sky Do it yourself. Activation takes a few minutes and offers a simple procedure, but in case of problems you can also contact Sky customer service by phone and even via chat.
To activate Sky Go Plus via computer, connect to the Sky website and click on the button Log in present at the top. If you already have one Sky ID, then enter your data in the fields Username or indirect email e Password and click sul pulsating Log in to connect to your personal area. If, on the other hand, you have never registered on the Sky site, click on the item Not registered? Create your Sky ID now, inseerisci i tuoi dati nei campi Client code, Tax Code, Email address e Password, put the check mark next to the item I'm not a robot and press pulsating Continue to create your Sky ID. Within seconds you will receive an email containing an activation link: click on the entry Click here but I will complete the registration.
Now, log in to the Sky website and access the section do-it-yourself, then tap on the item Promotions and locate the box related to Sky Go Plus. Pulia quindi sul pulsating Discover to proceed with the activation of the service. If you do not see Sky Go Plus, it means that the service is already active in your subscription.
You can also activate Sky Go Plus by phone by calling Sky customer service at the number 199.100.400, active every day from 8.30 to 22.30. The cost of calls from landlines is 15 cents / minute with no connection fee, while for calls from mobile phones the cost is linked to the operator used.
Alternatively, you can also get in touch with Sky assistance via chat. To do this, connect to the Sky site and log in to your account, then presses on the item Quick present in the top menu and click on the option Contact. Now, to the voice Select press on the option Manage subscription and to the voice Choose the details click on the option Add Sky Go or Sky Go Plus, then start the chat below.
Once the service is activated, you are ready to watch the channels and on-demand content available in your subscription. To find out how to best use the service, I leave you to my guide on how Sky Go works, whose operation is almost identical to that of Sky Go Plus.
How to activate Sky Go Plus