How do I take a screenshot of an entire webpage? With this tutorial, you will finally know how to take a complete screenshot of a website, whether you are on macOS, Windows or Linux.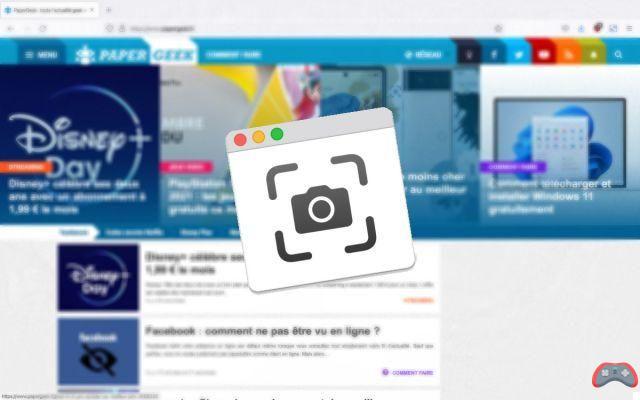 If you came across this tutorial, it's probably because you know how hard it is to take a screenshot of a web page in full length. On Windows, macOS and many Linux distributions (sometimes by installing a specific package) you can, however, transform a Web page into an image file or a PDF file.
Even if the procedure is not done in a snap, we will teach you here how to do a screenshot of a full page over the Internet, whether using extensions or an online website. How? 'Or' What ? Follow the leader.
How do I take a screenshot of an entire webpage on Google Chrome and Firefox?
To take a screenshot of an entire page, the best is to use an extension. There are several of them and here we will use FireShot, a solution that has the advantage of being free, perfectly functional and cross-platform, when you use Chrome ou Firefox. Start by adding the FireShot extension to Chrome or Firefox using one of the following links:
Add FireShot extension to Google Chrome
Add FireShot extension to Mozilla Firefox
In Chrome or Firefox, go to the page you want to capture.
Click on the extension logo (resembling a blue and white "S") in the upper right.
From here, you have several options. You can capture the entire web page, only a visible part or a selected area. The option we are interested in here is Capture the whole page. Click on it.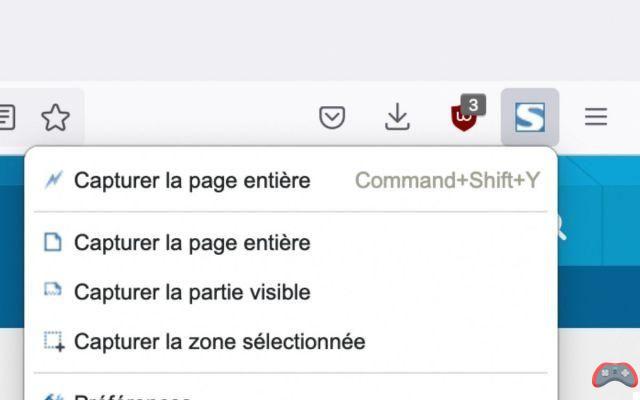 Once you've selected it, don't touch anything. The extension will take a screenshot of the entire page. Once it finishes, it will open a page and allow you to select the output format.
You can finally save your capture in PNG or PDF format. Select as desired as picture ou Save as PDF, to the right. You can also directly copy or print it.
All you have to do is select where you want to save your screenshot on your computer and you're done.
How to take a screenshot of an entire webpage on Mac with Safari?
The problem on Mac if you don't use Chrome or Firefox is that Safari doesn't support this extension. There is, however, a way to capture an entire webpage in the blink of an eye. However, the latter will not be in image format, but in PDF format.
Public chat Safari, go to the page you want to capture.
In the menu bar, click File.
Click on Export to PDF…
That's it.
The system will ask you to save your screenshot. Select your preferred location then confirm. You will normally find your capture in the folder Downloads.
How do I take a screenshot of an entire web page using an online service?
The other possibility, which will allow you to carry out the operation on any computer, wherever you are, and always 100% free and cross-platform, is to go through an online service. Here we suggest you try web-capture.net.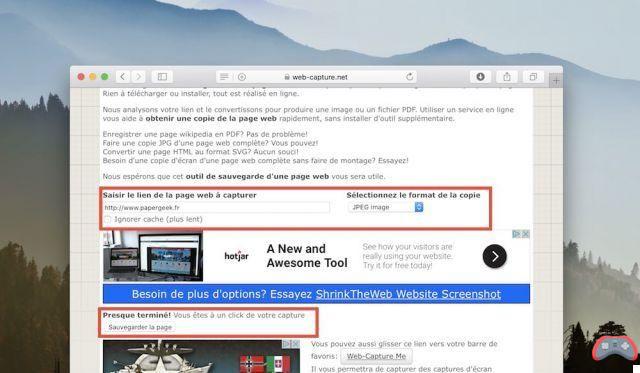 Enter the URL you want to capture in the corresponding field (you can also choose the file format).
Click on the button Convert page.
Wait, your request is in a queue, usually you shouldn't wait more than a minute or two to get your screenshot.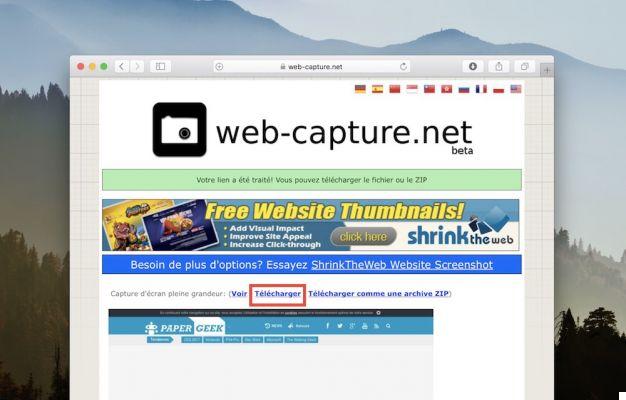 Now you know how to take a screenshot of an entire web page. We hope we have made your life easier with these tips. If you have other even simpler ideas or to share the application you like in this area, do not hesitate to share the information in the comments of this article.
The editorial advises you:
How to take a screenshot
How to take a screenshot on Windows 10?
How to take a screenshot on Mac?
The ability to speed up or slow down a video on YouTube can be very useful. It was possible to do this in the web version of the platform for a while…Facebook allows you to deactivate the automatic playback of videos in your news feed. It's very simple, even if the path is not obvious to anyone who has never seen it...Google Chrome includes a reading mode that allows you to consult a page in optimal conditions. The functionality, however, is hidden in the bowels of the browser. In this tutorial,…It is easy to know if a contact has blocked you on WhatsApp, but some indicators can also trick you into believing it unfairly. So how do you know...