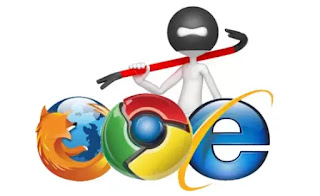 Following the installation of a program or after the warning of malware by the antivirus that eliminates the infection or even after browsing many sites that are not exactly clean, it can happen to have the problem of
some sites not opening or loading different pages
. This is a more common mistake than you think, technically called
Browser hijacking
which literally means browser hijacked.
In practice, the browser, therefore Chrome, Firefox or others, responds to user requests on the computer with different responses, configured by the program or by the virus that infected the PC. You are therefore asked to visit a site such as facebook.com and
this does not open
returning 404 error
or a different site opens
, perhaps similar or with all publicity. If that's the problem, let's see
how to fix it
and make sure that the sites open normally when they are online,
without redirects
pages.
ALSO READ:
Meaning errors if a site does not open or does not load on the browser
First it is important to understand if the problem occurs with only one site or with all, then if it occurs on a specific browser or with all.
Obviously, if no site opens, it will be advisable to check that the internet connection is working.
In another article we saw what to do if the internet connection is absent.
If a site is offline or returns a 404 error page, you can check if that site is offline for everyone or just us using some tools.
Inoltre, un altro controllo da fare, è di verificare che il sito che si tenta di aprire non è oscurato in el paese, magari perchè pubblica contenuti vietati, che può essere anche per motivi di diritti commerciali (come i siti con il calcio in streaming gratis).
In another article we have therefore seen how to open any blocked or obscured site.
After having checked that the problem does not depend on external factors, let's now go to see the causes that can cause redirects of websites to others or to 404 error pages.
1)
Presence of a proxy
If a malware has acted on the PC, its effects may remain even after the virus has been removed and cleaned. one of these effects can be the addition of a proxy that redirects the connection to websites. A proxy is a server to which the browser directs requests and if this server were that of a hacker, then it could lead to navigation on the sites decided by him.
To check that there is no active proxy in Windows, go to Control Panel> Network and Internet> Network and Sharing Center, then press the bottom left on Internet Options, go to the Connections tab, click on LAN Settings and make sure that the proxy server option is grayed out and blank.
2)
Modified DNS
For the same reasons as described above, the DNS servers may have changed.
To check, go to Control Panel> Network and Internet> Network and Sharing Center, then click on the link in the center of the Ethernet network or wifi used and go to Properties. Or click on the link on the left Change card settings and then with the right mouse button on the network card used to go to the Properties. Select Internet Protocol Version 4 and click on Properties. Make sure that the primary and secondary DNS fields are empty or in any case that there are addresses recognized by us.
3)
File Hosts
The hosts file is a very hidden Windows system file, often targeted by malware because it is responsible for custom IP address redirects. It is a text file that can be used to override the DNS and give different addresses to websites.
For example, just write in one line something like:
www.google.com
Per far comparire ogni volta che si prova ad aprire Google. Per controllare i file hosts bisogna aprire la cartella seguente:
C: WindowsSystem32driversetc Right click on the file called Hosts, click Open with and choose Notepad. If there are more lines than the ones with the # in front (which is like a guide to use), delete them all and save.
4)
Browser extensions
If the problem with redirects occurs only on Chrome or only on Firefox, the fault is certainly an installed extension. Then try opening the browser without loading the extensions to see if that works. Then disable all extensions and selectively re-enable them until the culprit is found. In Chrome you can manage extensions by pressing the key with three dots at the top right, then in More tools> Extensions. In Firefox, press the button with three lines at the top right and then on Add-ons.
5)
Delete temporary browser files and reset it
If the problem still occurs on Chrome only or Firefox only, you can try a hard reset.
In another article, the guide to reset Chrome, Firefox and Internet Explorer to their default settings, which is simple as the one-click reset and error correction function is integrated into the browsers. If you don't want to reset, you can try to clear cache, cookies and temporary files, which can work if the problem is that you can't open some usual sites.
6)
Do a virus scan
To be sure that a virus is not active on your PC, it is advisable to immediately scan for viruses with MalwareBytes antimalware, free of charge.
If there are any malware detected or if Malwarebytes seems unable to check, then I recommend following the guide to remove malware from the infected computer.
7)
Using Hijackthis
This step is for the more experienced, who are able to use this small tool capable of revealing everything that is loaded by Windows, with the possibility of recognizing harmful elements.
To find out more, read the guide to Hijackthis.
ALSO READ:
Change settings in browsers modified by malware, adware, and toolbars