To facilitate the use of pronouns, the social network Instagram is starting to add a dedicated field in the account profile. A good way to easily highlight different gender identities.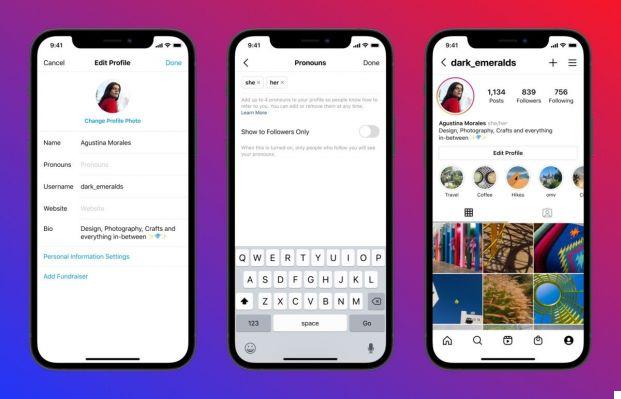 On Instagram, it is not uncommon to read a sequence of pronouns in the bios of certain accounts. This clarification obviously takes up space out of the 150 characters that a bio can have, preventing some from properly expressing everything they have to say. Good news though: the social network has just added a space dedicated to this in order to save space in your text.
A large number of pronouns
In some countries, a new box is therefore available in the edition of his profile in order to enter his pronouns. We can therefore choose the masculine and feminine (he/him/his and she/her/hers), the neuter (they/them/theirs), as well as a large number of neopronouns such as xe/xem/xyr, ze/zie /zir/hir, etc. It is of course possible to mix existing pronouns.
It should be noted, however, that the list is fixed in order to prevent the use of inappropriate and offensive words. During its tests, Mashable found 41 valid options, but Instagram has already indicated on Twitter that other possibilities will be added over time.
We'll continue to update the list of terms over time, so that more people around the world can share their pronouns more easily. If you have suggestions you can drop them here: https://t.co/u0JKBlTqAM https://t.co/9XeKRhZvk8
— Instagram Comms (@InstagramComms) May 11, 2021
In Spain, this option is not yet available, only English-speaking countries are currently concerned. Instagram has, however, confirmed that it will be rolling out to more countries in the future.
Better gender expression
This modification is obviously intended to give more visibility to transgender and non-binary people, and to facilitate their acceptance by society, which today is partly hostile to gender theory, while avoiding misgendering. Similarly, for cisgender people, publicly indicating their pronouns contributes to the normalization of this practice and invites them to question a person's gender beyond assumptions.
It should be noted, however, that to avoid harassment or for those who have not come out, it is possible to show their pronouns only to their followers. This is also the option activated by default for all accounts of people under the age of 18.