It is now possible to make group calls with FaceTime. The long-awaited feature has finally arrived in iOS 12, the latest version of Apple's operating system. If you haven't taken your first steps with Facetime group calls yet, we'll cover how to do it in this quick tutorial.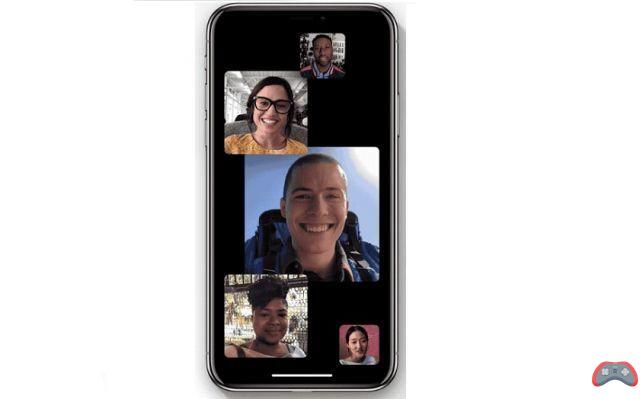 iOS 12 has been available since mid-September 2018. The new version of the operating system brings several new features, including group calls on Facetime. These calls can accommodate up to 32 participants, enough to organize conferences with an entire team. FaceTime is finally catching up on some competing apps like Skype.
To make all this a little more fun, the Animoji/Memoji of the speakers can be superimposed on their face. And when a person speaks, their profile square expands to indicate that they have the floor.
How to Do Group FaceTime in iOS 12
To make group calls with FaceTime, make sure you've updated to iOS 12 on your iPhone or iPad.
Open FaceTime on your iPhone or iPad
Push the button + in the upper right corner
Enter the name or number of a contact you want to call
Enter up to 30 additional contacts
Tap the icon Video ou Audio to make your FaceTime call
FaceTime calls have always been possible from the app Messages, but only in conversations with a contact. Now group messaging threads will have the option to call everyone in the group chat. Everyone receives a notification and can join the group call if they wish:
Open the application Messages on your iPhone or iPad
Tap a group chat or create a new one
Tap chat participant avatars or profiles at the top center
In the pop-up menu, tap the FaceTime icon to start a group video call
The editorial advises you:
Android: how to transfer your SMS and MMS to a new smartphone
How to block unknown or hidden incoming calls on iPhone?
How to take a screenshot
The 2022 iPad Pro is going to be redesigned and will have wireless charging capability, like Apple's other mobile devices. After the presentation of the iPad mini 6,… All the power of a Mac computer on your eyes: this is what Apple promises in its future mixed reality headset, scheduled for the end of 2022. While the Apple Watch, the 'iPad… Do you have an iPhone and want to change your PIN code? The option, buried in the twists and turns, of iOS is not so easy to find. However, this code ... There are a few options available to unlock an iPhone. Some online services offer to do this quickly for a few euros. The law also obliges operators to do it for free ...