iTunes officially disappears with macOS Catalina, the next version of the mac operating system. The firm's historic multimedia player is split into three applications: Apple Music, Apple Podcasts and Apple TV. What make the features integrated into iTunes more visible, while separating from one of the last vestiges of the past glory of the iPod.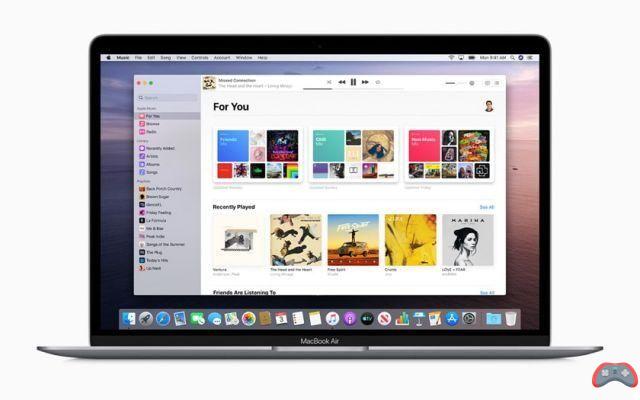 The iTunes application was dead, and it was high time to move on. Announced in January 2001, iTunes originally allowed you to play and organize your mp3s, and transfer them to iPod. The application was the gateway to the iTunes Store, one of the most complete online music stores for most of its existence – with all the same for a very long time some iconoclastic dead ends like the entire Beatles repertoire. .
iTunes officially disappears
iTunes could also be used to directly transfer music from CDs to your hard drive and devices. However, there is no doubt that the well-oiled mechanics of this application, which inspired the firm's subsequent successes (in particular the App Store application store) gradually seized up with the arrival of the iPhone. . This new product category has indeed added a number of features to iTunes.
Features initially essential, but which have become redundant with those offered directly on the device. For example, it is no longer necessary to connect your iPhone to iTunes to update it or save it (which is done nowadays respectively in OTA and in the cloud). Finally to this was added iTunes Match, to automatically synchronize your songs on all your devices, and of course… the rise of streaming.
Apple Music, Apple TV and Apple Podcasts will replace it
To replace it, Apple has therefore provided three applications. The first is Music : Apple includes Apple Music, the iTunes Store and your mp3 library. It is thus Music which most faithfully replaces what iTunes was originally. There is also the app Apple TV on which you can find "Apple TC channels, personalized recommendations and more than 100.000 iTunes movies and TV shows to search, buy or rent", can we read in the press release from the firm.
It is also in this application that the new Apple TV+ streaming offer will be found in the fall. Finally there will be Apple podcasts, which is betting on the rise of this format. According to the firm, the application will offer more than 700000 programs to listen to on your AirPods (or any other accessory). These changes will only appear from macOS Catalina and iOS 13. What do you think of this approach? Will you regret the disappearance of iTunes under these conditions? Share your opinion in the comments.
To discover: The summary of WWDC Apple 2019 announcements