Lidl once again wants to compete with the most elite brands. From October 19, 2020, the brand will offer new inexpensive headphones similar to Apple's AirPods. Their price: €24,99.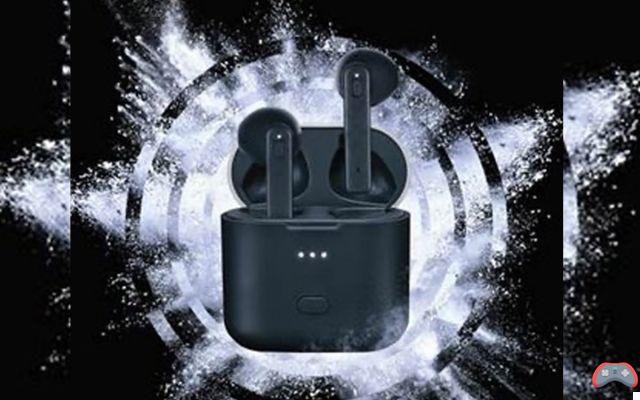 Lidl is preparing to market a new cheap alternative to Apple's AirPods, for only €24,99. Availability in Spanish stores is planned from 19th October.
Lidl will offer headphones seven to eight times cheaper than AirPods
According to our colleagues from Phonandroid, Lidl is therefore preparing to offer a brand new pair of headphones from its Silvercrest sub-brand. Since September 19, the German retail brand has already been offering a pair of wired in-ear headphones at € 19,99, equipped with a 315 mAh charging box. Victims of their own success, they are already out of stock online and in stores.
For these new headphones, Lidl promises a design similar to Apple's AirPods, including the case. They will also benefit from a "better sound rendering" than those already offered for sale, says Phonandroid. Each recharge will guarantee up to 3 hours of listening time, like the headphones at € 19,99. Each pair will be guaranteed for three years.
In terms of dissimilarities, Lidl headphones will be offered in color black, versus white for Apple AirPods. A detail that will appeal to some. Another element that differs, the light-emitting diode that displays the charge level is made up of three small light points, compared to only one for the AirPods.
See also: Apple Watch: some watches now supplied without a mains charger
If the tightest budgets will be delighted to be able to afford a cheap alternative to Apple headphones, however, and of course, you should not expect similar sound quality and finishes. With a difference of €154,01, the Silvercrest headphones are seven to eight times cheaper than AirPods. As a reminder, the AirPods with charging case are displayed at € 179,00 on the Apple Store.
Apple, Bosch, Vorwerk, Sony: by offering cheap alternatives to successful products, Lidl wants compete with premium brands. For example, it offers a broom vacuum cleaner identical to certain models of the James Dyson brand at €79,99. There is also an alternative to the Thermomix, the Monsieur Cuisine Connect, for only €399,99. A few months ago, the police also had to intervene in Orgeval, in the Yvelines, following a promotional offer of white PS4s sold at €95,00. The new console is offered at €299,99 in most major Spanish stores.
The editorial advises you:
The best apps for Apple Watch in 2021
The 2022 iPad Pro is going to be redesigned and will have wireless charging capability, like Apple's other mobile devices. After the presentation of the iPad mini 6,… All the power of a Mac computer on your eyes: this is what Apple promises in its future mixed reality headset, scheduled for the end of 2022. While the Apple Watch, the 'iPad… Do you have an iPhone and want to change your PIN code? The option, buried in the twists and turns, of iOS is not so easy to find. However, this code ... There are a few options available to unlock an iPhone. Some online services offer to do this quickly for a few euros. The law also obliges operators to do it for free ...