Mario Kart Live: Home Circuit is a brand new racing video game in the Mario Kart series that will be released on October 16, 2020 for Nintendo Switch. Price, availability, possible configurations, game modes, multiplayer, here is all the information.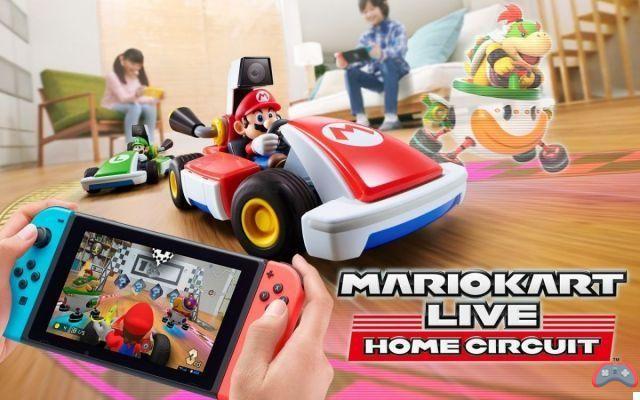 Are you a fan of Mario Kart and do you love radio-controlled cars? You are in the right place. After a very first trailer unveiled earlier this summer, we now know more about Mario Kart Live: Home Circuit, an all-new mixed reality game, developed jointly by Nintendo and Velan Studios exclusively for Nintendo Switch.
Mario Kart Live: Home Circuit — turn your living room into a go-kart circuit
After Nintendo Labo or Ring Fit Adventure, Nintendo once again combines the real world with the virtual with Mario Kart Live: Home Circuit, which allows you to transform your living room into a real aquatic, desert and many other kart circuits. scenery from the Mario Kart series. Does that sound crazy to you? It is however true: here is our complete file about it.
Mario Kart Live: Home Circuit, how does it work?
Mario Kart Live: Home Circuit is a game in mixed reality (or hybrid reality game), i.e. the action takes place simultaneously in reality and in the game on your screen. In other words, if the karts move like Hot Wheels in your living room, the action also takes place on the Nintendo Switch or on your TV, thanks to a embedded camera in each kart.
The races in the game are all created sur-mesure : you decide what your circuit will look like. Once the game is installed and launched and your kart is paired with your Switch, the first step is to assemble the gantries and lay them out on the ground. You will then have to "paint" the circuit virtually, driving the kart all the way and making it pass under the four gantries delivered with the game. Once this is done, you can play!
Note that from many customization options are possible, between physical additions, with real objects from your living room (a carpet, a sofa, …) and virtual additions, through the game (traps, bonuses, weather events, filling your living room with water, etc.)
How much does Mario Kart Live: Home Circuit cost, and what will be included in the box?
Mario Kart Live: Home Circuit costs 99,99€. Each box includes:
1 Mario Kart Live: Home Circuit game to download from the eShop
1 kart with your choice of either Mario or Luigi
1 USB Type-A charging cable
4 cardboard gates, to place wherever you want
2 road signs (arrows) to announce bends, to be placed where you wish.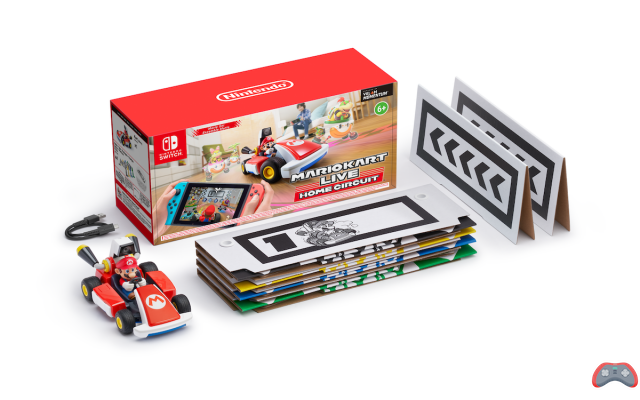 Is it possible to play online?
No. Mario Kart Live: Home Circuit is a game exclusively offline. Unlike Mario Kart 8 Deluxe, there's no way to connect to the Nintendo Network to play with friends or strangers online.
Is it possible to play several locally?
Yes. Mario Kart Live: Home Circuit supports up to four players for local shopping. Note, however, that each player must have his own go-kart as well as'a Nintendo Switch, material that adds up and that logically and quickly raises the bill...
What is the estimated autonomy of a kart?
According to Nintendo, in 150cc mode, a kart's battery can last up to 90 minutes before needing to be recharged. Recharging a kart also takes up to three or four hours.
How do I pair a kart to a Nintendo Switch and how do the controls work?
When you launch the Mario Kart Live: Home Circuit software on your Nintendo Switch, a QR code appears on the screen. You will need to scan this code with your kart's camera to sync it to your system.
Once this is done, the kart is piloted from the controllers of your Nintendo Switch. The controls are similar to Mario Kart 8: the A button to accelerate, the B button to brake and drive in reverse. Controlled drifts are always done with the R or ZR buttons. You can also use items you have collected during the race by pressing L or ZL. Note that the game also has an easy driving mode, like what Mario Kart 8 already offers.
What are the game modes and different speeds?
Mario Kart Live: Home Circuit propose several Grand Prix modes, a way against the watch and a mode personalized races. Additionally, four different speeds are available (increasing the level of difficulty), 50cc, 100cc, 150cc and 200cc.
As usual with games in the series, the goal will be to progress through Grand Prix mode and complete the various cups. It will also be possible to face your own ghost in the time trial mode. The custom racing mode will allow him to further refine the rules.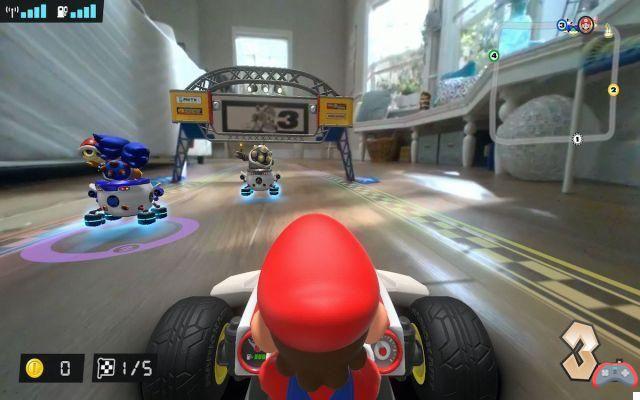 Are there bonuses and customization, like recent Mario Karts?
Yes. Many of the traps and bonuses from the series return to Mario Kart Live: Home Circuit. So when a red shell is thrown at your kart in the game, it stops moving forward in real life. Similarly, a Koopa curse could suddenly cause reverse driving, etc. As in Mario Kart 8, it will also be possible to configure your kart by collecting coins and advancing in the adventure.
Do you need a lot of space to make a circuit at home?
Nintendo recommends at least 3 to 4 square meters of free space for the track configuration, and a maximum distance of 9 meters between the Nintendo Switch and the kart. In the same way, Nintendo explains that the karts are only intended for indoor racing, and are not made to be played outside, in a garden for example. Finally, the circuit must be flat — ramp jumps can potentially interrupt a race.
Which controllers are compatible, is it possible to play in handheld mode and on Nintendo Switch Lite?
You can play Mario Kart Live: Home Circuit on Nintendo Switch and Nintendo Switch Lite. The game is playable on a TV with the Dock as well as in portable mode. It further requires two Joy-Cons or a Pro Controller to operate, and will not be playable with a single Joy-Con.
As a reminder, Mario Kart Live: Home Circuit will be available exclusively on Nintendo Switch on October 16, 2020. Here is the latest launch trailer, unveiled on October 2, 2020.
The editorial advises you:
Nintendo Switch: discover our selection of the best games
In discussion since 2017 already, the animation film adaptation of Shigeru Miyamoto's most famous video games is finally coming to an end. Nintendo yesterday revealed the…A Super Mario Bros. video game cartridge. sold for 2 million dollars (1,7 million euros) announced Friday a company of objects of collectibles, breaking the record of…Retrogaming has the wind in its sails. To the point that the value of certain titles sometimes reaches the heights. A Super Mario 64 cartridge has thus been sold for 1,56 million… Released four days ago on Nintendo Switch, L'Atelier du jeu vidéo has already given birth to daring creations. Some talented players have managed to craft levels of…