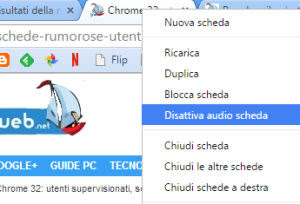 A year ago, Google introduced the volume icon above each open tab in beta versions of Chrome only.
This very convenient feature is now part of
Chrome 46
, the latest stable browser update available to everyone for Windows, Mac and Linux.
Since version 32, every time you open a site that broadcasts audio, from a video, from an advertisement or from anything else, Chrome shows, next to the title of the site at the top,
speaker icon
.
This allows you to
know immediately from which card a sound is coming
and no longer have that problem, frequent for those who open many sites together, of having to close the entire browser in case a sound advertisement starts on a site creating annoying noise.
UPDATE: Starting with Chrome 64 2022 the option to mute the tab remains stored for the entire site open in that tab and is permanent at least until it is manually reactivated.
UPDATE 2: The extension
Automute
allows you to disable the sound from all sites automatically and to enable it manually only for selected sites such as Youtube and a few others.
With the latest update, if the audio of an advertisement or a video starts and you want it
deactivate immediately
without having to close that page, just right click on the title at the top and then click on the new option "
Turn off site audio
".
Thanks to this function we will no longer have the surprise of hearing the audio of some advertising as soon as we open a website that we have already deactivated in the past.
The audio issue of the cards is also enriched with one more functionality, to be activated however from the experimental functions menu.
Open a new tab and go to chrome: // flags and look for the option Turn on tab mute UI control.
Activate it and scroll down the page to save the change.
This way you can also click the speaker icon that appears when a card is playing music or sounds to mute the sound.
This Chrome feature can also be enhanced with the
extension
Mute Inactive Tabs
that,
automatically, silences noisy cards if they are inactive
.
The extension can be activated and deactivated by clicking on its button.
READ ALSO: Adjust the volume of the pc with the mouse wheel