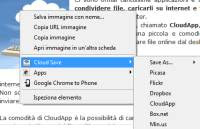 Recently a great extension just for Google Chrome and Firefox came out that allows you to
send any file or image found on the internet
, in "
cloud
"that is, in an online space where you can save your files to possibly share them.
The purpose of this extension is to provide internet surfers with a way to
save the files they find on various websites
, not on your computer, but online on one of the cloud services available for free,
on the internet, with a click
.
ALSO READ:
Download entire websites to your computer to keep or modify them
Saving a file on the internet allows you to then view it from any other computer, mobile phone or share it with other people.
The main and most famous of the sites for uploading files to the internet is DropBox which is unique for its versatility, simplicity and integration with many other additional services.
cloud-save
adds an item to the Chrome menu when you right-click a link, selected text, or an image. From this menu you can choose on which site that offers free online space to download the file: Pinterest that allow you to upload images and share them Google Docs for Office or PDF documents. DropBox and CloudApp for each type of file. Box.net one of the sites for online backups
Another extension for Chrome, Save Page WE, allows you to download all the files of a website, saving the entire web page on the PC.
On Firefox, to save all images on a website
, you can use the extension
Image Picker
which extracts files from web pages to save them on the pc.