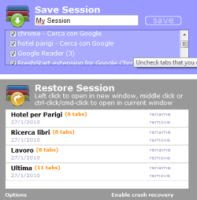 If you use to open many tabs and many websites at the same time while browsing the web, it is often useful to save a browsing session to continue the work later, perhaps even from another PC.
An important feature released by Google Chrome and Firefox is the ability to
sync your favorites online
. In practical terms, this means that bookmarks are stored online if you have a Google or Mozilla account. It therefore becomes a way to always have your favorite sites at hand.
Also in Chrome, you can keep tabs open on multiple devices in sync, so you can continue browsing the same websites.
Just using some extensions
, however, it is possible
save a browsing session
, made up of many
open tabs
,
take it back
, for example the day after,
from any other computer
because it is saved online.
To understand its usefulness, you have to imagine browsing the internet at home and opening different tabs on Chrome with various sites that perhaps deal with the same topic. In case you prefer to continue reading or searching for information the next day or in a few hours, you can save the entire session and turn off your computer. When you resume browsing, you can reopen Chrome or Firefox and pick up where you left off, with the same tabs stored before.
But not only can you resume from your computer
but, if you have enabled the synchronization function of favorites with Google account,
even from another pc
, whatever it is why
sessions are saved online
. All this becomes very useful, for example, to resume an internet search from home that was being done from the workplace or vice versa.
Extensions that allow you to
save open tabs with synchronization of browsing sessions on Chrome and Firefox
I'm:
1)
better-onetab
(Chrome) offers several ways to store and manage your tabs. You can store all active tabs, selected tabs or tabs to the right or left of the selected tab. To use the extension, right-click the extension icon on the extension bar. In the tab list screen, you can also drag and drop tabs to reorder them in different folders. Some other cool features include color coding and appointment lists for better organization. By default, a tab is removed from the list when clicked by Onetab, but this can be changed in the settings.
2)
Session Buddy to organize open tabs into groups on Chrome
and save them for later use, is the extension I personally chose for its ability to keep multiple sessions tidy and save groups of tabs.
3)
Toby
for Google Chrome arranges the saved tabs in collections, which are basically folders. You can save the whole session from the extension icon or open Toby to drag open tabs into collections. You can then reopen the entire saved session or manually choose the tabs to reopen.
4)
Tabzen
, for Google Chrome, is a simple tab manager that shows all open tabs and allows you to save a single tab or all open tabs by clicking on the star icon. You can also organize tabs into folders directly from the pop-up window when clicking on the extension.
5)
Save My Tabs
(FireFox)
Save My Tabs is a small addon that works in the background and saves active tabs automatically. The addon regularly creates a new text file that contains information about all the tabs currently open. In the extension preferences you can:
Set the time interval to create a new backup (default is 15 minutes);
Set the file path to store TSV text files
6)
Tab Cloud
(Google Chrome and FireFox) allows you to manually save any open window with all the sites open in the tabs, even in a synchronized way between multiple PCs. You can also manage saved sessions by rearranging tabs, opening just one of the sites and renaming them. It also allows you to synchronize active cards with your Android phone (through the application).