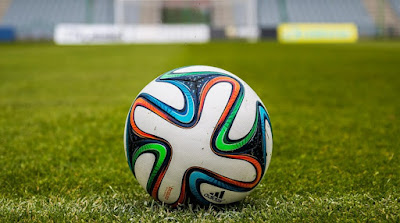 Gli eventi di calcio sono da sempre molto seguiti in el paese, e da alcuni anni Internet è sufficientemente veloce per poter reggere la
live football streaming
, totally abandoning the antenna or the satellite as a means of broadcasting the sporting events most awaited by fans.
If we are interested in following all the football matches in this guide we will show you
how to stream football on PC and Smart TV using the Internet
as a means of accessing content without using a satellite decoder or antenna cable.
In the vast majority of cases, having one is sufficient
Internet connection of at least 15 Megabits per second in download
, that is the minimum speed required by the various streaming services to be able to hold a live stream without interruptions and with good image quality.
ALSO READ:
How to watch games on your phone for free
Subscription streaming services
The subscription streaming services are really numerous and, in order to see everything, now it is necessary to subscribe at least 3 different subscriptions to be able to follow the main European leagues and cups (Serie A, Champions League and Europa League).
DAZN
The first service that we have to sign up to see all Serie A and other European matches is DAZN.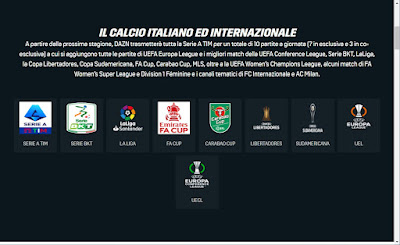 with DAZN
at the cost of
€ 29,99 per month
we will be able to see all the Serie A TIM matches of each day, the BKT Series, La Liga, The FA Cup, the Carabao Cup, the Copa Libertadores, the Europa Conference League matches, the UEFA Europa League and other competitions from all over the world.
The DAZN service is not just football, in fact we can also find live coverage of MotoGP, Moto2, Moto3, volleyball championships, American football, rugby, motor races, fights, boxing and even Eurosport 1 channels. HD and Eurosport 2 HD.
The subscription is managed in a simple and fast way: we can create an account and pay every month to view the games by credit card, prepaid card or PayPal, with the possibility of suspending and resuming at any time without restrictions and without penalties. .
DAZN offers live events directly from the browser or by installing the app
DAZN on our Smart TV
: this app is now available everywhere, just search for it in the respective store, install it and log in with your account credentials.
NOW
The second streaming service that we can consider is NOW, a service based on Sky's contents but which only works over the Internet.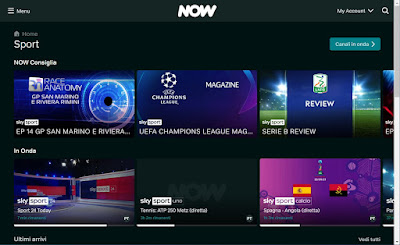 At a cost of € 14,99 per month (Sport Pass) we can see almost all Champions League matches (excluding a Wednesday match), all Europa League matches, all Serie B, 3 out of 10 Serie A matches, one selection of Premier League, Bundesliga and Ligue 1 matches, all F1 and MotoGP grand prix, the best basketball tournaments and all the best tennis tournaments.
Also in this case, the management of the subscription is very simple and can be canceled or blocked at any time, with the possibility of resuming paying in another month without restrictions and without penalties.
The live broadcasts can be viewed directly in the browser of our computer by opening the site or installing
the NOW app on our Smart TV
: this app is present on practically all modern televisions equipped with Smart technology (especially if we focus on famous manufacturers such as Samsung or LG).
Mediaset Infinity Plus
Another streaming service to watch Champions League matches is Mediaset Infinity Plus.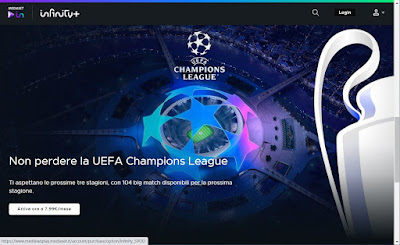 At a cost of € 7,99 per month, we can access 104 Champions League matches, along with other streaming content for films and TV series offered by the platform.
The Infinity app can be downloaded for free on all new generation Smart TVs but only by subscribing to an Infinity + subscription will it be possible to watch the Champions League matches assigned to the service.
Amazon Prime Video
Amazon has also fallen into the field of sports and it is possible to follow the live sports on Amazon Prime Video.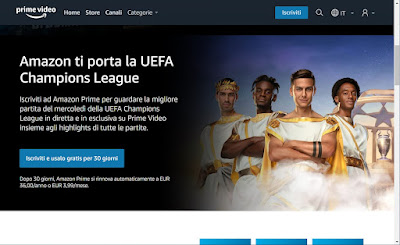 In the offer reserved for
Amazon Prime users
(at a cost of € 36 per year or € 4,99 per month) we find an exclusive live Champions League match, specifically the
best match of Champions on Wednesday night
. In addition to the match, we also find the highlights of all Champions League matches.
It is currently the only service that can be
tried free for 30 days
and only then decide whether to keep the Amazon Prime offer or cancel before the expiry. Me too'
Amazon Prime Video app
it is omnipresent on all Smart TV platforms, all we have to do is press the specific button on the remote control or download the app from the dedicated store.
Sky Q
Sky Q can also be used to watch the matches in streaming online, since it is possible to subscribe even without a satellite dish.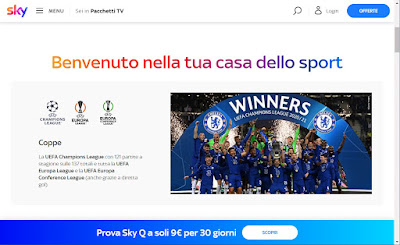 With the package
Sky Sport at € 30,90 per month
we will have access to European Cup matches, motorsport, tennis, basketball and much more; to complete the package we can also add
Sky Calcio at € 14,90 per month
, so as to add the more than 800 games of the main national football leagues (three Serie A games, all Serie BKT, 8 Serie C games and a selection of the best games of the Premier League, Bundesliga and Ligue 1.
Sky Q is a decoder that must be connected via HDMI to the TV and, to take advantage of direct streaming, to the home modem (via Ethernet or via
Wi-Fi to 5 GHz
). Currently it is possible to try Sky Q for 30 days and decide whether to keep it or renounce the chosen offer, at no additional cost.
Eleven sports
If, on the other hand, we are interested in Serie C matches and other minor sports, we can take a look at the Eleven Sports service.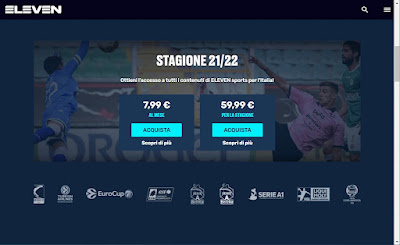 Con questo servizio avremo accesso a tutte le partite del campionato del paese di Serie C, tutte le partite dei playoff e dei playout per questo campionato, tutte le partite del campionato di Superlega e tutte le partite della Coppa el paese di Superlega al prezzo di 7,99€ al mese, con la possibilità di sottoscrivere un abbonamento stagionale (59,99€ all'anno).
The games can be viewed from the browser of any PC or Smart TV (where the app is not present) or from the dedicated app for smartphones and tablets.
Free streaming services
At the time of writing, Rai owns the rights to show
the matches of the national team of the country and the matches of the Under21 national team
; Mediaset invece detiene i diritti della Coppa el paese, della Supercoppa del paese e la trasmissione in chiaro di una partita al martedì sera (per ogni turno dai play-off alle semifinali) e della finale di Champions League.
To watch the Rai and Mediaset channels in streaming for free
just use the dedicated apps or access the respective sites for the live channels; below we have collected all the links for the sites and apps that we can download or visit:
RaiPlay (Android, iPhone/iPad, App Windows 10 e Sito Web)
Mediaset Infinity (Android, iPhone/iPad and Website)
Much of the information on
Streaming TV channels
can be viewed in our guide, so you can see the free live channels of Rai 1, Canale 5 and other television stations.
Streaming match quality
We will obviously get the best quality by focusing on
Sky Q
, which broadcasts many games in 4K UHD (on satellite) and 1080p when connected to the Internet. By reflex too
NOW
defends well with a maximum quality of
1080p
to all users who have a fast internet line.
The big surprise is Amazon Prime Video
, which boasts very good stability and video quality comparable to satellite channels, with 1080p signal on assigned games and the ability to serve a large number of users without sudden interruptions or quality losses due to signal compression.
DAZN e Mediaset Infinity Plus
al momento forniscono una buona qualità generale, ma solo se non ci sono troppi utenti connessi. Entrambi i servizi soffrono ancora di problemi di stabilità, nonostante gli anni d'esperienza accumulati in el paese: ancora oggi infatti non è raro assistere a veri e propri blocchi del segnale streaming, diminuzione della qualità di visione e buffering infinito, tutti problemi legati alla
content distribution
più che alle reti el paesene.
Calcio in streaming su Smart TV
On Smart TV it is very easy to access the games in streaming, since the apps of the various services are available on all the latest Smart TV models (from 2022 onwards). To use a specific football streaming app
we connect the Smart TV to the Internet
, go to the Smart section and start the app; if it is not present among those already downloaded, open the app store in the Smart section and search for the desired app.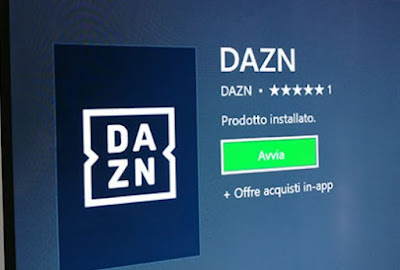 Once the app has been added, open it and enter the access credentials of the streaming account we have, so that you can see all the games broadcast from the platform in the comfort of the sofa and living room.
If we have
connection or buffering problems
during live streaming on TV we can solve them by restarting the TV, the modem or following the advice of the guide posted a little while ago.
Stream football on non-smart TV
If our Smart TV is not compatible with apps or the Smart component is completely missing, we can still see the games in streaming using an adapter such as the Fire TV Stick, available for € 39 on Amazon.
With this Stick we can use the Amazon Prime Video, DAZN and NOW apps in a single interface, so as to see practically all the Serie A, Champions League and other leagues supported by the aforementioned services (obviously paying the subscription for each of them).
Setting it up is really very simple
and, once connected to the TV via HDMI, it will give us easy access to all streaming games, without slowdowns or blocks (net of the problems caused by the services themselves).
Another very interesting device for watching streaming games on TV is the Chromecast with Google TV, available for € 69.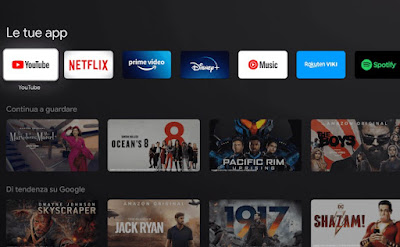 This HDMI adapter allows you to install apps directly in the control interface and supports the main services for streaming (DAZN, Amazon Prime Video and NOW); as an alternative we can always open the streaming app on our mobile and use the Cast button for
transfer live to Chromecast
and consequently to the television.
Other interesting devices on which we can install football streaming apps are:
Game console (PS4, PS5 and Xbox console)
Google certified TV Boxes
PC Stick
NOW Smart Stick
TimVision Box
Vodafone TV
We choose the one that best suits our needs, so that we can watch the games that interest us using the Internet connection at home.
Summary of costs for football matches
Se volessimo riassumere i costi per la visione del calcio per gli eventi più seguiti in el paese basterà seguire l'elenco presente qui in basso:
Serie A: DAZN at €29,99 per month
Champions League and Europa League: Amazon Prime video (€ 36 per year or € 4,99 per month) and NOW (€ 14,99 per month)
Solo Champions League: Amazon Prime video (€ 36 per year or € 4,99 per month) and Mediaset Infinity Plus (€ 7,99 per month)
Maximum image quality: Sky Q decoder with Sky Calcio package at € 14,90 per month and Sky Sport package at € 30,90 per month.
The standard cost to see all Serie A, all Champions League and all Europa League is
€ 49,97 per month
, taking into account only the monthly subscriptions of DAZN, NOW and Amazon Prime Video (the latter also available as an annual subscription, paying in a single payment every year).
If we wanted to
see all of Serie A and a good part of the Champions League
the cost of the subscriptions is equal to
€ 42,97 per month
, obtainable with DAZN, Amazon Prime Video and Mediaset Infinity Plus subscriptions.
To aim for the highest image quality (4K UHD) for matches we need to aim for the
decoder Sky Q
and pay in total
€ 80,78 per month
, also including subscriptions to DAZN and Amazon Prime Video (available as an app in the decoder). The highest quality is only available via satellite (dish), while connecting the decoder to the Internet only, the quality of the streaming is equal to that obtainable on NOW.
Below, the scheme with all the subscription platforms to watch football matches in the 2022/2022 season: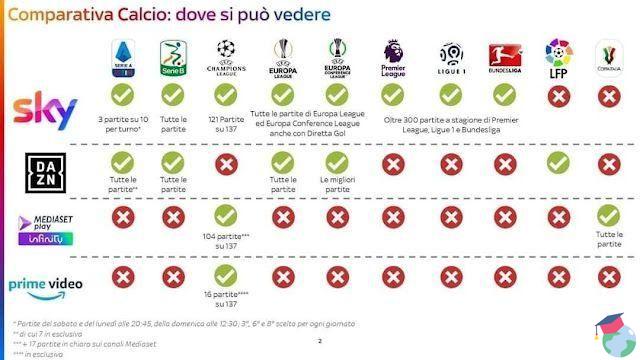 Conclusions
If we are big football fans and want to watch the games in streaming without a dish and without an antenna, just use the Fire TV Stick or the features integrated into the Smart TVs. The most interesting games can only be viewed with two or more season tickets, since there are very few games that can be viewed for free-to-air live broadcasts.
In this regard we can also read our guide for
watch games on DAZN on PC, TV, Android and iPhone
and, if we have problems with the Internet, find out how
increase video streaming speed
.